Stores beginning to close in Okanagan's oversaturated cannabis market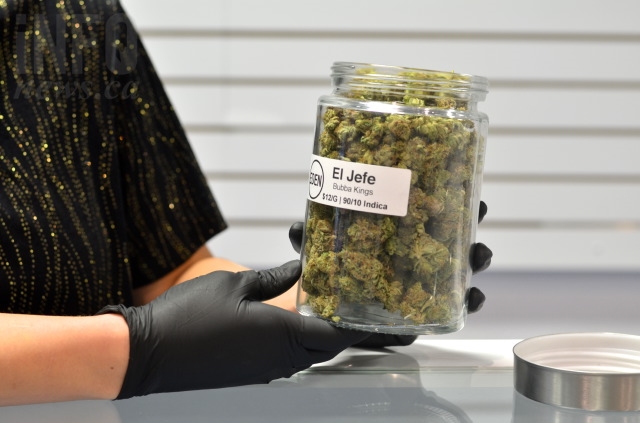 The oversaturated market of cannabis stores in the Okanagan has started to see its first victims as three stores across the valley have recently closed their doors.
Eggs Canna in Penticton, along with the AR Cannabis Store in Vernon have recently closed. Vernon's Highlander Cannabis, part of the Squires Four Pub, also closed its doors in the summer. The business is under new ownership and it's unclear whether it will re-open.
The short lifespan of the businesses doesn't surprise some cannabis store owners.
"Every time another store opens, it's going to have an effect on everybody else's sales," Kelowna's Cannabission owner Steven Jones told iNFOnews.ca. "There are stores that are very close to their competitors (and) they're going to struggle, they are not going to see their sales go up, only down."
Sarah Ballantyne owns Vernon's Spiritleaf cannabis store and says she'd heard that some stores are just waiting out their leases which are typically five-year terms.
"I think that many retailers are planning to get out of the game at that mark," Ballantyne said.
What Ballantyne had heard from other local store owners was confirmed by a survey put out by the Okanagan Cannabis Collective that collected information from 286 cannabis stores across the province.
The survey found that 60 per cent of cannabis stores did not believe they had a viable business. Forty percent of cannabis businesses thought they'd have to close within six to 12 months.
The survey also found that 80 per cent of cannabis store owners were very concerned or concerned about their business's ability to maintain profitability.
Depending on where you are in the province depends on how many cannabis stores are likely to be around.
READ MORE: Vernon is the cannabis capital of B.C.
In 2020, Vernon boasted more cannabis stores than any other mid-sized city in the province. The city currently has about a dozen stores open, with another store, LIHT Organics planning to open in early 2022.
With more than three times the population of Vernon, Kelowna has roughly 14 stores.
Simple math suggests that some cities are more over-saturated than others.
Jones said he doesn't believe any stores have closed in Kelowna but points out that some stores are very close to their competitors, and knows of one that is paying as much as $10,000 a month in rent.
"I would expect perhaps in the next year or two that we are going to see a few Kelowna stores close down, that's just the way business works. Too many people open up and a few have to close," he said. "I've always expected the industry to go that way."
Jones said when cannabis was legalized in Washington State and Oregon there was a huge growth of stores for a few years and then prices came down and stores started to close.
"Over a period of a few years the market reaches that status point when it can keep itself going," he said.
And private cannabis stores in B.C. don't just have to compete against each other.
What frustrates cannabis store owners in British Columbia is the lack of a level playing field as independent owners compete against a "grey market" of stores on reserve lands and bricks and mortar stores owned by the province.
READ MORE: This Okanagan collective is leading the fight for survival for private cannabis stores in B.C.
According to the Okanagan Cannabis Collective survey, 90 per cent of legal retailers are in direct competition with illegal cannabis stores.
And more than 80 per cent of those surveyed said they're negatively affected by the provincially-owned B.C. Cannabis Stores.
Jones said he's had to put his prices down to compete with the B.C. Cannabis Stores. He also sees the government stores sell products on sale for just pennies above cost, prices the independent stores simply can't compete with.
Recent changes from the province appear to be giving cannabis store owners a little more freedom.
A recent directive now allows private cannabis stores to sell books and apparel with store branding.
The directive however doesn't impress the store owners.
"We're here to sell cannabis, I'm not here to sell a clothing line," Ballantyne said.
The province has started to allow private stores to sell online and deliver, but deliveries cannot be done through third-party couriers or Canada Post.
Jones said he looked into it and the insurance costs made the proposition unviable.
One directive the province has hinted at is to allow private stores to buy cannabis directly from licenced producers, instead of everything going through a warehouse in the Lower Mainland.
"Switching to direct buying from the (licenced producers) would be amazing," Ballantyne said. "It would make a huge difference because I could have product delivered within five or 10 minutes."
Ballantyne asked for the province to implement the system following the highway closures due to the flooding. She wasn't successful but is hoping this system will come into place next year.
While stores have to deal with the complex regulations placed by the province, and municipal business licences that can cost 60 times that of a licence for a regular business, they also have to compete with an estimated 50 stores around B.C. operating on First Nations land and skirting the regulations.
Official Opposition Critic for Public Safety and Solicitor General, Prince George MLA Mike Morris, recently wrote to Solicitor General Mike Farnworth demanding the NDP government do something about illegal retail cannabis sales.
"Sufficient time has passed since legislation controlling cannabis retail sales came into force and... illegal operators should now be educated and informed," reads the letter.
With nine or so cannabis stores operating out of provincial reach on the Okanagan Indian Band's "Green Mile," and another half a dozen on the Splatsin reserve outside Enderby, plus many more dotted around the Okanagan, private cannabis store owners are urging the government to do something.
"The government said it was going to do everything in its power to stop illegal sales and yet it's quietly looking the other way," Jones said.
The Ministry of Public Safety and Solicitor General told iNFOnews.ca it had seized almost $25 million in cannabis from the illegal market and issued 39 Notices of Administrative Monetary Penalty.
"The Community Safety Unit is working to build positive relationships with Indigenous governments, understanding where they have different perspectives, and, where possible, collaborating to find resolution," the Ministry said in a statement. "The Community Safety Unit continues to maintain dialogue with First Nation Communities or Governments to address unlicensed retailers operating on Indigenous land. The Community Safety Unit has received cooperation and support from several First Nations communities to carry-out inspections and seizures of cannabis from unlicensed retail and production facilities operating on reserve."
While the province says it's doing something, 90 per cent of retailers surveyed, reported that they have seen no enforcement action.
A group of Okanagan cannabis store owners have been looking into taking legal action against the province due to its lack of enforcement regarding the on-reserve stores. So far, no legal suit has been filed.
The many restrictions placed on the private owners combined with the sheer number of cannabis stores make running a shop a risky enterprise.
"We understand the risks of getting into it, but some of it has to be back on the municipalities and the province for dishing out an unlimited amount of licences and then coming in to be a direct competitor and then undercutting everybody," Ballantyne said. "Many of us are good business owners and we've been in business for years and we understand the risks of getting into the business, but these layers and layers of restrictions, as well as their pricing strategy, is killing us each month."
iNFOnews.ca reached out to the three businesses that recently closed down but did not hear back.
READ MORE: Legal cannabis: What we know and don't know about the impact after 3 years
---
To contact a reporter for this story, email Ben Bulmer or call (250) 309-5230 or email the editor. You can also submit photos, videos or news tips to the newsroom and be entered to win a monthly prize draw.
We welcome your comments and opinions on our stories but play nice. We won't censor or delete comments unless they contain off-topic statements or links, unnecessary vulgarity, false facts, spam or obviously fake profiles. If you have any concerns about what you see in comments, email the editor in the link above.
News from © iNFOnews, 2021