Vernon is the cannabis capital of B.C.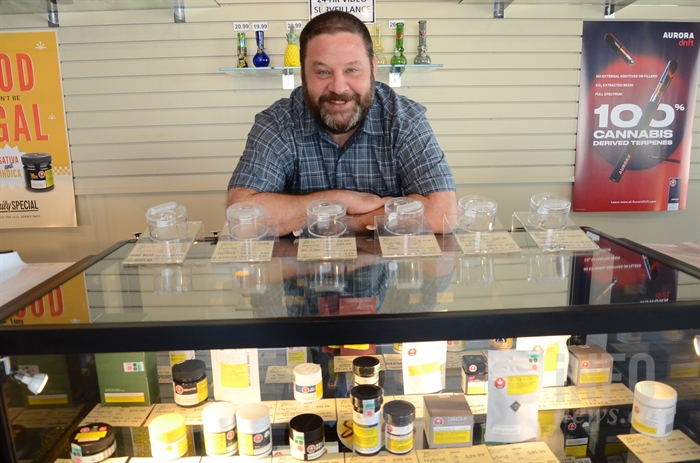 The City of Vernon is the pot shop capital of B.C. with more places to buy cannabis than any other mid-sized city in the province.
With 13 provincially licenced cannabis stores open, or soon to open, the city boasts the highest ratio of legal weed stores per person of any city with a population of more than 20,000 people in the province.
And this number doesn't even account for the cannabis stores on nearby Okanagan Indian Band's Green Mile.
Counting only provincially licenced businesses, Vernon currently has a cannabis store for every 3,085 residents. Kelowna and Kamloops don't even come close, with a store for every 22,014 residents and 7,523 respectively. Those living in the hustle and bustle of Vancouver have one pot shop per 21,781 residents.
Why Vernon has attracted so many people looking at getting into the cannabis business is not an easy question to answer. However, it is worth remembering what Vernon was like prior to legalization.
"We had 15 stores in this town, and mine was one of them," Blended Buds Cannabis owner Kevin Demers said. "So if the rest of these stores were open, it means people were walking through the doors."
Demers ran Hemp and Wellness prior to closing at legalization and opening Blended Buds last fall.
Spiritleaf Vernon owner Sarah Ballantyne wasn't around prior to legalization but said she chose Vernon as a good place to open her store after doing market research about the North Okanagan.
It's worth remembering looking solely at provincial statistics doesn't paint the entire picture, and defining a city by the use of the word "city" obscures the reality.
The small rural town of Armstrong is officially a city with a population of less than 5,000. Its two approved pot stores put it near the top of the provincial list on a per capita basis. Based solely on population the tiny District of Sicamous has a pot shop for every 1,200 residents, but only two cannabis stores.
However, define a city by anywhere with a population of more than 20,000 residents and Vernon takes the number one spot. Look at any mid-sized city similar in population to Vernon and no other place of a similar size comes anywhere near the number of cannabis stores.
And these numbers are still modest as they don't account for the number of stores operating in a so-called "grey zone" on reserve land. Throw-in the nine or so operating out of provincial reach on the Okanagan Indian Band's "Green Mile," add the store next to Vernon airport, plus Tupa Joint which recently opened in downtown Vernon – and got raided and shut down only to reopen – and the number climbs even higher.
Add the stores soon to open in Lumby, Enderby, and Armstrong into the equation, and add the half a dozen pot shops on the Splatsin reserve and the North Okanagan is a pot smokers paradise with roughly 35 cannabis stores within a short drive.
The sheer number and the fact at least half are operating without following strict provincial rules which licenced stores are made to follow, means provincially licenced pot shops have a lot of competition.
"(The market) saturated quickly," Ballantyne said. "My store is doing well and thriving, but other people not so much."
Demers said he is forced to buy from the provincial government and while the quality, availability and price have all drastically improved, competing against the price of the grey market or even black market is next to impossible.
"Our menu is only about 70 per cent complete," Demers said. "We're pushing a great deal of customers to the black market."
Ballantyne said it would change the market drastically if the non-provincially licenced stores shut down.
The proposition seems unlikely. The Okanagan Indian Band has recently adopted bylaws regulating cannabis stores on its land.
Forest Johnson owns High Status Cannabis, located on Splatsin First Nation land outside Enderby. Johnson recently opened a second store and said business is going well. She sees a bright future in the indigenous owned and operated cannabis industry.
"I'd like to see us sovereign and I think this is a step in that direction," she said.
The sheer number of stores and the unlevel playing field in which they are competing - a government-owned store recently opened with prices often not available to licenced stores - makes the market look particularly fragile.
For Demers, business is a fraction of what his store did prior to legalization.
Ballantyne says she doesn't know her store's true potential but it should probably be doing better.
And competition is likely to get fiercer as the roughly half-a-dozen other permits pass through the province.
This story was originally published June 19.
---
To contact a reporter for this story, email Ben Bulmer or call (250) 309-5230 or email the editor. You can also submit photos, videos or news tips to the newsroom and be entered to win a monthly prize draw.
We welcome your comments and opinions on our stories but play nice. We won't censor or delete comments unless they contain off-topic statements or links, unnecessary vulgarity, false facts, spam or obviously fake profiles. If you have any concerns about what you see in comments, email the editor in the link above.
News from © iNFOnews, 2020