Legal cannabis: What we know and don't know about the impact after 3 years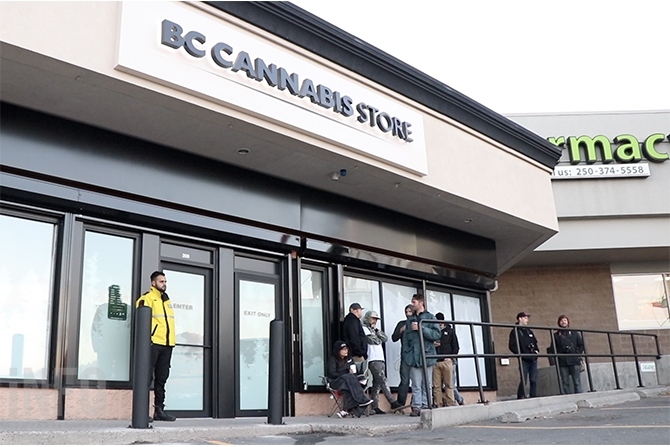 It's been three years since cannabis was legalized in Canada, on Oct. 17, 2018.
In some ways the world has changed dramatically.
"I don't even get paranoid anymore when I'm consuming," Jaimie Miller-Haywood told iNFOnews.ca. "That used to be a kind of a side effect that would happen often. Since legalization I don't feel paranoid being stoned in public because nothing is going to happen to me."
Penticton-based Miller-Haywood is the author of the Growing Home Okanagan blog and founding member of the B.C. Craft Farmers Cooperative promoting craft cannabis, similar to how craft breweries and farm gate wineries have evolved over the years.
"With legalization has come more education with the different terpene profiles, the different cannabinoids that are present and also the different methods of consumption," she said. "You can really fine tune your medication with all this education we have that we didn't have before legalization. I can avoid being paranoid or anxious but still medicate myself knowing exactly what strain I should be using at any given time of day or my circumstance at hand."
READ MORE: Kamloops council finalizes last steps before first B.C. pot shop opens
Cannabis was not legalized to make people like Miller-Haywood feel less paranoid. The rationales behind it were things like getting rid of the black market and keeping it out of the hands of children.
"I don't think any of those things have happened," M-J Milloy, a professor of Cannabis Science at UBC, told iNFONews.ca. "I don't think anyone could expect them to happen in three years."
In fact, to measure those things, the data available only really covers the first two years of legalization.
Data from Stats Canada on usage by youth simply says 19.8% of 15-17-year-olds had used cannabis in the previous three months before legalization. That fell to 10.4% in 2019.
"I think it's too early to say whether this is a sustained decrease or whether this is just natural variability," Milloy said. "It's probably too early to say what caused that decline."
There is a National Cannabis Survey that questions people on their use of cannabis every three months but a report is compiled from that data only once a year by Statistics Canada. The most recent report was published in April 2021 and compares responses from the first quarters of 2018 and 2019 and the fourth quarter of 2020.
It found, out of people age 15 and older, 14% had consumed cannabis in the previous three months. That grew to 17.5% in 2019 and 20% in 2020.
In 2018, B.C. had the second highest consumption rate of any province at 17.1%. While it fell to third place in subsequent years, usage went up to 19.1% in 2019 and 24.8% in 2020.
Quebec was consistently the lowest at 10-11%.
When it comes to how much cannabis is bought legally versus illegally, that seems to be trending in the direction the federal government wanted.
"I have a feeling that the black market is starting to see a decrease because the product that we are starting to see on the shelves is starting to get better," Miller-Haywood said. "It's a lot more affordable. There's market competition now amongst the growers and, especially now with the craft market about to enter the distribution channels, that will also play a very big role in the kind of products that you will see on the shelves."
According to Stats Canada, based on the National Cannabis Survey, in 2018, 51.3% of cannabis users bought from illegal sources. That fell to 35.4% in 2020.
That's also supported by the sales figures from the B.C. Cannabis and Liquor Distribution Branch that reported cannabis sales of $18 million in the 2018/19 fiscal year.
As more stores opened, that jumped to $136 million in 2019/20 then jumped again to $327 million in 2020/21.
One of the biggest fears about legalization was that cannabis impaired driving would increase. That's much harder to document. The National Cannabis Survey had a question about impaired driving early on but did not report on it in 2020.
The 2019 Stats Canada report said there were 6,453 incidents of drug impaired driving that year, which was 8% of all impaired incidents. The report didn't break out how many of those were cannabis incidents.
"While the detection capacity has improved, studies have shown that drug-impaired driving is significantly under-detected and that drugs may be involved as often — or maybe more often — than alcohol in impaired driving incidents," the report cautions.
The report also points out differences in drunk driving and drugged driving.
"Alcohol-impaired driving peaks on weekends and late evenings," it says. "However, the rate of drug-impaired driving varies little from one time of day to another, as police reported just as many of these incidents between 11 a.m. and 3 p.m. as between 11 p.m. and 3 a.m."
Drug-impaired driving incidents rarely led to charges but, when they did, they took up about twice the amount of court time as drunk driving charges, the report says.
A Mother's Against Drunk Drivers survey published in June 2021 found 19% of people who consumed cannabis said they drove while high but only 10% of drinkers did the same. Far more people who took the survey drank alcohol (67%) than consumed cannabis (28%).
Legalization has brought significant tax revenues to the provincial government.
In the 2019 calendar year, legal cannabis sales in B.C. generated $10.1 million in excise taxes paid to the federal government then returned to the province, according to information provided by the provincial Ministry of Finance.
That tripled to $36.3 million in 2020. Another $23.6 million has been paid up to the end of May of this year.
On the Provincial Sales Tax side, the amounts are similar.
In 2019, $10.2 million was collected on cannabis sales. That also tripled in 2020, to $31.2 million. Up to the end of September this year, another $25.7 million in PST has been collected.
That amount is not strictly for the sale of cannabis. It includes related products such as pipes and other merchandise.
READ MORE: The best time to harvest outdoor cannabis in the Okanagan depends on the strain
But, those are just numbers.
What's the health and societal impact of legal cannabis on Canadians?
There's lots of detailed research done.
The Canadian Centre for Substance Use has dozens of research articles in its database, ranging from things like "Regular Use and Cognitive Functioning" and "Canadian Youth Perceptions on Cannabis" to "Cannabis: Inhaling vs Ingesting" and "Psychotic Disorder and Cannabis Use."
But what it, and seemingly no one else, has is an overview of the societal impacts of cannabis legalization.
"I went looking in the literature to see if there was that sort of large global review of what's changed, and it's really not out there," Milloy said. "There is stuff about driving and youth use and that sort of thing but the broader sociological changes have not been summarized."
His research is focussed on the use of cannabis in relation to opioids and on things like whether cannabis could serve as a replacement for opioids for some people. That means he's not the man to do that kind over overarching research.
"I have colleagues in sociology and anthropology and even political science who look at these things in a slightly different way and, I hope, they would be looking at this," Milloy said.
"Canadians shouldn't dismiss the fact that we made history," he added. "Drug prohibition was one of the dominant forces of the last century and a lot of us think that it was a mistake and we should be going in a different direction. I do think we should think at a higher level about what the legalization and regulation of cannabis has meant in a broader sense, not just about these little specific details."
All we get about the benefits of cannabis legalization, therefore, are the anecdotal views of people like Miller-Haywood. She doesn't differentiate between recreational and medical use.
"I believe it's all the same," she said. "I feel that it is relaxing and it makes you feel better when you're down. It makes you feel happy when you're sad. It increases your laughter when you feel like you want to cry."
— This story was corrected at 11:16 a.m. Monday, Oct. 18, 2021 to say Jaimie Miller-Haywood is Penticton-based and is a founding member of the B.C. Craft Farmers Co-op.
---
To contact a reporter for this story, email Rob Munro or call 250-808-0143 or email the editor. You can also submit photos, videos or news tips to the newsroom and be entered to win a monthly prize draw.
We welcome your comments and opinions on our stories but play nice. We won't censor or delete comments unless they contain off-topic statements or links, unnecessary vulgarity, false facts, spam or obviously fake profiles. If you have any concerns about what you see in comments, email the editor in the link above.
News from © iNFOnews, 2021