Morel mushroom hunters having a heyday in the Okanagan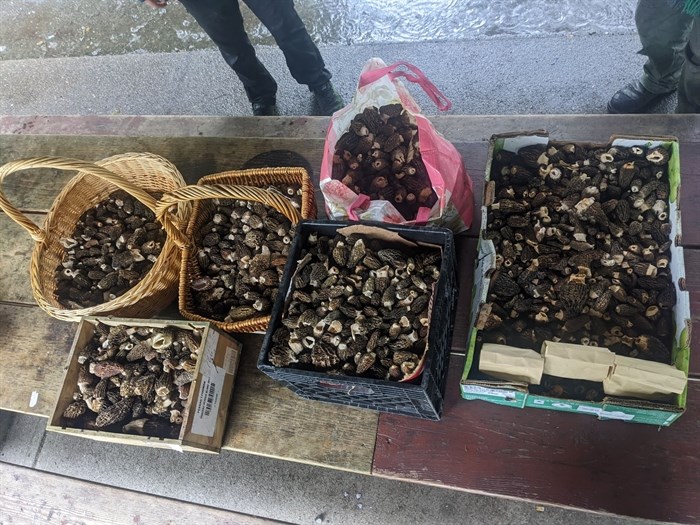 Okanagan mushroom pickers couldn't have hoped for a better spring.
Last year's intense wildfires season combined with this year's wet spring combined for excellent growing conditions for delicious — and expensive — morel mushrooms.
"It's like a dream come true," mushroom picker Shawn Kisielius said. "It took me four years to find morels like this."
Morels can be found in the wild every spring, but only occasionally do they appear in abundance.
"The only time you find them in big numbers is the first year after a big forest fire," Kisielius said.
READ MORE: Lake Country woman develops love for fungi, starts gourmet mushroom farm
For anybody wondering if it's too late in the year to find some morels, he said it's not — the window is still open thanks to consistently cool temperatures. Morels can't survive in hot and dry weather.
To search an area where morels can be found, Kisielius recommends going into a forest that was burned by wildfire the summer before and simply looking around.
"You might be a week early or a week late, that's the risk you take."
While inflation hits food prices hard at grocery stores, anyone interested in trying morels might be able to score a better deal this year, as the price appears to have dropped.
"There is a bit of a flood going on in the market," Kisielius said.
Earlier this month, nine-year-old Sadie Stewart from Merritt picked 19 pounds of morels with her dad and sold them for $12 per pound.
However Kisielius doesn't sell them fresh or by the pound – he takes them to the Lower Mainland and sells them dried.
"We bring them right into the centre of the city for $10 bags for people who want to try them," he said. "Selling them by the pound doesn't always work because they dry out and in two days they can lose half their weight."
Beyond the lucrative benefits, Kisielius recommends mushroom picking as a way to connect with nature. The best locations to pick are normally out of cell phone service, which he notices has a positive impact on mental health.
To help future generations of mushrooms, he said pickers should leave a few behind in each patch, especially the smaller ones. And picked mushrooms should be carried in baskets that allow spores to fall onto the ground while the picker walks.
And pickers are expected to ask permission before wandering onto private property or First Nations territory.
Scott Moran, a wild forager from Kelowna, has also been basking in this year's bounty of morels.
"In the Okanagan we had pretty big forest fires last year," he said. "So you got the South Okanagan, Oliver, OK Falls. And near Vernon on Westside Road – take your pick, they're all doing pretty good."
Moran has been picking mushrooms since he was a kid, and has been selling them to restaurants since 2010.
"Some people grow up hunting and fishing, I grew up mushroom picking," he said.
Morels are so valuable and sought after because they're tasty, he said. They form a honeycomb structure, they're hollow inside, and unlike many other mushrooms, they have a crunch.
"Between the flavour and texture it's a totally different experience."
READ MORE: It's going to be a glorious season for morel mushrooms in the Okanagan
Moran said it's almost overwhelming to experience so many this year.
"There's a pressure to take advantage of it as much as you can. You push yourself enough so that when you look back, you know you did as good as you could have."
But not everybody is encouraging of wild mushroom picking. Last week, the B.C. Wildlife Federation issued a press release calling for restricted access to backcountry roads to reduce the amount of traffic heading towards fire-damaged forests.
"We were in complete agreement with the government about the need to restrict access to fire-damaged areas of the Thompson-Okanagan to prevent erosion, limit the spread of invasive weeds, and prevent environmental damage by off-road vehicles, and to allow natural regeneration," BCWF executive director Jesse Zeman said in the release.
The release says mushroom picking is an unregulated industry that operates outside of provincial guidelines and has become a "free for all."
READ MORE: MORAN: Cooking with dried wild mushrooms
But Moran calls those concerns "such nonsense" considering how much commercial logging occurs in the same areas.
He feels like people who harvest food from the wild are often looked down upon as weed eaters, but says it's a wholesome lifestyle choice that addresses climate change by reducing the need for industrial agriculture.
Kisielius and Moran both offer guided tours for anybody wanting to get into the practice. Kisielius can be reached by email and Moran can be reached through his Instagram page.
If you venture into recent fire-damaged areas, use extreme caution around burned trees and if you're not entirely sure about mushrooms, you might be best buying from someone who is.
---
To contact a reporter for this story, email Dan Walton or call 250-488-3065 or email the editor. You can also submit photos, videos or news tips to the newsroom and be entered to win a monthly prize draw.
We welcome your comments and opinions on our stories but play nice. We won't censor or delete comments unless they contain off-topic statements or links, unnecessary vulgarity, false facts, spam or obviously fake profiles. If you have any concerns about what you see in comments, email the editor in the link above.
News from © iNFOnews, 2022