Okanagan, Kamloops cannabis stores cry foul over exorbitant business licence fees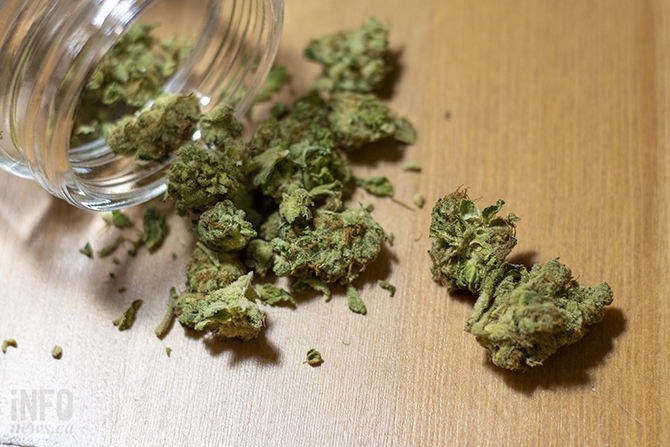 Owners of cannabis stores in the Okanagan and Kamloops are paying up to 65 times more for their city-issued business licences than other retailers.
While licences for most businesses from call centres to contractors cost a couple of hundred dollars or so per year, the cannabis industry has been singled out with permits costing from $2,000 to almost $10,000.
And cannabis store owners are sick of watching their money go up in smoke.
The owner of Vernon's Spiritleaf cannabis store, Sarah Ballantyne, has written to council calling on the City to review its current $2,000 a year business licence fee.
Ballantyne argues her store should be charged the same as a liquor store, at $185 a year.
Along with a $7,500 charge from the province, Ballantyne paid $5,000 to the City for her initial application before opening in July 2019, and now paying $2,000 a year.
When asked how the City justified such exorbitant rates a City of Vernon spokesperson said in an email that the cost of a business licence is supposed to be commensurate with the cost to provide the service.
"When the renewal fee of $2,000 was recommended and adopted, the City had the experience of over a dozen retailers in the community pre-legalization. The service process required a great deal of staff time through various departments, including planning, building and licensing, bylaws, and sometimes fire, which led to the fee that was recommended," the email said.

But Ballantyne argues all the initial work has now been done – and her business paid for it – so now the fees should be reduced.
"It needs to be reviewed and put in line with either liquor or the rest of the business licences," Ballantyne told iNFOnews.ca.
The City said it would be reviewing the issue later in the year.
READ MORE: B.C. cannabis sales doubled in 2020, but Okanagan retail market still tough
And the situation in Vernon is far from isolated, and compared to Kelowna the licence looks positively cheap.
"I wish it was $2,000, we pay... $9,500 a year," Cannabission manager Angela Duke said.
After paying a $9,500 rezoning fee to open the Kelowna store in July last year, the business is now faced with a $9,465 annual business licence.
Duke points out it's roughly 63 times more expensive than running a small retail business in Kelowna.
"We'd be happy to pay the same amount as liquor stores but we're paying 50 times more," Duke said. "We'd like to see a closed gap, and more justification for the cost, because realistically there is not enough justification for the cost."
The City of Kelowna didn't get back to us by our deadline when asked how the City justified the high price.
However, an email sent to Cannabission in December 2020 from the City did address the issue.
"The current licensing fees were developed around offsetting the staffing and resourcing costs involved with the oversight of (the) development of the regulations and licencing process and the potential compliance resource time and costs involved with this new developing business sector," the City of Kelowna email reads.
While the answer from Kelowna is rather wordy, Kamloops cannabis store owner Chris Lyth offers a clearer explanation of how some cities justified the cost.
Lyth opened The Shore Cannabis Shop in Kamloops in March 2019 and took part in various town halls on the issue in 2018.
"(The City of Kamloops) was worried about the added cost of policing and the fact that the province wouldn't profit-share with them... they viewed it as a way to charge that amount to recover on policing costs and to recover the loss of revenue sharing from the province," Lyth said.
However, he's currently paying $5,000 a year and says there hasn't been a single issue at his store.
"People who smoke cannabis are mellow, they're not going to cause problems," he said.
READ MORE: Vernon is the cannabis capital of B.C.
Compared to owning a liquor store in Kamloops, which costs $196 for a business licence, or a pub at $617, the price of a cannabis business licence is excessive.
"They're using it as a money grab to increase the city coffers," Lyth said.
Kamloops planning and development manager Rod Martin told iNFOnews.ca the price reflected the significant amount of work city staff had to do prior to before and after legalization came in.
"Licencing is set up to recoup the costs," Martin said.
Martin said he didn't think there had been any issues with the stores and the situation was going well. Martin also said the City may review the fees, although it would need several years of data before a review could be made.
But if the costs reflected the actual reality of what cannabis stores cost cities, prices would surely be more uniform across the region — which they aren't.
After initial costs, West Kelowna charges $360, the same price as a retail store. The City of Penticton also does the same, charging $180 a year inline with all other retail and liquor businesses.
All the business owners agree it's money they could be putting back into their businesses.
"Ultimately, it's discrimination towards the cannabis industry as a whole," Duke said. "It's not a safety issue... it's discrimination against those who use and sell cannabis."
While cannabis store owners will have to wait for any change to take place, they may be happy they're not located in Vancouver.
The City of Vancouver recently voted unanimously to review its annual business licence charge for cannabis stores. Currently, it sits at $34,000 a year.
---
To contact a reporter for this story, email Ben Bulmer or call (250) 309-5230 or email the editor. You can also submit photos, videos or news tips to the newsroom and be entered to win a monthly prize draw.
We welcome your comments and opinions on our stories but play nice. We won't censor or delete comments unless they contain off-topic statements or links, unnecessary vulgarity, false facts, spam or obviously fake profiles. If you have any concerns about what you see in comments, email the editor in the link above.
News from © iNFOnews, 2021