B.C. cannabis sales doubled in 2020, but Okanagan retail market still tough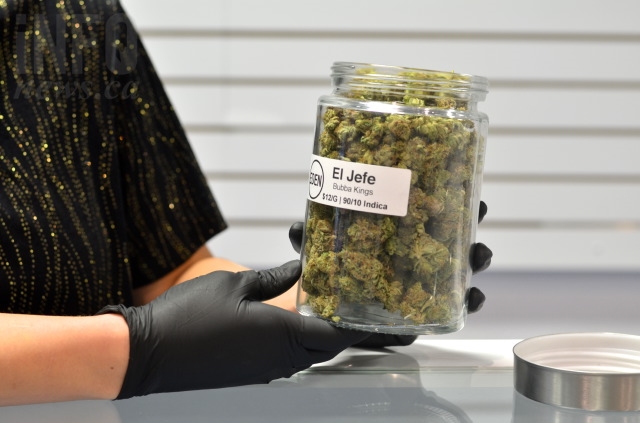 Canadians spent more than twice as much cash in legal cannabis stores last year, as licensed retailers across the country rolled up $2.6 billion.
In British Columbia, the figure is even higher. Numbers recently released by Statistics Canada show consumers were flocking to legal weed stores spending $370 million last year compared to $117 million the year before – more than a 217 per cent increase.
The dollar amount shows that after a ropey start at the beginning of legalization, more consumers are turning their backs on the black market and are heading into legal pot shops.
Sarah Ballantyne opened Spiritleaf in Vernon on July 1, which was the Okanagan's first legal cannabis store. Ballantyne says she's not surprised to hear that the Canadian cannabis store industry doubled in 2020.
"We see new customers every day," she said.
Ballantyne said things have dramatically improved since the beginning of legalization.
The B.C. government was heavily criticized in the early days of legalization with store owners complaining that the lack of products available which combined with high prices and poor quality was leaving prospective customers still buying on the black market.
With changes in the law allowing more cannabis products on the market such as edibles and vapes, along with changes to allow legal stores to sell larger quantities of cannabis, the market is changing.
"Many were buying half (from Spiritleaf) and half on the black market," Ballantyne said. "But now we have those products available at a decent price point they get everything here now."
One of the earlier major criticisms of the Liquor Distribution Branch, which oversees cannabis sales, was the high prices and lack of products available.
Ballantyne said when she opened she had about 80 varieties of cannabis flower in stock; that number is now about 300.
The quality has also dramatically changed.
"There's better product coming from the licensed producers so the trust is there now with the customer base, so they are coming back for more," she said.
While customers could only buy popular products such as shatter, a highly concentrated cannabis extract, or large quantities of cannabis on the black market, Ballantyne now has shatter for sale at $55 a gram and ounces for $100. It's products and prices that simply didn't exist when she opened.
"They've really come in to undercut the black market with these $100 ounces, that was the goal, and I think that's why we've taken a lot of those customers," she said.
As shatter is produced using ethanol and other chemicals, buying a safe, regulated, Health Canada-approved product in a legal store for the same price as it is on the black market has an obvious appeal for consumers and is a significant driver for the business, she says.
While the numbers show there's twice the amount of cash being spent in legal stores across the country and legal cannabis sales in B.C. have gone up three-fold since 2019 that doesn't mean pot shops are booming.
"Are we seeing double the sales in Vernon? I doubt there's one of the 18 stores here that are," cannabis store owner Kevin Demers said.
Demers ran Vernon's Hemp and Wellness prior to legalization and opened Blended Buds Cannabis in October 2019.
He shares Ballantyne's comments when it comes to availability and quality and price.
"It's not even the same story from the first year," he said. "The quality is way up, (there's) more flavour in the weed... (it's) more fresh, it's come a long way."
He's seen prices drop considerably from an eighth of an ounce costing $35 to $33 when he opened to $25 to $23 a little over a year later. The price decreases on higher-end products have been more dramatic and Demers says he's seeing prices drop considerably on a monthly basis. But for retailers, it's a bit of a double-edged sword if they're left holding stock that suddenly dropped in price.
"It's tough, but it's great for the industry because these prices need to come down," he said.
Demers said when he opened he had 280 items for sale, it's now around 800.
"The growth is chipping away at the black market, the growth is current cannabis users that are just changing markets," he said.
While Demers says his business is growing every quarter, it's not the rosy picture painted by the Statistics Canada numbers. He doesn't doubt that in some places stores maybe doubling their sales but points out that cannabis stores in Vernon are grossly oversaturated.
In June 2020 Vernon was the pot shop capital of B.C. with more places to buy cannabis than any other mid-sized city in the province.
READ MORE: Vernon is the cannabis capital of B.C.
The city currently has 16 provincially-licensed cannabis stores open, or soon to open, and other non-licensed stores skirting the regulations. And this isn't counting the multitude of cannabis stores on nearby Okanagan Indian Band's Green Mile.
For a city of roughly 40,000 people, it's a lot. Kelowna, with a population more than three times the size, has 15 legal stores, including those in West Kelowna.
In fact, the Thompson-Okanagan is awash with cannabis stores, boasting roughly 80 legal stores, whereas the Lower Mainland with its much larger population has roughly 65.
Angela Duke has been in the cannabis industry for five years and began managing Kelowna's Cannabission when it opened in July last year.
Duke reiterated her competitors' comments about the change in the industry and how the province has stepped up its game since legalization.
"The quality was well below black market while the price was almost double, what we are seeing (now) is even undercutting the black market," she said.
Duke also says she's seen a lot more people become interested in cannabis, especially the older generation.
"People have been coming in to get educated and see that they're not going to have some crazy... experience with lasers and Cheech and Chong in the background," she said. "It's more looked at like a glass of wine."
She also saw an increase because of COVID.
"A lot of people were at home, a lot of people were bored a lot of people were experiencing just a low mood and wanted a little bit of elevation so a lot of people actually started trying it," she said.
How many new cannabis users there are is very hard to gauge but earlier figures from Statistics Canada released just before the pandemic showed cannabis use only increased a small fraction since legalization came into place in October 2018, and in some age demographics it didn't change at all.
The statistics released in February 2020 show that one-third of Canadians between 18 and 24 had tried cannabis in the previous three months, the same as prior to legalization.
The number of people that use cannabis daily or almost daily hadn't increased either, with the exception of those over 65 years old which was the only age group to see an increase.
Demers says it's hard to put a figure on it but he estimates about 10 to 15 per cent of his new clients are trying cannabis for the first time. Pain and sleep are the two biggest reasons they walk in, he says.
So while the figures suggest that pot shops are growing there's no doubt it's still a tough business.
"It's survivable," Demers said. "The growth is there now… it's only going to get better."
---
To contact a reporter for this story, email Ben Bulmer or call (250) 309-5230 or email the editor. You can also submit photos, videos or news tips to the newsroom and be entered to win a monthly prize draw.
We welcome your comments and opinions on our stories but play nice. We won't censor or delete comments unless they contain off-topic statements or links, unnecessary vulgarity, false facts, spam or obviously fake profiles. If you have any concerns about what you see in comments, email the editor in the link above.
News from © iNFOnews, 2021