Your search results for Fire Alarm Systems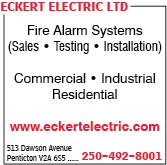 Other categories you may be interested in...
SEO Text
Found: Penticton South Okanagan and Similkameen Areas complete home automation,data cabling,electric contractors,electrical installations,electrical service and maintenance,electrical sign repair,fire alarm,fire alarm installations,fire alert,fire bell,fire detection,fire detector,fire security,indoor aerial lifts,industrial electrical renovations,infrared imaging services,multi and room audio,outdoor aerial lifts,parking lot lighting maintenance,parking lot sign repair,security alarm installation,telephone cabling,thermal imaging services and more. Fire Alarm Systems services for Penticton South Okanagan and Similkameen Areas homes and businesses are only a phone call, click or an e-mail away in this directory of quality Fire Alarm Systems in Penticton South Okanagan and Similkameen Areas.
So, whether you're from Allison Lake, Apex Mountain, Cawston, Eagle Bluff, Faulder, Greenwood, Hedley, Kaleden, Keremeos, Kettle Valley, Manning Park, Naramata, Okanagan Falls, Olalla, Oliver, Osoyoos, Penticton, Princeton, Summerland, Tulameen, Vaseaux Lake, Westbridge or Willowbrook, you can be confident that iNFOTEL Business Directory covers your Fire Alarm Systems needs.