Weekend Recipe: Okonomiyaki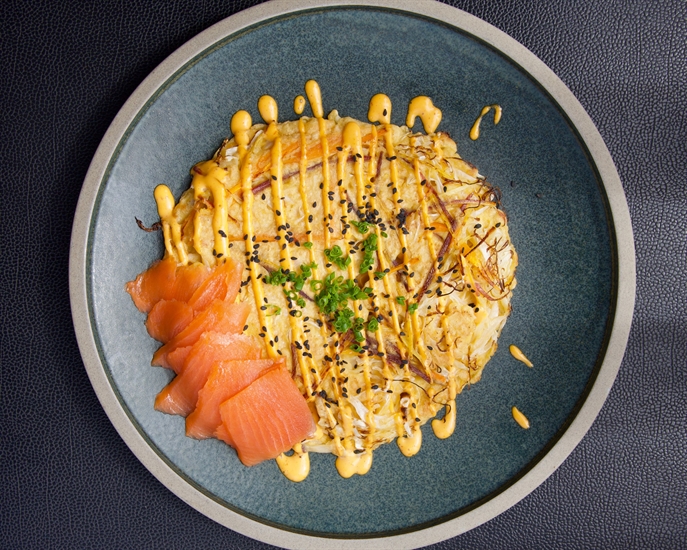 This recipe was contributed by Summerhill Pyramid Winery for my recent book, The B.C Wine Lover's Cookbook. Okonomiyaki is essentially a Japanese cabbage pancake and is a staple dish served in many Japanese households. It is very adaptable with ingredients and is usually used as a delicious solution for using leftovers.
It is so easy to make and really is absolutely delicious. You will be thrilled to add this to your go-to recipe list — trust me. The smoked salmon they suggest is just a suggestion but not necessary. I like to use Japanese dashi broth instead of vegetable or chicken broth. To make it even more authentic, purchase bonito flakes to serve — they are the little "dancing" bits you see atop some dishes at Japanese restaurants.
Okonomiyaki
Chef Jeremy Luypen
Ingredients:
1 cup flour
2 1⁄4 tsp sugar
1⁄4 tsp salt
1⁄4 tsp baking powder
3⁄4 cup vegetable stock or dashi stock
1 1⁄2 lb red or green cabbage, chopped into small pieces
4 eggs
1⁄4 cup pickled pink ginger, chopped
2–4 Tbsp canola oil
1⁄2 cup mayonnaise
Sliced chives, to garnish
1⁄2 lb thinly sliced smoked salmon
Okonomiyaki Sauce:
2 Tbsp ketchup
2 Tbsp Worcestershire sauce
1 Tbsp fish or oyster sauce
In a large bowl, mix the flour, 1⁄4 tsp of the sugar, salt, baking powder and stock until well combined. Cover with plastic wrap and refrigerate for 1 hour.
Make the okonomiyaki sauce. In a small bowl, whisk together the ketchup, Worcestershire, fish sauce and remaining sugar until the sugar has dissolved. Set aside.
Set the chopped cabbage on paper towel to remove the moisture.
Remove the batter from the fridge. In another bowl, whisk together the eggs and pickled ginger until well combined, then stir into the batter. Gently stir in the cabbage.
Heat 1 Tbsp of the canola oil in a medium-size frying pan over medium heat. once hot, add a quarter of the batter mixture (or half if you are making two large servings) and spread into a circle on the pan. you can make it as thin or as thick as you like, but you should cook only one pancake at a time. Cover and cook until the bottom has browned, about 5 minutes. Flip over, cover and cook about 5 more minutes. Transfer to a plate, then repeat until all the batter is cooked, adding another 1 Tbsp oil to the pan before starting each pancake.
To serve, okonomiyaki is traditionally topped with okonomiyaki sauce and mayonnaise applied in a criss-cross design (squeeze bottles make this easy). Sprinkle with chives and arrange the smoked salmon on the plate.
---
We welcome your comments and opinions on our stories but play nice. We won't censor or delete comments unless they contain off-topic statements or links, unnecessary vulgarity, false facts, spam or obviously fake profiles. If you have any concerns about what you see in comments, email the editor.
News from © iNFOnews, 2020