Want B.C.-made boozy freezies? You have to go to California to get them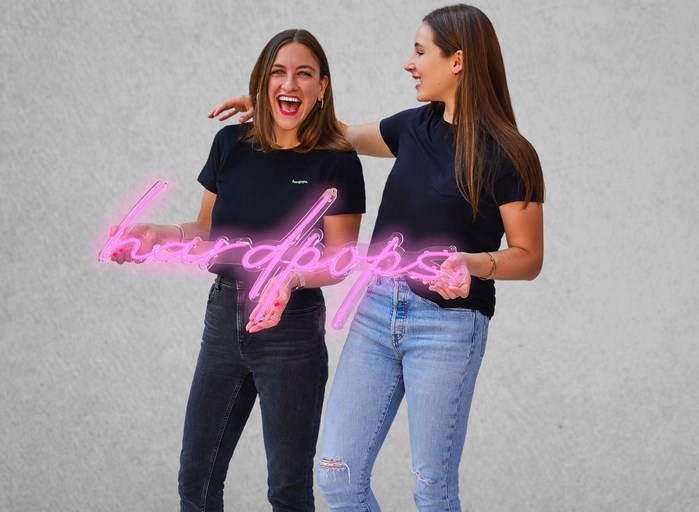 It all started in 2017 when Sheereen Price and Gabrielle Mustapich were sitting on a Vancouver beach.
"We were having a popsicle and thought: 'Wouldn't it be a great idea if it was boozy?'" Price told iNFOnews.ca. "And here we are, in America."
That's right, America.
They created Hardpops a "unique and fun" product made with wine and natural juices. In Canada it would be a freezie. In the U.S. they're called ice pops.
You might be able to buy other company's boozy freezies in Alberta, but not in B.C.
"This is a really good example that businesses need the freedom to innovate," Central Okanagan-Similkameen-Nicola MP Dan Albas told iNFOnews.ca. "This is one of my biggest criticisms of these provincial monopolies that like big bulky rules. These little entrepreneurs don't always fit into their little boxes. Small family wineries that want to experiment with new products often are dissuaded by the bureaucracy that does not allow them to try a new offering."
While Hardpops is not a winery, the same sentiment applies.
The idea came to the two Vancouver women in 2017 so they got right on the job to figure out how to do it.
"As one does, you call the government and say: 'Hey, can we sell these freezies in B.C.?" Price said. "We worked with the B.C. Liquor Distribution Branch. They had originally said: 'Yes, this is not a problem. Let's just maybe work on the packaging and see if we can make it a bit more tamper-proof, a little less child accessible.'
"We thought, that's not a problem, so we found some cannabis packages that have a childproof lock. We packaged them in these pouches and, after three meetings, the government ultimately said. 'You know what? Just kidding.'"
READ MORE: B.C.'s alcohol 'spike' during COVID starting to wane
By then they had invested in a freezie machine and other material. Since it was legal to manufacture in B.C., they set up shop in Vancouver in 2019 and found a market in Alberta. At one point they had 145 outlets.
Two years later, they packed it in and moved to California. Alberta has too short of a freezie season and was the only province that allowed the product so Hardpops are not available in Canada anymore.
Winterland Beverages Ltd makes vodka-based Hard Ice products in Kelowna but can't sell them in B.C. They did not want to comment for this story.
READ MORE: B.C. bar slapped with $19K fine after liquor inspector was delayed 7 minutes
"Encouraging and supporting the responsible use of beverage alcohol is a core value of the B.C. Liquor Distribution Branch," iNFOnews.ca was told in an email from the branch. "Helping to keep alcohol out of the hands of minors is one of our key goals.
"Each product is unique and the LDB closely assesses each individual product in its entirety to ensure it is in compliance with the LDB policy for social responsibility criteria for registration of liquor products. A product will not be registered for sale in British Columbia if it is likely to appeal to minors (under 19 years of age) by the use of designs, images, packages/containers or promotional techniques resembling those which are popular with or effective on minors."
Price suspects the denial had more to do with the branch not being open to a new product from a small producer.
"When we first presented it, we were small fish and I think that has an impact," she said. "If you're a big company and you're coming to a big government agency there's probably less pushback."
Mike's Hard Lemonade, which is an international brand, does sell some frozen product in B.C.
"It's also a new product, a new category, which creates a lot of administrative work for the government and like anything, it takes time," Price said. "It takes time to introduce a new product into the system. That could be said across all industries."
Albas has been fighting for years to break down interprovincial barriers to the sale of alcohol products.
He sees B.C. as a particular problem because the Liquor Distribution Branch is one big, government controlled agency. Alberta, on the other hand, has a private wholesaler and is more open to smaller and newer products.
"The problem with the current system (in B.C.) is that its rigid rules stifle innovation and entrepreneurships," he said. "At a time when we're asking entrepreneurs to take more risks and to try to recover from COVID, to have these big bulky rules smothering that instinct to grow is something that should be addressed by the provincial government."
He pointed to a new "buy by the box" trend in the U.S. where wineries can ship out sample sized bottles so customers can find their preferred wine without having to buy a whole bottle.
That, too, is not allowed in B.C.
"This is one of those cases where, sometimes, bureaucrats will push back because an idea isn't in their realm," Albas said. "That's why you need elected officials powerful enough to say: 'You are in the wrong. We are going to welcome these things.' That's why I call upon the province to have a review of these rules. B.C. should be leading the market."
Hardpops is currently only sold in California and Florida but they're just starting out.
Last fall they were approached by the NHL's Florida Panthers and are now an official ice pop partner to the team and its stadium.
Right now, the "core" manufacturing and marketing team is Price and Mustapich but they'll soon be selling through retail chains and expanding into other states.
"These jobs are supporting our local economies," Albas said. "The value added nature of our local wineries is as high up the value chain you can go with agricultural products so the Minister of Agriculture and Attorney General should answer those questions."
The Attorney General's department did not respond to iNFOnews.ca by publication time.
So, do Price and Mustapich want to return to Vancouver?
"Very much so," Price said. "We moved down here and we're growing the business and we'll take it back and re-introduce it."
---
To contact a reporter for this story, email Rob Munro or call 250-808-0143 or email the editor. You can also submit photos, videos or news tips to the newsroom and be entered to win a monthly prize draw.
We welcome your comments and opinions on our stories but play nice. We won't censor or delete comments unless they contain off-topic statements or links, unnecessary vulgarity, false facts, spam or obviously fake profiles. If you have any concerns about what you see in comments, email the editor in the link above.
News from © iNFOnews, 2023