B.C.'s alcohol 'spike' during COVID starting to wane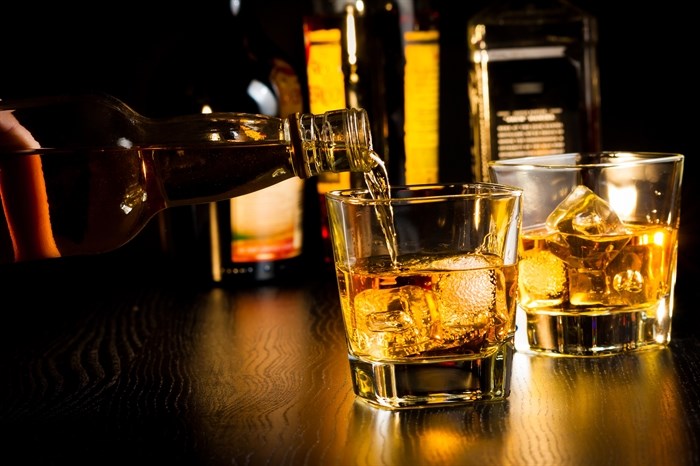 It is true that Canadians drank more alcohol during COVID than before but the reality for B.C. residents is that amounted to an average of about 11 more drinks in a year.
Alcohol consumption has now returned to pre-pandemic levels and it seems that consumption levels are continuing to drop.
"I think (the reported spike in drinking during COVID) was, honestly, overblown," Adam Sherk, a Scientist with the Canadian Institute for Substance Use Research at the University of Victoria, told iNFOnews.ca. "The original bump, it wasn't humongous."
In the fiscal year 2019/20 B.C. residents over the age of 15 consumed, on average, 9.1 litres of pure alcohol, or about 534 drinks each, according to B.C. Liquor Distribution Branch records. That increased to 9.28 litres at the height of the COVID pandemic, or 545 drinks per year.
In the next fiscal year it dropped back to 9.1 litres.
The 15 and over age classification is a globally used standard. Many of those included in the calculations, therefore, are underage and may not be drinking at all. In fact, about 25% of Canadians don't drink alcohol at all, Sherk said.
That means the real consumption level for individuals who do drink is higher than the amounts stated in academic research.
"The real worry was the pattern of it," Sherk said. "We weren't drinking at all in restaurants and bars. We were doing all of our drinking in the home and that's a real problem. Bringing all that alcohol into our homes can be very difficult on the family, especially if the drinking is occurring as a lot of drinking all at once, like binge events."
A study released by the Institute in Dec. 2021 found Interior Health residents consumed 13.69 litres of alcohol during the 2020/21 fiscal year, which was the height of the COVID lockdowns.
READ MORE: Easy access to booze helped boost COVID pandemic drinking in Interior Health: study
"During the beginning parts of COVID, we were really concerned about kids and intimate partner violence – that sort of stuff that happens in the home with bringing all that alcohol into the home," Sherk said. "Taking that back outside our houses and repopulating bars and restaurants, I think, is good overall. There's a bit more moderation at those places than when you're at home."
The researchers are still crunching the most recent consumption data, region by region and venue by venue.
The latest data from the Liquor Distribution Branch that iNFOnews.ca was able to access is from April 2022 to the end of September.
That showed B.C. residents bought 254.5 million litres of all forms of alcohol (beer, wine, spirits and refreshments) during that six-month period.
That's about a 2.7% drop from the previous year and 4.6% below the COVID peak.
"Any decrease in overall sales or overall alcohol use will bestow health benefits on us as a population," Sherk said. "That's promising to increase our population's health."
One key factor in the decline in overall consumption is the fact that those in the 15-25 year age group are consuming "significantly" less than in previous generations.
"This is a bit of conjecture but that generation is kind of the leading edge of this move towards using less alcohol than before," Sherk said.
He thinks there's a few possible reasons for that.
"That age group, they're so connected to the metaverse – or whatever we want to call it – so that takes a lot of their time and energy that just didn't exist before," Sherk said. "One of the leading theories, and probably the one I would support the most, is that this non-physical interaction is taking up an immense amount of their time, which was totally non-existent before."
In previous generations, that age group would socialize more often in person, often in bars and at parties where alcohol was consumed. Now they're more likely to sit at home texting.
"It could be because some of this health information is starting to take hold, in particular, the fact that alcohol causes cancer, which is still not universally known," Sherk said.
That link to cancer hit the news this week when the Canadian Centre on Substance Use and Addiction recommended that warning labels be carried on alcohol containers and that no more than two drinks be consumed per week to minimize health risks.
READ MORE: New alcohol guidance focuses on continuum of risk, suggests warning labels
Health Canada considers a standard drink to be 17.05 millilitres of pure alcohol, which is the equivalent of a 341-ml (12 oz) bottle of beer or cider containing 5% alcohol; a 142 ml (5 oz) glass of wine with 12 per cent alcohol or a 43-ml (1.5 oz) shot glass of spirits with 40% alcohol.
Will such labels be required by government and will they work?
"Scientifically, it (cancer risk) has definitively been known for 20 years or more," Sherk said. "But getting that information out to drinkers has been really difficult, I think for two reasons. First, because it's not labelled on alcoholic beverages, which it should be. And second, because our governments are retailers of alcohol and it's a revenue generator for them although, in total, alcohol is a loser for our public coffers because we have to pay so much to treat its effects."
In 2020, Sherk published a report called 'The Alcohol Deficit: Canadian government revenue and societal costs from alcohol.'
It found that government took in $10.9 billion in annual revenue from alcohol nationally. But the costs of healthcare, economic loss of production, criminal justice and other direct costs totalled $14.6 billion, creating an annual deficit of $3.7 billion, based on 2014 statistics.
In B.C., net revenues were $1.6 billion but costs were $1.9 billion, a $314 million difference.
The costs were calculated at $744.3 million for economic loss, $673.2 million for health care, $349 million for criminal justice and $169 million in other direct costs.
"The risks of cancer that were highlighted this week are important but the public's knowledge about the harmful effects of alcohol is 50 years behind what they know about tobacco," Sherk said.
"These things to take years and decades to come to fruition and have everybody understands the harms here," Sherk said. "Alcohol causes cancer. Sometime, soon, all of us in Canada will know that fact."
Whether it will take cancer labels on alcohol to create that awareness or whether increasing public concern will lead to a greater demand for labels, remains to be seen.
"As we become more knowledgeable of the health effects we, as a population, become more supportive of these warning labels," Sherk said. "Which is the cause and which is the effect? I think it's more the education – the public knowledge – driving forward the labelling because we, as the public, are more supportive of the labelling."
Price, through increased taxes, may also be a factor.
"People become more willing to accept the higher prices if they know how harmful the product is," he said. "If they think it's just benign, then they don't want to pay a higher price on it."
---
To contact a reporter for this story, email Rob Munro or call 250-808-0143 or email the editor. You can also submit photos, videos or news tips to the newsroom and be entered to win a monthly prize draw.
We welcome your comments and opinions on our stories but play nice. We won't censor or delete comments unless they contain off-topic statements or links, unnecessary vulgarity, false facts, spam or obviously fake profiles. If you have any concerns about what you see in comments, email the editor in the link above.
News from © iNFOnews, 2023