Thompson-Okanagan farm to table doesn't just happen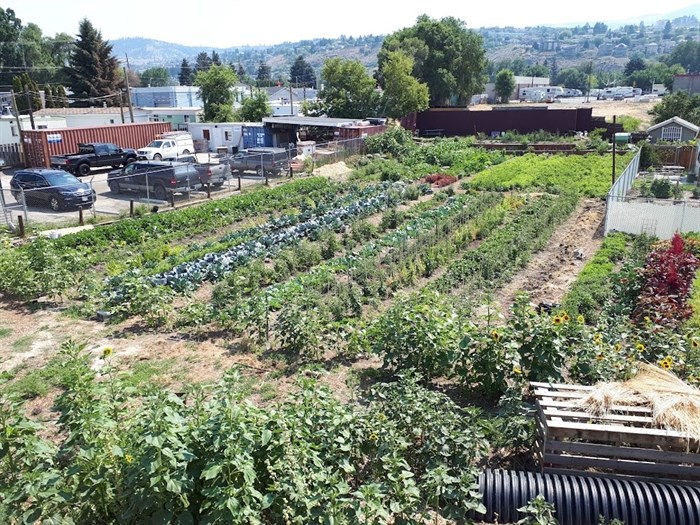 While COVID and last year's washout of B.C. highways got people thinking about supply chains and food security, shop local advocates have been working for decades to make the Thompson-Okanagan more self-sufficient.
Food organizations range from Okanagan Grown, a marketing company that started in 1935, to the Kamloops Food Policy Council – the oldest of its kind in Canada – and the North Okanagan Land to Table Network that launched less than a decade ago.
"The focus of Land to Table is: how do we create a more resilient food system, ensuring that our local retailers, restaurants and institutions are buying the food that's grown here?" network director Liz Blakeway told iNFOnews.ca. "And also making sure all the people living here have access to fresh healthy local food as well."
The network, originally called the North Okanagan Food System Initiative, was launched in 2015 as a study group around a kitchen table.
"Back then there was the sense our local small and medium scale farmers – not corporate farmers but family farms – were struggling to make a living and they needed support to be able to sell food locally," Blakeway said.
They got funding from the Regional District of North Okanagan and other agencies to help connect farmers with buyers in the region.
Selling their products at the farm gate did not reach enough customers and things like farmers markets can be limited both in opportunity to get a table and the time taken away from farming, Blakeway said.
"Land to Table moved from a largely consultation-based organization where we held forums, provided workshops and held discussions with local growers and local food processors trying to get a sense of what their needs and priorities are," Blakeway said. "We were trying to find the gaps in our local food system.
"We did a lot of that work in the first two to three years and now we've moved more to undertaking action based on those priorities that we've identified as needing attention."
Part of that action has been an arrangement with UBCO in Kelowna to provide locally grown food to the campus.
The idea of locally grown – and mostly organic – food fits in well with the UBCO Food Services philosophy which is aiming to get 50% of its food locally over the next few years, Blakeway noted.
Since locally grown food is mostly seasonal, processing, preserving, dehydrating and freezing is all part of the system.
That's a key approach the Kamloops Food Policy Council has taken in creating The Stir. It officially opened in October but had a "soft opening" last spring.
It's a commercial scale kitchen with storage areas so local entrepreneurs can process their products and grow their businesses.
READ MORE: There's excitement stirring behind this Kamloops food hub
"It's able to give people that shared space and shared infrastructure and shared equipment so you're not purchasing, like, a commercial mixer," Krista Macaulay, the council's communications lead, told iNFOnews.ca. "Then you're not doing it by hand. Instead of doing 10 jars a day you can do 100 or 1,000 jars a day. You're upping what you produce and not having to pay those large scale prices."
But the Food Policy Council, which started in 1995, is more than a community kitchen.
"We work towards our larger vision of creating a local food system that is regenerative, sovereign and just," Macaulay said.
Part of that work is helping local growers get into the grocery stores.
"If you're a food entrepreneur and you're trying to break into the market, it's expensive and it's hard," Macaulay said. "There's a lot of hoops to pass through. There are permits, licencing. It's intimidating."
They help entrepreneurs navigate that system along with things like labeling and packaging.
Smaller stores like New Leaf, Nature's Fare and Gourmet Greens are the most receptive to locally grown and some even display information on the farms the food comes from.
The next step is to open a store-front on the same site as The Stir at 185 Royal Ave.
That's going to require grant money to get started but, ultimately, it needs to be self-supporting, Stir coordinator Kent Fawcett said.
That may be a year or two away.
"With The Stir, right now, a lot of it is that we're still trying to raise awareness of what we do and what a food hub even is," Fawcett said. "We still have lots of capacity to support local business."
Part of that support is educating growers and producers about what it means to sell into grocery stores.
"I always prepare our local makers by warning them they are always going to be the most expensive thing in the grocery store, even if they're not competing with people based on price," Fawcett said. "They're not competing with Superstore and Walmart brands. Their target market is people who care about supporting local.
"They're not going to reach as many price sensitive buyers. It comes down to the mindset shift where people are going out of their way to visit multiple grocery stores to support more local things."
Another tool to shift mindsets is the Butler Urban Farm on the North Shore.
It was started by Jump Kamloops in 2015 with Kamloops Food Policy Council taking over management in 2020.
It's just under one acre with about 100 different varieties of produce where people can come and pick for free.
"If you want people to have more opportunities to buy local, you have to first encourage people to want to buy local," Caitlin Quist, the farm's community organizer, said. "I think participating and growing your own food does lead you to start caring about those things a little bit more."
People are encouraged to volunteer at the farm.
"You learn how to manage the soil and land," Quist said. "You start wanting to ask the local farmers questions because, before, you might not even know what questions you should have been asking."
There is also a Gleaning Abundance Program that had 250 volunteers this year participating in 107 harvests of 15,758 pounds of, mostly, fruit.
The harvest is shared between the owners, volunteers and, this year, 22 community groups.
But it goes beyond simply harvesting the food.
They've started giving pruning workshops to enhance next year's crop as well as taking advantage of The Stir to process some of the food.
Both these organizations work independently although there is growing communication between them and others in the region to encourage more locals to buy locally grown products.
On the other end of the scale is Okanagan Grown.
It was launched in 1935 as the Interior Vegetable Marketing Agency in Armstrong. It later moved to Kelowna then in 1970 to Vernon.
This is for commercial growers ranging from greenhouse tomatoes in Osoyoos to the largest onion farm in B.C., which is in Kamloops.
While none of these organizations had statistics on volumes of food produced, processed and sold locally, they do see a growing interest in the buy local trend.
The Stir has more people looking to rent space for baking, canning or dehydrating. Their next step is the storefront where they can champion local growers.
"There's the potential need for a local food broker, somebody who is representing the local grower and the local products that are coming out of our region," Blakeway, the North Okanagan Land to Table Network director, said.
---
To contact a reporter for this story, email Rob Munro or call 250-808-0143 or email the editor. You can also submit photos, videos or news tips to the newsroom and be entered to win a monthly prize draw.
We welcome your comments and opinions on our stories but play nice. We won't censor or delete comments unless they contain off-topic statements or links, unnecessary vulgarity, false facts, spam or obviously fake profiles. If you have any concerns about what you see in comments, email the editor in the link above.
News from © iNFOnews, 2022