There's excitement stirring behind this Kamloops food hub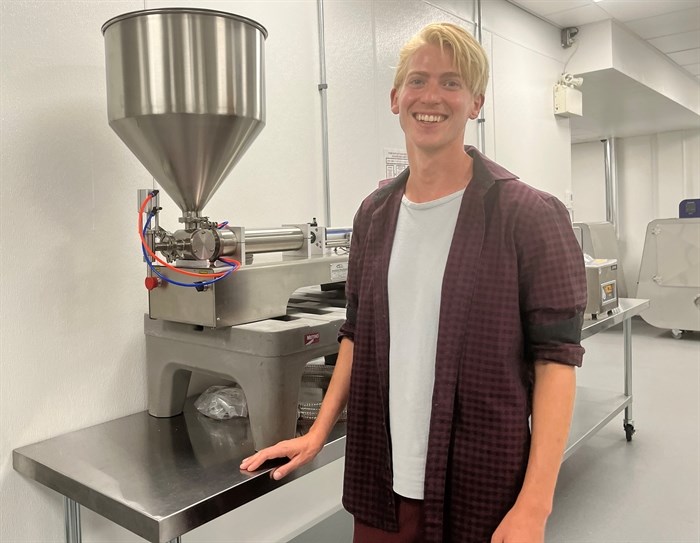 A large scale food hub and innovation centre is about to open its industrial kitchen and get cooking after months of work and preparation.
The Stir, located on Kamloops's North Shore, is bringing a unique, collaborative concept to the city.
"This is a model that is needed here and the opening of the kitchen is a major piece of it," said food hub coordinator for the Kamloops Food Policy Council, Kent Fawcett.
At the heart of The Stir is a network of partners who are dedicated to food security, environmentally friendly practices, helping the community and giving smaller local food producers a hand up in their business ventures.
The idea is for local food producers to come together to learn about and build upon the unique terroir of Kamloops and the surrounding region.
The Stir is part of a provincial project by The Food Hub Network that began in Kamloops in 2019 through the Kamloops Food Policy Council.
"The long-term vision is to discover what we have growing in our region and find the foods that reflect and define it," Fawcett said. "Then create, package and bring those products to the community."
The front part of the building is called the Stirfront where packaged dehydrated and canned products will be sold.
"The goal is a food store for locally made food," Fawcett said. "We are going to have some frozen and refrigerated product but our focus is on shelf stable product because that is what we're making in the kitchen. We are encouraging sustainable dehydrated and canned products."
READ MORE: Demand for grocery delivery cools as food costs rise
A few different programs are already operating out of the Stirfront, and one is called the Customer Supported Program.
"Customers pay farmers up front to buy seeds and grow food, and then those customers get a weekly box of produce for the season," Fawcett said. "It reduces work for the farmers and provides customers with locally grown food."
A large walk-in cooler in the corner of the room stores the produce and keeps it fresh.
Batches of fruit are sorted on a bench along one wall as part of the hub's gleaning program.
"We have volunteers that pick people's fruit they would otherwise not pick," Fawcett said. "A third goes to the home owner, a third goes to the volunteers and a third goes to the Kamloops Food Bank. This helps feed people and deters bears."
A back hallway leads to the spacious industrial kitchen with shiny, stainless steel tables and new or like-new pieces of industrial kitchen equipment.
READ MORE: World food crisis prompts rise in child marriages: Canadian aid agencies
Among the standard fridges, freezers, sinks and stoves, are pieces of equipment that are most essential for the hub's purpose — the industrial filling machine, two big, industrial dehydrators and a twenty gallon steam kettle.
"There is a big funnel on the top and it is used for making things like jams, jellies and sauces," Fawcett said. "You can set the machine to the exact quantity, put a jar under and use a foot pedal that will automatically give you the exact amount.
"This is really going to help speed things up for our producers which will allow them to spend more time during the week working on their businesses and marketing."
The industrial steel dehydrators have the capacity to dehydrate hundreds of pounds of produce in a day. They come with mats to be used for drying jerky and fruit leathers, and temperature technology to help ensure safe food production.
The steam kettle is used for uniform heating, cooking, mixing and storing large batches of chili, soups, sauces and preserves.
READ MORE: Kamloops RCMP recover body of Vernon doctor from Thompson River
Fawcett said the kitchen will be carefully managed and those who operate there will be carefully chosen.
"We want to ensure everyone here is making safe food and respecting the shared space," he said. "We are picky about who we let in here, it is not a community kitchen where people can do drop-ins. This is for people who have a health permit, insurance, a business license and a longer term commitment."
Fawcett has locks on all of the doors and producers will have keys and 24-7 access.
The kitchen should be stirring up locally sourced sustainable foods in a couple of weeks.
There is a parking lot in the back with a riverfront view. Party lights are strung overhead and public gatherings are already taking place in the form of fun pop-up parklet events with vendors and buskers. The next parklet event is on Aug. 25.
Earlier this week many hands came together to brighten up the front of the property with a festive pavement mural.
The Stir is located at 185 Royal Avenue.
---
To contact a reporter for this story, email Shannon Ainslie or call 250-819-6089 or email the editor. You can also submit photos, videos or news tips to the newsroom and be entered to win a monthly prize draw.
We welcome your comments and opinions on our stories but play nice. We won't censor or delete comments unless they contain off-topic statements or links, unnecessary vulgarity, false facts, spam or obviously fake profiles. If you have any concerns about what you see in comments, email the editor in the link above.
News from © iNFOnews, 2022