iN WINE Farmer Friday: East Kelowna Market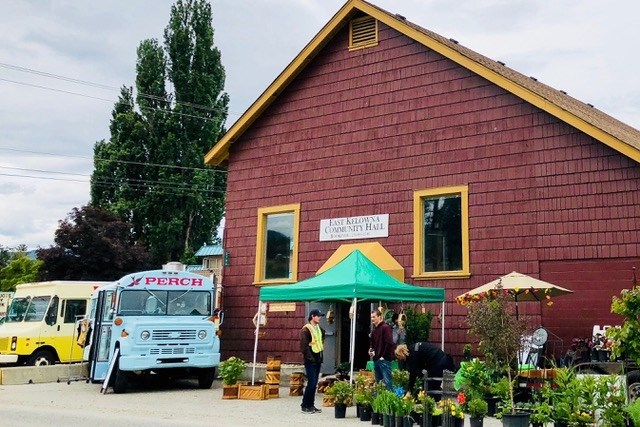 All hail the farmers market!
Over my lifetime I have had the great pleasure to observe a renaissance for the farmer. As a farmer's daughter and the grandchild of a long line of farming forefathers and mothers, I grew up feeling that the historical branding of the farmer was as a lesser trade.
As I began to grow up and observe the world outside our farming community, I realized the strength of body and mind, the ingenuity, pride and the patience it took to operate a farm and tend to orchards, gardens and animals. These are 24-hour 365-day a year careers, and ones that cover the full gamut of skills. I was always confused as to why the land and fruit that it bore were not celebrated, along with the proud humans that orchestrated its bounty.
My own grandparents arrived to this country with less than nothing and with their unbelievable range of skills learned through farming, carved out a life and fed their family well, all through tending soil.
So, the time has come and farmer's markets in North America are bigger than ever. Strange that Europe never lost this connection, and lucky for us it made its way back into our living philosophy. Communities look to their farmers for nutrition and trust. Trust that they are growing something locally and purely without the terrifying toxins that we are discovering in imported food products every day.
B.C. is chock-full of markets that seem to be in every community now. From large to super small neighbourhood markets, it is such a pleasure to purchase directly from the person that raised that fruit or vegetable, or artisan that lovingly created it for you to enjoy. There are smiles all around!
The very town hall from my own farming community in East Kelowna has been enjoying its own renaissance. The very place where I enjoyed annual local harvest markets, helping my Granny Weisbeck serve her famous apple pies from the very kitchen that still stands to fundraise — is a place filled with palpable memories. Local organizer Kathy Sawchuk took it upon herself to create a sort of barn raiser to shine a light on this historical East Kelowna Hall and revive all of those memories of the farming families that built and sustained it. She created the East Kelowna Sunday Market, and it has been a grand success.
Vendors range from crafters and potters to farmers, wineries and food artisans. There are food trucks, artists, vintage clothing trucks, coffee brewers and bakers, all gathered under the roof of this big old hall and breathing life back into its rafters, shaking out the memories of and vibes of so many celebrations gone by. Thank you, Kathy.
Kathy has been working diligently finding funding opportunities to upgrade the hall and the kitchen space.
She explains, "My goal is to start a few programs like having a chef come in to teach classes on preserving fruits by making jams, pies etc and hosting community cooking classes so we can learn about the variety of ways to eat from our local farmland. I want to create an art and music community program for next year with a nominal or free fee for our community to participate. The focus is also to have more of a footprint for sustainability including starting a community garden for kids, programs on recycling and composting. It is time for us to become more innovative."
I invite you all to make the East Kelowna Sunday Market part of your weekend activity. It is on Sundays from 10 a.m.– 2:30 p.m.
Note, because of road construction in the area, Kathy has had to make other arrangements so the market to pop up in other locations so stay tuned to their Facebook page for updates.
They will be popping up at Father Pandosy Museum on July 28 from 10 a.m. to 2:30 p.m. There will be wineries, artists, crafters, food vendors, preserves, art demonstrations by Kelowna Arts Council and Orbis Sports from Myra Canyon Adventure Park will be on site for family fun. There will also be a stage at the barn for some live local musicians!
Hooray for the East Kelowna Market! Please support this initiative by attending, spreading the word and by following them on Facebook to stay up to date with news.
East Kelowna Hall: 2704 East Kelowna Road
---
We welcome your comments and opinions on our stories but play nice. We won't censor or delete comments unless they contain off-topic statements or links, unnecessary vulgarity, false facts, spam or obviously fake profiles. If you have any concerns about what you see in comments, email the editor.
News from © iNFOnews, 2019