iN WINE: Adventure to the Kootenays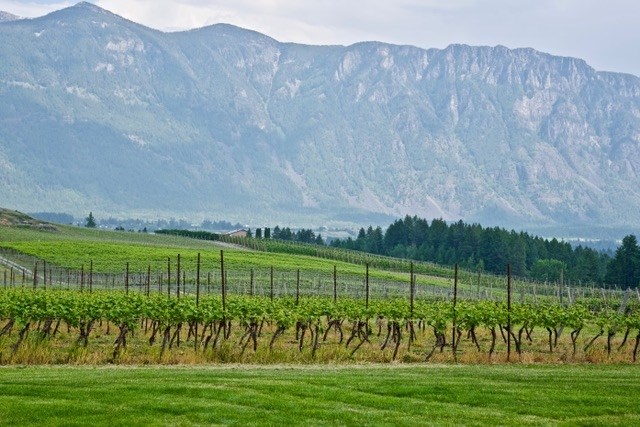 Finally! I made the long overdue road trip to the breathtaking Kootenays. It is a fun drive, heading from Kelowna through Rock Creek and winding by small townships like Greenwood and Grand Forks (aka the borscht capital of B.C.). The scenery changes and grows more super natural by the mile. And our route home was a lucky mistake, we took a wrong turn and came full circle over Anarchist Mountain in Osoyoos. A perfect way to extend your wine tasting route! Stay another night here and visit some of the Okanagan's best wineries.
As you round the bend entering the legendary Nelson, you will immediately realize why this place has hype. A beautiful lake, mountains galore and a charming little village with great streets and big fat tree lined housing that scales the lush mountain. We based ourselves at the beautiful Prestige Lakeside Resort. Sitting pretty on the western shores of Kootenay Lake, it is a short walk up to the town of Nelson and offers a lovely boardwalk along the water and marina. Take a seat on their beautiful patio and order a glass of wine to get your Kootenay vibe on.
The rumours about cool restaurants in Nelson are also true. It was hard to pick, but we decided on Pitchfork Eatery, with its fabulous patio perch, great wine list and super local food, we were happy. We also made a point of joining the line up for coffee in the morning at the gorgeous Oso Negro Café. Delicious baked goods with a serious cult following for their coffee and their egg buns, we nestled into the glorious zen of their garden terrace.
Onwards to Creston. We could have actually taken the Kootenay Lake Ferry with our car that runs from Nelson to Creston- fun! We learned to plan ahead for next time. First stop, the Creston Valley Farmer's (Saturday) Market. Here we were able to check out the wide array of produce grown in this fertile valley. There were also three wineries pouring samples, an indicator of the burgeoning wine industry here in Creston. Red Bird Estate Winery, William Tell (makes cider and a sparkling rosé wine) and our destination winery, Wynnwood Cellars. Proprietor Michael Wigen was there with his wife Mary and Margaret, wife of winemaker Dave Basaraba, wrapping up market day before we went back to their winery for a tasting.
Like many wine regions, the Creston area has been a fruit growing area for a long time, so the soil has proven viable. Wynnwood Cellars is located in tiny Wynndel, just outside of Creston. Michael's great-grandfather O.J. Wigen was a pioneer to the region arriving to the area around 1887. He and Michael's grandfather Monrad expanded the family farming business by building a mill and then expanded it into a small box factory, the Winndel Box and Lumber Co.
Michael actually went on to become a stunt pilot and he can still be found zooming through the skies in his plane. Coming home to Creston to build the winery would continue the family legacy.
Michael explains, "O.J. found that the Creston Valley had a unique climate which could grow just about any crop short of pineapple. He grew strawberries, and his son (my grandfather) Monrad continued with the tradition until the late 1960s. Fruit boxes or crates were in short supply, so O.J. and Monrad started a small box factory circa 1902. It was incorporated in 1913 as Wynndel Box and Lumber Co., and the last boxes were produced in the early 1970s. The mill's nickname was "Wynnwood," so that was the logical choice for our vineyard and winery biz."
Winemaker Dave Basaraba is originally from the Washington wine growing region, but upon exploring what the north had to offer, decided to stay and make wine here. He explains, "This region is defined by great sun in growing season, moderate temperatures, and great minerality. We are in the Upper Columbia Basin and our winter lows are moderated by the Pacific. The entire Pacific Northwest gets tremendous sun from June to October. Our higher elevation (1800 ft.) allows for cool nights, and our minerality is comparable to Northern Italy near the Dolomites. This combination results in small fruit with thick skin."
Michael Wigen, proprietor of Wynnwood Cellars Estate Winery in Creston, B.C. offers pairings for their Sauvignon Blanc.'
The charming little Wynwood Cellars tasting room is set in the middle of their vineyards and offers a wide array of wines to try. From Sauvignon Blanc to their baby, Pinot Noir, the tasting experience is wonderful. Plan to have lunch at Skimmerhorn Winery nearby and book time to taste at Baillie Grohman next door. The unique terroir of the Creston area is producing excellent wines.
Next trip I will take the ferry, visit the Kootenay Co-op and the cheese shop, go to more restaurants, and hit an Oyster Night at Yum Son restaurant when my friend, Brent Petkau, the famous Oyster Man from Cortes Island is in town hosting. There is also a famous yoga centre in the mountains called Yasodhara Ashram that I would love to check out! SO much to do.
https://www.nelsonkootenaylake.com
---
We welcome your comments and opinions on our stories but play nice. We won't censor or delete comments unless they contain off-topic statements or links, unnecessary vulgarity, false facts, spam or obviously fake profiles. If you have any concerns about what you see in comments, email the editor.
News from © iNFOnews, 2019