Happy Three Kings Day — Let's all eat cake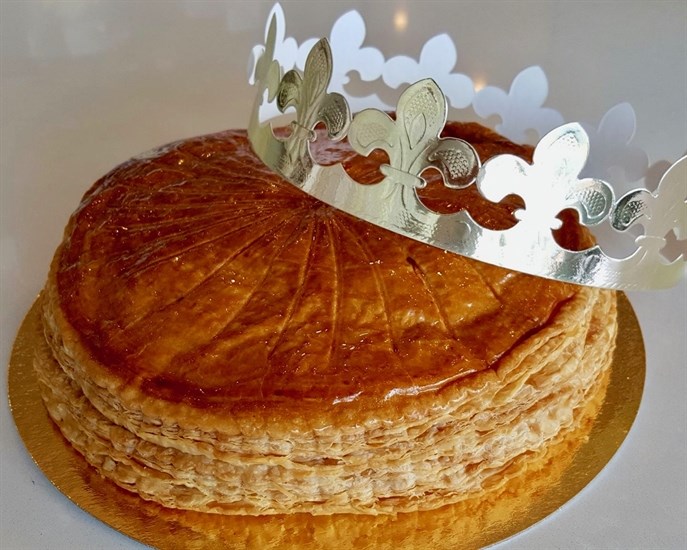 You may have noticed the word Epiphany in passing on your calendars or elsewhere?
Or perhaps heard a reference to taking down the Christmas tree down on Three Kings' Day?
Wondered what that was all about? I'm here to tell you.
Epiphany, or Three Kings' Day falls on Jan. 6 and is the 12th day following Christmas. This date marks the big day when the birth of Jesus Christ was revealed to mankind aka the visit of the Three Wise Men to baby Jesus. This Christian event is celebrated all over the world with many different fun traditions in place, many similarly revolving around a special cake usually with a prize inside and a paper crown involved.
In Spain, the Roscón de Reyes or Rosca de Reyes (ring of the kings) cake is normally filled with cream or chocolate and decorated with a paper crown. A figure of Baby Jesus is hidden inside the cake and whoever gets the baby Jesus in their piece of cake is named the 'godparent' of Jesus for that year.
In New Orleans, the Christmas tree is either taken down or the ornaments are replaced with purple, gold and green ones and renamed a 'Mardi Gras Tree'. King Cake is also served here and this version features a cinnamon pastry with sugar on top and sometimes filled with cream cheese or jelly/jam. Here as well, the prize instead is a little plastic baby doll representing Jesus and tradition is whoever gets the baby brings the King Cake next year.
Three King's Day is an official holiday in parts of Germany and Austria, and is also celebrated in Switzerland, France, Spain, and much of the Spanish speaking New World. The German version of King Cake (Königskuchen), features currants, raisins and candied lemon peel.
In France, there are two versions of the King Cake or Galette des Rois.
One is a layered puff pastry filled with almond cream, and the other is a round yeast cake dotted with candied fruit. Here the prize inside is called a fève and it is either a porcelain or plastic doll or a dried fava bean. Whoever gets the baby or bean wears the paper crown and becomes the king or queen for the day. (Due to the chance of choking, please warn your guests!)
Below is a recipe if you are up for starting your own Three Kings Day tradition – why not extend the season one more day? However, if you are not in the mood to bake your own cake, pick one up at a participating bakery:
Kelowna: Sandrine's French Pastry & Chocolate
Vancouver: Thomas Haas Fine Chocolates & Patisserie
Recipe: Galette des Rois, David Lebovitz
David Lebovitz is a California ex-pat chef and baker living the dream in Paris. His website and recipes are fantastic, and he is a go-to source for all Francophile gourmands. He has also penned nine books. Get to know him: https://www.davidlebovitz.com
8-12 Servings
When working with puff pastry, it's important to keep it well-chilled and work quickly when rolling as it tends to get stubborn as it warms up.
Keep the second piece in the refrigerator until after you've rolled out the first.
After rolling, brush off any excess flour. And make sure to seal the edges really well to avoid the filling leaking out. Frozen puff pastry can often be found in the freezer section of well-stocked supermarkets.
Avoid brands that list fats other than butter in the ingredients for best results. If you don't want to use alcohol, simply omit it or use a few drops of orange flower water in its place. A few people noted in the comments that some of the butter ran out of the tart during baking.
Although I don't do it, some recipes advise that you can add 2-3 teaspoons of cornstarch to the almond filling, which you are welcome to do as extra insurance.
Almond Filling:
1 cup (100g) almond flour
1/2 cup (100g) sugar
pinch salt
zest of 1/2 orange, unsprayed
3 1/2 ounces (100g) unsalted butter, cubed, at room temperature
2 large eggs, at room temperature
2 teaspoons rum
1/8 teaspoon almond extract
1-pound (450g) puff pastry, divided into two pieces, chilled
a whole piece of almond or candied fruit to be the fève
Glaze:
1 egg yolk
1 teaspoon milk
1. To make the almond filling, in a medium bowl, or in the bowl of a stand mixer, combine the almond flour, sugar, salt, and orange zest. Mash in the butter until it's completely incorporated. Stir in the eggs one at a time, along with the rum and almond extract. (The mixture may not look completely smooth, which is normal.) Cover and chill.
2. Line a baking sheet with parchment paper. On lightly floured surface, roll one piece of puff pastry into a circle about 9 1/2-inches (23cm) round. Using a pot lid, plate, or bottom of springform pan as a template, trim the dough into neat circle. Place the dough on the baking sheet.
3. Cover it with a sheet of parchment paper or plastic film, then roll the other piece of dough into a circle, trim it, and lay it on top. Chill the dough for thirty minutes.
4. Remove the dough and almond filling from the refrigerator. Slide the second circle of dough and parchment or plastic from the pan so that there is only one circle of dough on the parchment-lined baking sheet. Spread the almond filling over the center of the dough, leaving a 1-inch (3cm) exposed border. Place an almond or piece of candied fruit to act as the fève (prize) somewhere in the almond filling, if you wish.
5. Brush water generously around the exposed perimeter of the dough then place the other circle of dough on top of the galette and press down to seal the edges very well. (At this point, you may wish to chill the galette since it'll be a bit easier to finish and decorate, although it's not necessary. It can be refrigerated overnight at this point, if you wish.)
6. To bake the galette, preheat the oven to 375ºF (180ºC.) Flute the sides of the dough (as shown in the photo) and use a paring knife to create a design on top. Stir together the egg yolk with the milk and brush it evenly over the top – avoid getting the glaze on the sides, which will inhibit the pastry from rising at the edges. Use a paring knife to poke 5 holes in the top, to allow steam escape while baking.
7. Bake for 30 minutes, or until the galette is browned on top and up the sides. (During baking, if the galette puffs up too dramatically in the oven, you may want to poke it once or twice again with a paring knife to release the steam.) Remove from the oven and slide the galette off the baking sheet and onto a cooling rack. The galette will deflate as it cools, which is normal. Serve warm or at room temperature.
Pair this lovely cake with Quails' Gate Botrytis Affected Optima
Bon chance!
We welcome your comments and opinions on our stories but play nice. We won't censor or delete comments unless they contain off-topic statements or links, unnecessary vulgarity, false facts, spam or obviously fake profiles. If you have any concerns about what you see in comments, email the editor.
News from © iNFOnews, 2020