A tech entrepreneur plans to make Vernon a world-class destination for wine lovers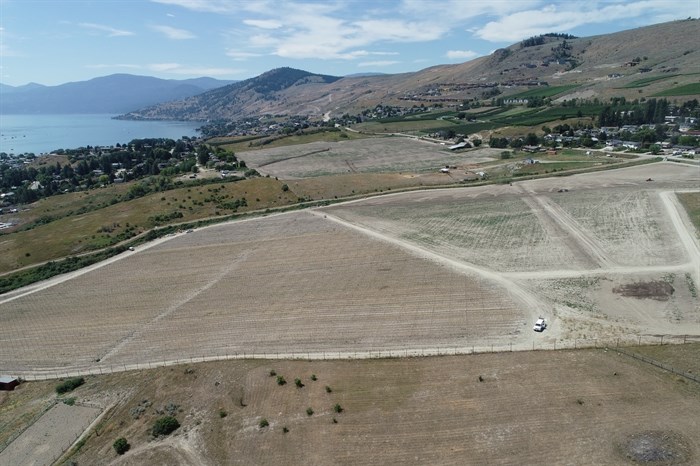 Tech entrepreneur Markus Frind says he's going to make Vernon a world-class wine hub.
The owner of West Kelowna's Frind Estate Winery and founder of popular Internet dating site Plenty of Fish has recently bought around 900 acres of land in several plots stretching from Bella Vista Road to the north of Tronson Road.
"I am fairly confident that the vineyard I'm putting up in Vernon will be one of... the most beautiful vineyards in the world," Frind told iNFOnews.ca. "The views from the top of the mountain are the most stunning views I've ever seen in Canada."
"Currently no one thinks you can grow anything up there, which is kind of weird since there have been vineyards up there since the sixties," he said.
READ MORE: Why Vernon doesn't have any wineries... yet
On Monday we explained why Vernon has struggled to develop any kind of wine industry when even Lake Country, just a few kilometres south has plenty, along with Kamloops further north and of course the Central and South Okanagan. Vernon has had successful vineyards but no wineries. Frind is hoping to change all that and he's started planting grapes that few thought would ever thrive there.
"We believe we can ripen cab sav (cabernet sauvignon) out there which is one of the hardest grapes to ripen and typically it's only grown in Oliver and Osoyoos," Frind said. "If we're able to ripen those grapes it changes the whole industry here because it suddenly opens up all of Vernon for growing grapes, and not just any grapes — the most expensive and the best grapes."
While some vineyards do exist in Vernon – the current site of Turtle Mountain Vineyards has been around for over 40 years – the hillside running north of Tronson Road has never attracted many vintners.
Frind believes his plans will change all that.
The weather is key to growing grapes and precise and accurate temperature data is integral to knowing what varieties can be grown. Frind said most winemakers look to a weather station in Coldstream which is actually two degrees cooler than his land in Vernon.
"I've got 20-something weather stations up and down the valley, and when we look at the area near the lake (in Vernon) it is actually warmer than both Summerland and Naramata," he said.
To the novice wine drinker, this might not sound like much, but to the vineyard community, it's big news. In wine terminology, Frind says his Vernon site is 50 to 100 growing degree days higher than Summerland.
The price of land in Vernon is also a huge selling point.
"The land prices in Vernon are dirt cheap compared to everywhere else," he said.
With vineyard land in the Okanagan difficult to find and costly at around $250,000 an acre. Frind bought around 800 acres in Vernon at $14,000 an acre, without water, and paid $65,000 an acre for the 80 acres south of Bella Vista which have irrigation.
Planting will begin this fall on his site south of Bella Vista and he hopes to uncork the vineyard's first mini harvest in about two years. It'll take five years to get to full production.
So will a swanky new hillside winery with a tasting room and fancy restaurant follow?
"We haven't thought that far ahead," he said. "We'll have to see if it grows there and then go from there."
If the cab sav doesn't take off, he's confident other varieties like merlot and cabernet franc will.
"Even those varieties will have a huge impact, typically no one thinks they can grow that north of Naramata," Frind said.
He estimates it'll be five years before the whole hillside is planted and up and running, and strongly believes others will follow. He says there are a few hundred acres left on the hillside which he didn't purchase.
"We want to see other wineries move in and establish themselves and create a presence for tourism," he said. "There is a lot of opportunity... if you want to grow grapes you need a south-facing slope... and you want it on a grade up to 25 per cent ... it's one of the only places in B.C. where you're going to get that."
So why when the rest of the Okanagan Valley is teeming with vineyards and wineries did no one snap up the land first?
"They're like lemmings... the moment you show that it works or the moment you do something unexpected all of a sudden everyone pipes in."
Frind also has something others don't — a fortune. He sold his Internet start-up for $575 million.
Only time will tell if he can emulate that success in the hills of Vernon.
---
To contact a reporter for this story, email Ben Bulmer or call (250) 309-5230 or email the editor. You can also submit photos, videos or news tips to the newsroom and be entered to win a monthly prize draw.
We welcome your comments and opinions on our stories but play nice. We won't censor or delete comments unless they contain off-topic statements or links, unnecessary vulgarity, false facts, spam or obviously fake profiles. If you have any concerns about what you see in comments, email the editor in the link above.
News from © iNFOnews, 2020