Why Vernon doesn't have any wineries... yet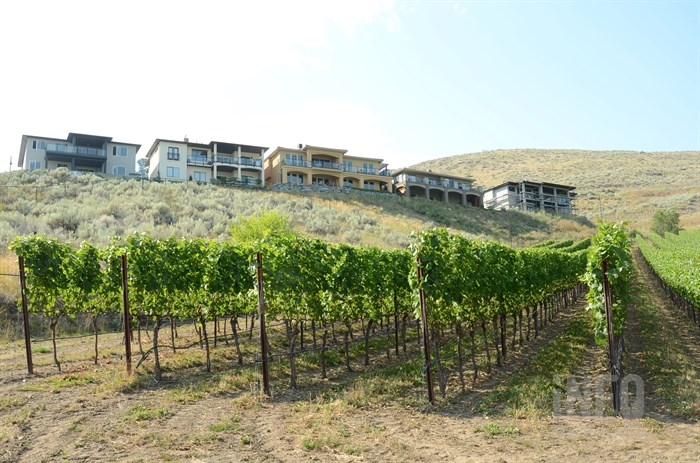 Making your way from one winery to the next, half-a-dozen sips at a time, has become the quintessential thing to do on a sunny afternoon for those living in the Interior.
With the Okanagan Valley having more than 80 per cent of the entire province's vineyard acreage and boasting close to 200 wineries, residents from Lake Country to Osoyoos don't have to venture far to hit-up a winery patio where they can quaff their favourite vintage.
However, for Vernon residents, this is not the case. The city has no wineries and few vineyards.
Which begs the question: Why, when the rest of the valley is teeming with vineyards and wineries, does Vernon have none?
"It really does baffle me," Vernon vineyard owner Sid Sidhu told iNFOnews.ca. "It's crying out for wineries, there are wineries south of us, there are wineries north of us, everywhere except here."
Sidhu owns Turtle Mountain Vineyards, nestled in the hills off Bella Vista Road. While personal circumstances prevented Sidhu from establishing a winery, he grows grapes in his vineyard which are sold to other Okanagan wineries. He often questions why wineries have not popped up along the hillside.
Vernon based Royal Lepage Downtown Realty realtor Pat Duggan sells agricultural land from Lake Country to Salmon Arm and said he's had virtually no inquires over the years from prospective buyers wanting land for grapevines in Vernon. Duggan said while orchardists from the south Okanagan moved north putting pressure on farm prices, vintners haven't followed.
Royal LePage Kelowna realtor Andy Sandhu sells agricultural land in the Central Okanagan and echoes Duggan's comments, saying he receives no inquires about vineyard land in Vernon.
Duggan said it's hard to put a price on land as access to water, and the number of acres for sale changes the price drastically, however, there is one consistent.
"Land gets more expensive as you go south."
Travel a mere 30 kilometres south of Vernon to Lake Country and wine lovers are blessed with over half-a-dozen-wineries within a few kilometres of each other, offering tastings to the public. As Lake Country has very similar topography to Vernon and a multitude of vineyards, it would appear, at least in theory, that Vernon could do the same.
According to B.C. Ministry of Agriculture agrologist Dieter Geesing the soil around Vernon could easily support a variety of vineyards.
"As long as the grapes don't get their feet wet," Geesing said growing certain grape varieties on the sloping hills around Vernon would work well.
Geesing said the main issue in setting up a vineyard can be the diverse B.C. topography and landscape, where the climate in one valley can be totally different than the next.
"Sometimes it's just one degree (difference) that kills your wine, even within the same slope," Geesing said.
The expert with a PhD in plant and soil science said often what puts potential wine growers off is the lack of precise weather data for the exact piece of land where they might want to grow grapes. Without the hard statistics giving farmers the probability of late or early frosts, anyone investing in a vineyard is taking a considerable risk.
READ MORE: Why Kamloops doesn't (yet) share the Okanagan's bounty of tree-fruits
B.C. Wine Institute Master of Wine Rhys Pender says the area is seeing more interest.
"As we keep having these warmer and warmer vintages, people are looking to the areas that were maybe considered slightly cooler a few years and (are) now looking pretty ideal for some of the wine styles people are looking to produce," Pender said.
And while the wine industry hasn't flourished in the hills above Vernon the city does have a bit of a history of winemaking.
According to a Vernon Morning Star article from 2001, vineyards were planted off Bella Vista Road going back to the late 1960s. In around 1990, U-brew store owner Larry Passmore bought the site where Sidhu's vineyard is located, and along with 14 business partners formed Bella Vista Winery. An article from 1993 says it was Vernon's "first winery." What happened to Bella Vista Winery is less clear, but Sidhu said he purchased the site from the bank after it went into foreclosure in 2004.
And grapes are also growing a few kilometres west.
A 2005 Daily Courier article — complete with ribbon cutting photo — boasts how The Rise housing development's winery will bring in $17-million to the Vernon economy over the next 15 years. A few years later the global credit crunch put an end to the idea, but the vineyards did produce a licenced label, The Cellars at the Rise. In 2011 prolific Canadian wine author John Schreiner gave several of their wines, sold under the label StompinGround Winery, decent reviews. Pender said the vineyards at The Rise had produced some the highest quality pinot noirs he'd ever tasted.
However, the fate of the vineyards at The Rise is uncertain. Vancouver based Seacliff Properties bought much of the development a few years ago and under the new name, Grandview at the Rise, has applied to the City of Vernon to rezone 87 acres of their 480-acre purchase. Seacliff director of acquisitions asset management Jeany Lee said it wouldn't be appropriate for her to comment about the future of the vineyards.
Lee said since the company bought the development, the 10-acre vineyard has been leased out for $1 a year to Lake Country's Ex Nihilo Vineyards, which harvests the grapes. There's also another small vineyard which sits next door - ripe with development potential.
"This slope has a chequered history of winemaking," Schreiner says in a 2011 wine blog, and while his prediction that wineries at The Rise and Turtle Mountain – along with Planet Bee's meadery – would transform the area into an attractive wine destination didn't come into fruition, things are changing.
Anyone who has stood on the east side of Okanagan Lake and looked across the lake to the hills above Bella Vista Road will have noticed a huge amount of excavation work taking place over the last 12 months.
Markus Frind, the man who sold his popular dating site PlentyOfFish for $575 million in 2015 has bought vast tracts of the hillside to turn into vineyards. The 41-year-old entrepreneur opened Frind Estate Winery on the West Kelowna waterfront in 2019 and has plans for Vernon.
Back at the hills above Bella Vista, Sid Sidhu can only guess at what might have happened had his original vision come to fruition. He's positive it would have been a great success.
And maybe somebody else will have that success.
---
To contact a reporter for this story, email Ben Bulmer or call (250) 309-5230 or email the editor. You can also submit photos, videos or news tips to the newsroom and be entered to win a monthly prize draw.
We welcome your comments and opinions on our stories but play nice. We won't censor or delete comments unless they contain off-topic statements or links, unnecessary vulgarity, false facts, spam or obviously fake profiles. If you have any concerns about what you see in comments, email the editor in the link above.
News from © iNFOnews, 2020