Kelowna has 'broken over centre,' now a major destination for home buyers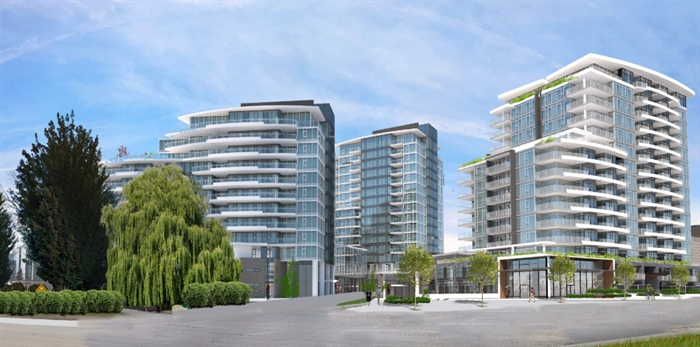 There's no way Kelowna can keep up with the demand for housing in the short term, says the CEO of one of the city's major builders.
"I think we've come of age and, some would say, we've broken over centre, to use a marketing term," Jon Friesen, CEO of Kelowna-based Mission Group, told iNFOnews.ca. "We've been climbing up a hill, pushing this ball up a hill for years, and now we've reached an apex and it's starting to gather momentum."
The company already has more than 7,000 potential buyers registered to get information packages on Aqua, its latest project. It's a 17-storey, 154-unit resort condo on Kelowna's waterfront just south of the Cook Street boat launch, the first of three towers destined for the site. Sales won't actually start for more than a month.
"We don't think it's possible to outbuild the demand right now in the short term," Friesen said. "We are recognized all across Canada and, in some sense, even globally, as being a very, very special, unique little community that is still little. Once you have that kind of wide acclaim you become a different kind of a city with a different kind of responsibility that has to live up to different standards. We're entering that kind of city now where people want to look at a place to own somewhere in Kelowna because it's such an amazing place."
The Mission Group has been building in Kelowna for more than a decade but in recent years has taken a lead in downtown revitalization with the Ella residential tower and the three towers of the Bernard Block currently under construction on Bernard Avenue.
The Bernard Block is a major contributor to more than 200 storeys of high rise residential development in a three-block area that are either proposed or already under construction.
READ MORE: More than 200 storeys of housing planned for this short downtown Kelowna street
Construction of the tallest of the three towers for Aqua, at 17 storeys, is expected to start this fall with 15 and 13-storey towers to follow.
READ MORE: iN VIDEO: Three waterfront towers planned for Kelowna's South Mission
It's perfectly suited to the current boom in demand.
A recent RE/MAX realty report states that 78 per cent of Canadians who say they want to buy property within the next year consider themselves to be recreational buyers.
Friesen sees that number as significantly higher than his experience in the Central Okanagan market in general but it certainly fits the Aqua resort model.
"We're seeing an inordinate number of very young buyers, some of them even pooling money, because they see that waterfront investment potential and, it's not just their own capital gains, it's also the ability to do short term rentals there as an owner," Friesen said. "They see the strength of the Airbnb platforms of this world. They know it plugs in perfectly in a resort play."
Aqua is unique in that it has a boat storage facility on site and is right on the lakeshore, rather than being a block or more removed like most other new developments.
Still, even the Mission Group's upcoming 34-storey Bertram tower on Bernard Avenue, which is 80 per cent sold, is seen by some buyers as recreational, even though the marketing concept was for people to live there and work in the adjoining Block office tower. That project is five or six blocks from Okanagan Lake.
"It's not really the property that defines recreational," Friesen said. "It's the intent of the user, to a point. Lots of buyers would say it (Bertram) is recreational because it's downtown, it's close to the beach and it gives them that really vibrant downtown amenity so, from their viewpoint, depending on where they're from and what their objectives are, it can certainly be recreational."
The Bertram is not zoned for short-term rentals, unlike the first tower, the Brooklyn, which is nearing completion.
Whether it's called recreational or residential, the reality is that Kelowna has reached the point where it's attracting attention on a global scale as a great place to live, Friesen said.
"It would be incorrect to say we are an island unto ourselves because we're really connected to all of Canada and, maybe, even the rest of the world. The rush for real estate is not unique to Kelowna but, if you live here, you realize it's a pretty special place.
"How it's evolving as a community now is different from how it was 10 or 15 years ago. Businesses are moving here. The unemployment rate is low. We have a great airport, a great university, a great hospital. Downtown is revitalized and, because of how forward-thinking City Hall is and, especially, city council, it becomes a very attractive place to do business and to live and to build."
The RE/MAX report says that more than 40 per cent of buyers in the Central Okanagan are from outside the region.
Friesen, in general, agrees with that statement, although the Aqua project is attracting a higher percentage of locals.
"I think a lot of folks see Aqua as that once in a lifetime irreplaceable condominium right on the water with their boat valet services as part of the condominium," he said. "It's a unique differentiator. They probably already live in Kelowna, maybe in the Upper Mission, and have been driving past it all these years and they see it coming up and they want a piece of it."
Overall, most of his out-of-region buyers are still from the Lower Mainland, Friesen said, with only a "spattering" of buyers from other provinces or countries. In contrast, some realtors have said up to 25 per cent of their sales have gone to Eastern Canadian buyers.
READ MORE: Ontario wants in: Local, Alberta, Vancouver real estate buyers have new competition
The RE/MAX report shows that the price of waterfront recreational property in the Central Okanagan has gone up 25 per cent to $2.4 million from $1.9 million in 2019. Non-waterfront went up 35 per cent to almost $1 million from $738,000 over the past two years.
The report paints a different picture for the North Okanagan/Shuswap where waterfront recreational properties dropped in value by 13 per cent to $1.1 million this year from $1.3 million in 2019.
Non-waterfront prices increased by 24 per cent to $647,515 from $523,152.
The full RE/MAX report can be seen here.
---
To contact a reporter for this story, email Rob Munro or call 250-808-0143 or email the editor. You can also submit photos, videos or news tips to the newsroom and be entered to win a monthly prize draw.
We welcome your comments and opinions on our stories but play nice. We won't censor or delete comments unless they contain off-topic statements or links, unnecessary vulgarity, false facts, spam or obviously fake profiles. If you have any concerns about what you see in comments, email the editor in the link above.
News from © iNFOnews, 2021