Your search results for Mobile Homes Distributors and Manufacturers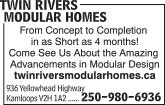 Other categories you may be interested in...
SEO Text
Found: Kamloops Merritt and Areas alternative housing,downsizing options,house trailer distribution,house trailer distributor,house trailer manufacturer,house trailer manufacturing,housing solutions,inexpensive housing options,long lasting modular homes,mobile home distribution,mobile home distributor,mobile home manufacturer,mobile home manufacturing,mobile house distribution,mobile house distributor,mobile house manufacturer,mobile house manufacturing,mobile trailer distribution,mobile trailer distributor,mobile trailer manufacturer,mobile trailer manufacturing,portable home distribution,portable home distributor,portable home manufacturer,portable home manufacturing,trailer home distribution,trailer home distributor,trailer home manufacturer,trailer home manufacturing and more. Mobile Homes Distributors and Manufacturers services for Kamloops Merritt and Areas homes and businesses are only a phone call, click or an e-mail away in this directory of quality Mobile Homes Distributors and Manufacturers in Kamloops Merritt and Areas.
So, whether you're from Adams Lake, Anglemont, Ashcroft, Aspen Park, Avola, Barnhartvale, Barriere, Blackpool, Blue River, Bridge Lake, Brocklehurst, Cache Creek, Celista, Chase, Chu Chua, Clearwater, Clinton, Collettville, Dallas, Darfield, Douglas Lake, Dufferin, Heffley, Heffley Lake, Kamloops, Kamloops North, Kamloops South, Knutsford, Lac Le Jeune, Little Fort, Little Heffley Lake, Logan Lake, Lone Bute, Louis Creek, Lower Nicola, Lytton, McLure, Merritt, Mica Creek, Monte Creek, Monte Lake , Mt Baldy, Paul Lake, Pinantan Lake, Pritchard, Quilchena, Rayleigh, Red Lake, Scotch Creek, Spences Bridge, Squilax, Sun Peaks, Vavenby, Westsyde, Westwold, Heffley Creek or Lillooet, you can be confident that iNFOTEL Business Directory covers your Mobile Homes Distributors and Manufacturers needs.