Your search results for Screens Door and Window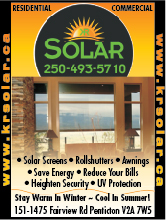 Other categories you may be interested in...
SEO Text
Found: Penticton South Okanagan and Similkameen Areas custom screen enclosures,door screen,doorscreen,doorscreens,energy savings,experienced screen installer,how to reduce energy bills,how to reduce hydro bills,insect free living spaces,outdoor living,outdoor rooms,prevent uv damage,replace window screen,screen doors,screens for windows,screens to save energy,uv blocking screens,uv protection,uv screens,window screen,window screen installation,window screen repair,window screens,windowscreen,windowscreens and more. Screens Door and Window services for Penticton South Okanagan and Similkameen Areas homes and businesses are only a phone call, click or an e-mail away in this directory of quality Screens Door and Window in Penticton South Okanagan and Similkameen Areas.
So, whether you're from Allison Lake, Apex Mountain, Cawston, Eagle Bluff, Faulder, Greenwood, Hedley, Kaleden, Keremeos, Kettle Valley, Manning Park, Naramata, Okanagan Falls, Olalla, Oliver, Osoyoos, Penticton, Princeton, Summerland, Tulameen, Vaseaux Lake, Westbridge or Willowbrook, you can be confident that iNFOTEL Business Directory covers your Screens Door and Window needs.