Young farmers pursuing leases for expensive Okanagan farmland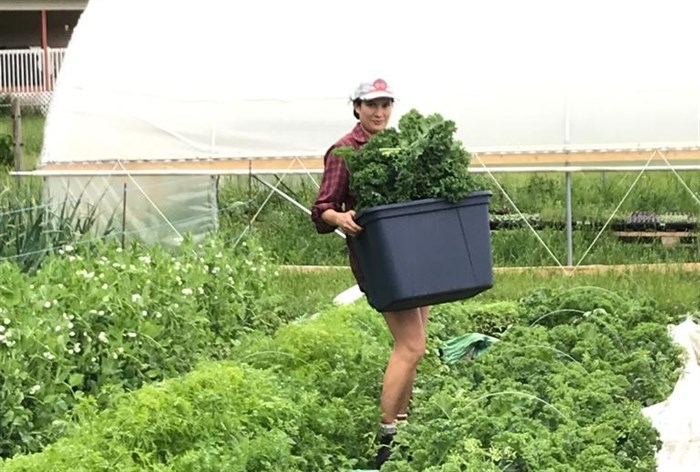 With the rising costs of land in the Okanagan, new farmers are breaking into the agriculture industry by leasing land instead of owning it.
Maylene Loveland and her husband Robin Schmidtt of Loveland Acres located in Salmon Arm recently opened their farm on two acres of leased property on Salmon River Road.
Since 2014, it has been Loveland's goal to own a farm. To achieve it, Loveland and Schmidtt worked in a Lake Country orchard, before they took the plunge just prior to the pandemic at the beginning of 2020.
"If you want to be a farmer, you want (to get experience first), but you know the wages are low. We were working on this orchard and trying to find our own land and really our only option was to rent," she said.
Loveland said they were lucky to find the land through the Young Agrarians land matching program which connects farmers with landowners and is funded by the province.
"Because of the cost of land and cost of rent, we had planned to start the business part-time," Loveland said. They both currently work part-time jobs to offset the cost but Schmidtt plans to work full-time on the farm next season.
They plan to lease their two-acre property for the next five years, but Loveland said they'll eventually outgrow the space.
For the last season, they've been selling mixed-leaf greens at the Salmon Arm Farmers' Market and hope to expand to the Lake Country market next season.
"When we were looking at buying land and starting a business on the land, I think at this point… we've invested around $30-40,000 on the infrastructure of the business, like buying a tractor, tunnels and equipment and that's basically the down payment on a property so it was either buy property (or start the business,)" Loveland said.
"It's great in some ways but it also limits the kinds of investments you want to make. Knowing this is not our land and you throw COVID-19 in there. We need an indoor wash and pack facility that is certifiable, but we rent our land so we're not going to invest that money into someone else's buildings or property. So as we're building our growth plans we're always thinking about how we can make (investments) moveable."
They applied for a small farm grant for a walk-in cooler, but decided to build it in a cargo trailer in the event they need to move.
"I think it just changes how you think about your business… I waffle back and forth on 'could we rent (long term)?' I think if we did, what does that look like? If you're renting land, you could certainly find a long-term lease but if your goal as a farmer is to be an orchardist, for example, it's a lot of investment in someone else's land… if you know there's an end term to that land," she said.
But leasing land has removed a lot of barriers for entry-level farmers, she said.
It's easier to get a bank loan moving forward now that they have a venture that makes money, she said.
The intention will be to one day buy their own piece of land to support their farm, which Loveland wants to expand to include livestock.
The biggest challenge for new farmers to enter the agriculture industry across B.C. has been the cost of land, said Darcy Smith, land matching program manager with the Young Agrarians, a farmer-to-farmer resource network.
In 2019, Farm Credit Canada reported the average cost of farmland in the Okanagan per acre was $103,000, the most expensive in Canada "and that's actually higher than on the south coast," Smith said.
READ MORE: Okanagan apple growers being hit hard by financial losses
"Most new farmers are not coming from a family farm background and they don't have access to family knowledge or family land," she said.
The Young Agrarians launched the land matching, business and development services to young B.C. farmers in 2016.
Since 2018, the network has had 100 matches on 4,860 acres of land. In the Okanagan, there have been 25 matches on 4,034 acres.
"Fruit orchards or wineries, vineyards, require more land and unique conditions that the Okanagan is well-suited for but also production can be more expensive. It's a longer return on your investment to plant an orchard and it's a specialized skill set," Smith said.
"We've seen really amazing success in the program in the Okanagan. There are a lot of dedicated, passionate farmers out there that are new and established that want to see the growth and success of agriculture in the Okanagan."
According to Statistics Canada, 50 per cent of farmers younger than 35 are leasing land.
"It's going to become more normative as we move into the future," Smith said.
In the Okanagan, a large portion of land is already being used for farming, so people are seeking opportunities to bring the land into production.
READ MORE: Why Okanagan farmland prices continue to soar
"Community is going to be important in the long term to what the future of farming looks like... In some ways, the model that has been present over the 20th Century and half of the 21st Century, the family farm is not necessarily the only model that we need to take us into the future. We need to look at the situation with the cost of land, climate change and managing ecosystems in a helpful way… and how people can work together to ensure local food systems and shorter supply chains (are supported)," Smith said.
---
To contact a reporter for this story, email Carli Berry or call 250-864-7494 or email the editor. You can also submit photos, videos or news tips to the newsroom and be entered to win a monthly prize draw.
We welcome your comments and opinions on our stories but play nice. We won't censor or delete comments unless they contain off-topic statements or links, unnecessary vulgarity, false facts, spam or obviously fake profiles. If you have any concerns about what you see in comments, email the editor in the link above.
News from © iNFOnews, 2021