This Princeton-grown beef is some of the rarest, most-prized in the world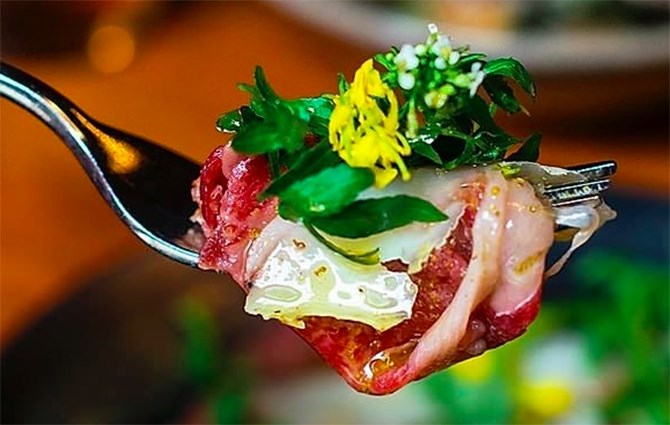 There's a cattle ranch in Princeton that's producing some of the tastiest beef you'll find anywhere on the planet.
Wilco Onderdelinden owns and operates the Subtilia Ranch on Baker Hill Road in Princeton where he raises 30 head of full blood Wagyu cattle, a breed whose intense marbling characteristic has given it the reputation of being the finest and most exclusive beef produced in the world.
Onderdelinden started raising the unique breed in 2012, moving to Princeton after a career in the financial services industry.
"I looked around to see what others were doing, saw everyone raising standard Angus cattle. I had been to Japan a few times, and knew what the demands and desires were there. Vancouver has a high population of Asians and I thought there would be a market for Wagyu there," he says.
Onderdelinden says many people used to refer to the beef as "Kobe beef" but that term only applies to beef grown in the Kobe prefecture of Japan.
Onderdelinden says "Wagyu" translates as "Japanese cow."
"I'm the only one I know of in British Columbia that is raising full blood Wagyu cattle originating from Japanese bloodlines. Others grow American-style Wagyu, which is half Angus and half Wagyu," he says.
Onderdelinden was enjoying brisk sales to Vancouver and Whistler-based restaurants and Okanagan wineries before COVID-19 shutdowns closed the restaurant market.
"I had to change after the markets dried up. I'm now selling package deals to retail customers, and have a retail store on my website," he says. "It's been surprisingly good, sales-wise. I was kind of flabbergasted how quickly the packages sold out."
Onderdelinden says nothing can compare to the taste of Wagyu beef, which is extremely tender due to its unique marbling.
"Some people say it's too fat, but it's a totally different kind of fat. It's actually good for you, and will lower your cholesterol," he says.
He describes the meat as tender, with a buttery flavour that melts in your mouth.
"Most people say it's the best beef they have eaten, but it comes with a price," he admits. "Standard Angus cattle are butchered at 18 months, and are on feed for 30 to 60 days, while Wagyu are butchered at 30 months and are on feed for 500 days, which helps to explain the price difference."
He says the cows are raised more like pets than cattle.
"They are treated like royalty, to be honest. They have only one bad day in their lives, I think," Onderdelinden says.
The cattle are hand fed twice a day in order to better keep an eye on their health. They aren't chased or put out on the range.
Wagyu beef sells for roughly double that of regular beef. One package on his website includes six premium cuts of steak for $450.
Onderdelinden also notes the scarcity of the breed, with only 30,000 registered full blood Wagyu compared to 90 million regular beef cattle in North America.
Over the next couple of years, Onderdelinden hopes to expand his operation and grow his Canadian market beyond B.C. After that, he's hoping he'll be able to start exporting to world markets in Japan, China, Dubai and the Arab Emirates.
"I'm hoping to keep at least part of the retail trade, since restaurants are mainly interested in prime cuts. Right now I'm experimenting with beef jerky, sausages and hamburger to see if there is a market for those products," he says.
---
To contact a reporter for this story, email Steve Arstad or call 250-488-3065 or email the editor. You can also submit photos, videos or news tips to tips@infonews.ca and be entered to win a monthly prize draw.
We welcome your comments and opinions on our stories but play nice. We won't censor or delete comments unless they contain off-topic statements or links, unnecessary vulgarity, false facts, spam or obviously fake profiles. If you have any concerns about what you see in comments, email the editor in the link above.
News from © iNFOnews, 2020