You may have seen focaccia edible art on instagram... now learn to make it at home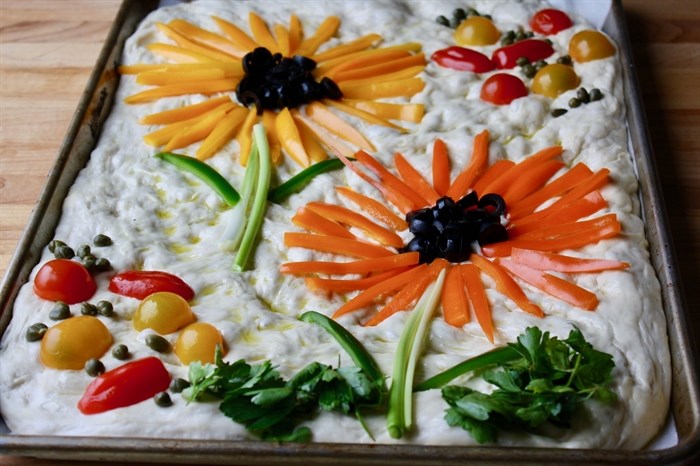 Focaccia is a type of Italian flatbread and one of the easiest breads to make at home. This no-knead bread is made in a single bowl with a rubber spatula and requires only flour, salt, yeast, water and olive oil.
Dating back to ancient times, focaccia, which means "cooked on fire", is considered to be the precursor to the modern day pizza. Focaccia can be made with just olive oil and salt or with hundreds of toppings ranging from sweet to savoury.
One of the biggest Instagram food trends of 2020 is beautiful focaccia bread art. Teri Culletto, a home baker from Martha's Vineyard is credited with starting the focaccia art trend via her instagram account @vineyardbaker. Using raw vegetables and fresh herbs, Teri has created a series of Vincent van Gogh-inspired bread loaves she calls "Van Dough" and inspired thousands of home bakers around the world to create focaccia art.
Unleash your inner artist and enjoy creating your own delicious focaccia art at home. This is a great recipe to make with kids as they love decorating the focaccia.
Focaccia
Ingredients:
3 1/2 cups all purpose flour
1 Tbsp kosher salt
1 tsp active dry yeast
2 - 3 cups warm water
4 Tbsp extra-virgin olive oil, plus more for greasing
1 ½ tsp Maldon Sea salt (Coarse sea salt can be substituted)
Suggested toppings: little sweet peppers, black olives, fresh chives, parsley, basil, capers, grape tomatoes, red onions, edible flowers, sesame seeds, and nuts. Tip: dipping herbs in lemon water can help keep them greener in the oven.
Directions:
In a large bowl, whisk together the flour, kosher salt and yeast. Slowly add 1 1/2 cups of warm water to the flour mixture and stir. Add additional water as needed until all the flour is incorporated and a sticky dough forms. Dough should be wet.
Tip: Weather affects the amount of water and flour needed. Recipe measurements for water are general guidelines. You need to add as much water as needed to make a wet sticky dough. Do not be alarmed if you need more or less water than the recipe indicates.
Pour two tablespoons of olive oil into a medium bowl. Transfer the dough to the bowl and roll and turn the dough over so that it is coated with the olive oil. Cover tightly with plastic wrap. Place in the refrigerator for at least 24 hours or up to two days.
When you are ready to bake the focaccia, line a 9 x13 inch baking sheet with parchment paper. Brush the parchment paper with olive oil. Remove the dough from the refrigerator and transfer to the prepared baking sheet. Tip: parchment paper just adds another level of guarantee that the focaccia won't stick to the pan. If you don't have parchment paper, brush the baking sheet generously with olive oil.
Using your hands, spread the dough out as much as possible to the edges of the baking sheet. If the dough is sticking you can add additional olive oil. Do not worry if dough doesn't cover the full pan, it will once the dough has time to rise.
Place the dough in a warm place and let it rise until it has doubled in size. In the summer it may only take 30 minutes for the dough to rise. In the winter it can take over an hour. You want the dough to be room temperature and fluffy.
Preheat the oven to 410°F.
Using your palms, pat down the dough down to an even thickness of about 1 inch and then use your fingertips to dimple the entire dough. Drizzle with olive oil. Isn't this is fun?
Unleash your inner artist and decorate your focaccia. Sprinkle with Maldon sea salt.
Place in the oven. Bake for 10 minutes and then rotate the pan back to front. If the bread is already starting to brown, turn the heat down to 375°F. Bake for an additional 10-15 minutes until the top is golden brown. Transfer the focaccia on the baking sheet to a wire rack to cool. Slide the focaccia out of the pan, cut into generous slices and serve.
Focaccia is best eaten the day it is made. If you do have leftovers, the focaccia can be frozen and then reheated. It is also excellent the next day served in soup.
Serve with a glass of B.C. rosé.
— Claire Sear is a Vancouver-based food, drink & lifestyle writer
---
We welcome your comments and opinions on our stories but play nice. We won't censor or delete comments unless they contain off-topic statements or links, unnecessary vulgarity, false facts, spam or obviously fake profiles. If you have any concerns about what you see in comments, email the editor.
News from © iNFOnews, 2020