Winter time is Fondue time: Here are the best places to get in on the cheesy action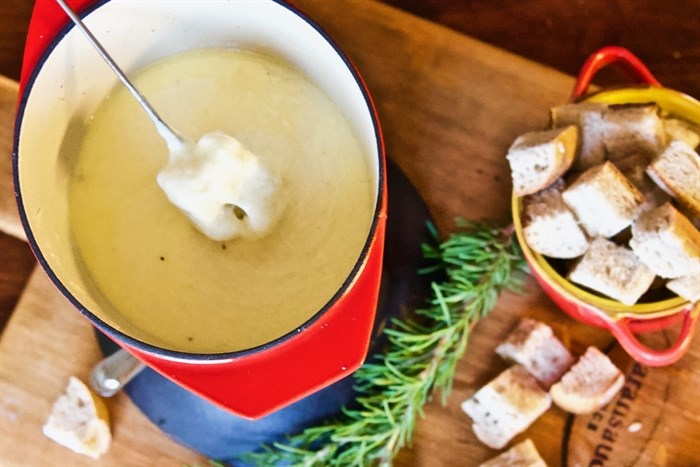 What is toothsome remedy for the winter blues? F-O-N-D-U-E. Fun, fabulous and festive, this Swiss style of eating is more than food, it is an activity and it has made a comeback from its glory days in the 1970s.
I love seeing the fondue return to restaurant menus, especially in wine country, because really, what pairs better with wine than cheese? The fondue was popularized in the 1930s and became a national dish in Switzerland. Some history notes say its origins were to celebrate unity in the country but with many old-country-style meals, this was probably invented by farmers using up bits of leftover cheese in an innovative and delicious way.
In Vancouver, H Tasting Lounge at The Westin Bayshore wins for most amazing place to fondue. They are calling the experience of dining in their outdoor domes 'Winterlust' and it is like dining inside a snow globe. This hot new dome dining trend has just arrived in B.C. and offers instagrammers the ultimate photo op.
The Commodore Grand Cafe & Lounge in Kamloops has two different fondues to choose from. Go for the Beer & Cheddar Fondue featuring cheddar and jack cheese and bread, broccoli and apples to dip or the Entrée Fondue with red curry broth served with pieces of beef sirloin, chicken, prawns and vegetables that cook in the broth.
Thankfully The Woods at Big White knows that fondue is a must on a ski hill. Located right in the village, they offer a popular fondue for two on their menu. Perfect with a glass of wine or beer to cap off your snow activity day.
Beautiful Bouchons Bistro downtown Kelowna has all of the ambiance you could ask for and more. Like a portal into France, Bouchons has created a wonderful way to celebrate Sundays this winter- avec fondue. By reservation only, enjoy a beautiful fondue with friends in this cozy room – a bottle of bubbles is a must.
Thursday has become something to look forward to with the weekly cheese fondue night at Summerhill Pyramid Winery. Order up a bottle of amazing Summerhill organic wine (at wine shop prices) and dip into a super fun evening snuggled around a table with skewers.
And, if you are not into heading out into the cold night to appease your fondue craving, make your own at home. So crazy easy and mouth-wateringly delicious, go get yourself a fondue pot and call up your pals. Here is a recipe shared by the Swiss Manser family at Larch Hills Winery in Salmon Arm from my upcoming cookbook The B.C. Wine Lover's Cookbook, out this April.
Larch Hills Fondue
Serves 6–8
1 clove garlic, halved
12 oz Gruyère cheese, grated
8 oz Emmenthal cheese, grated
4 oz Appenzeller or Vacherin cheese, grated
1 Tbsp + 1 tsp cornstarch
1 cup dry white wine (preferably Larch Hills Semillon)
1 tsp lemon juice
1½ Tbsp Kirsch liqueur
White pepper, freshly ground
Pinch of grated nutmeg
1 loaf (or more) good bread or French baguette, cubed
Rub the inside of a cheese fondue pot with the garlic clove, then discard the garlic.
In a bowl, toss the grated cheeses with the cornstarch.
Place the wine and lemon juice in the fondue pot until starting to simmer, then mix in the cheeses a little at a time until melted and gooey, about 5 minutes on low heat.
Add the Kirsch and a generous pinch each of pepper and nutmeg to taste. Cook, stirring gently, until creamy and smooth, about 5–7 minutes. If the fondue is too thin, mix together a sprinkle of cornstarch with a splash of white wine and stir it in. If too thick, add a splash more wine. If it curdles or breaks, bring to a boil and whisk with a dash of lemon juice to smooth out.
Serve with lots of bread and Larch Hills wine. You can also fondue with steamed red potatoes, slices of pear or vegetables like steamed broccoli and cauliflower.
Due it!
---
We welcome your comments and opinions on our stories but play nice. We won't censor or delete comments unless they contain off-topic statements or links, unnecessary vulgarity, false facts, spam or obviously fake profiles. If you have any concerns about what you see in comments, email the editor.
News from © iNFOnews, 2020