Why this Okanagan wine maker has 13 speakers in the vineyard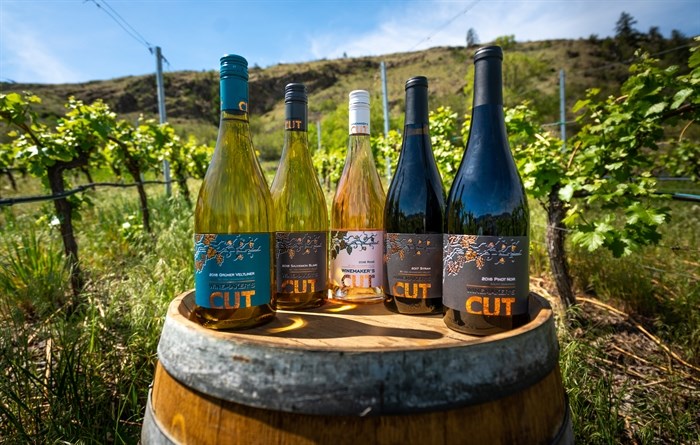 In anticipation of the highly anticipated Garagiste North Small Producers Festival Sunday, August 18th, I will be featuring a special series of interviews featuring some of the star winemakers coming to this year's fest! This annual event features the small lot, hard to find wineries that are making a huge buzz with their fantastic wines. Award-winning, boutique, and many without yet a tasting room, these are the renegades who are rocking the wine world. Garagiste North offers wine lovers a chance to meet these winemakers and taste their exclusive wines.
Michal and wife Martina came to us from Slovakia with a sense of adventure, excited to discover our new world of wine in the Okanagan. With a plan to consult only, they succumbed to their passion for winemaking. Winemaker's CUT, a name that explains exactly what they represent, that percentage of wine created by the winemaker that exudes all of the love and craftsmanship that was infused making it. And what else is unique about these two is that they play classical music for their grapes.
Bravo Michal and Martina! We are so lucky to have you join our community and look forward to following all of your successes.
Q & A with Garagiste winemaker Michal Mosny
Q: Tell me your wine story. Where are you from?
A: We grew up in Slovakia. Wine over there has hundreds of years of tradition. It is maybe not known well internationally, but it should be. All of the wine made in Slovakia is basically consumed by local people so there is not much export. And there is way more wine produced per capita than here in Canada so the wine culture has deep tradition. The wine industry there is made of smaller wineries where the owners are mostly the winemakers. Garagiste North reminds me of the community in my home country.
Q: Why do you love Garagiste North?
A: This is the only group of winemakers where we share same level of understanding of what does it take to make wine and run a winery. We are connected by passion, by drive, by similar experiences, and we are sharing same joy from wine we produce. We don't have marketing departments, logistic departments of cellar helpers or other staff. All is done by the same hands that are pouring the wine at Garagiste Festival.
Q: Explain the wines you are making now.
A: We are focusing on three varietals Sauvignon Blanc, Syrah and Cabernet Franc, all grown on Deadman Lake Vineyard south of Oliver. We are adding some small batch wines (Gruner Veltliner and Pinot Noir) and also working on some unique blends.
Q: What is most wonderfully unique about you is how you grow your grapes and cellar them. Tell me about the music in your life?
A: All wine I ever made in my life was exposed to classical music. Some people or clients rarely took us seriously or they considered it as winemaker's marketing. We do not take it lightly and our wines are seriously raised by classical music. Both in the vineyard and in the cellar. We have 13 speakers installed in the vineyard and we see the result in grapes we are growing, and, in the wine, we are making. There is different energy coming from our wines, I believe in it and want to share these moments with our customers through wine.
Every living organism receive sounds and frequencies. Music in the vineyard is influencing plants so they grow faster, and the fruit has better balance. Wine in the cellar ferments smoother and music adds harmony to aging. And last but not least, it enriches our life and soul and we are transforming this to wine we are making.
Q: Like most of the Garagistes, are you both working day jobs?
A: Yes, we run a winemaking and viticulture consulting company, so I consult and make wine for other wineries as well. Winemaker's CUT is growing way faster than we expected and we are very grateful that it is starting to take most of our work time - 7 days a week. I think very soon we will outgrow the Garagiste limit of a 2,000 case production, even though our wine will be still made garagiste style.
Q: How would you describe your passion and what advice would you give to future wannabe winemakers?
A: My passion for wine is a passion for something that is more than a product with a label and marketing. It is something that should bring you a greater sense and joy. The energy comes from the land, from nature, and from the classical music we are playing in the vineyard and we are just blessed and honoured to be able to transform those grapes in to wine that can be enjoyed. Advice for future winemakers? Put ego aside and focus on wine and hard work!
Q: What is your dream? Plans for the future of Winemakers CUT?
A: First of all, we never even thought or dreamed of having a winery or wine label in Canada. We used to run a small boutique winery back in Slovakia. What convinced us to start a winery here in Okanagan is the Okanagan. We came here to work with vineyards and wine. That is the only thing we do in our life and Okanagan is the place to grow grapes and make wine. Our plans will be to stay smaller but grow to a point where we will still be able to control the quality of vineyards, grapes and winemaking. It's the only way that will make us happy. What the future may bring is all up in the air, but we are really excited for next year for sure. (TEASER ALERT)
Go find their wine.
Read more about Michal and Martina and follow their dreams here.
---
We welcome your comments and opinions on our stories but play nice. We won't censor or delete comments unless they contain off-topic statements or links, unnecessary vulgarity, false facts, spam or obviously fake profiles. If you have any concerns about what you see in comments, email the editor.
News from © iNFOnews, 2019