Why there are more grasshoppers, leafhoppers than usual in Okanagan this summer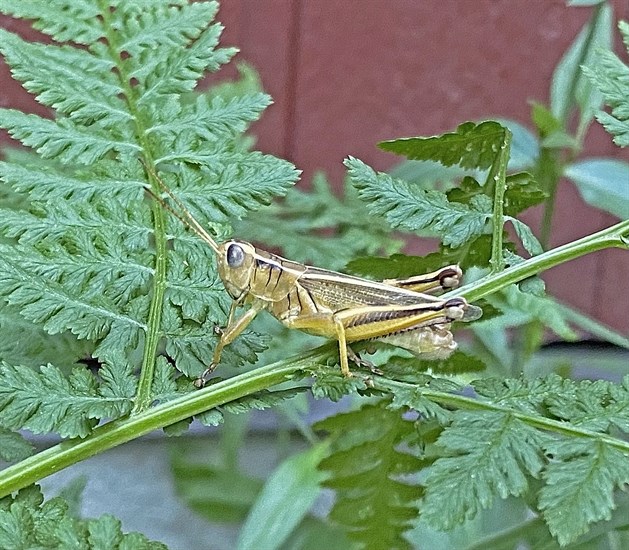 Grasshoppers and leafhoppers are both benefitting from the hot and dry summer of 2021 in the southern Interior.
"Overall it was a worse-than-normal summer, especially in the Okanagan," said Dr. Thomas Lowery, an entomologist with the Summerland Research and Development Centre.
"Excessive heat caused a problem with pests and pest management."
Since insects are exothermic and rely on external heat to drive their systems, they tend to grow and spread faster in warmer weather. Although the Okanagan has been experiencing an extra hot summer, the lack of moisture and drought conditions are prohibitive to the growth of many bugs.
Not grasshoppers and leafhoppers though – they tend to prosper in hot and dry climates.
Dr. Lowery, who's been working in grape pest management for a quarter century, said excessive heat has resulted in increased levels of grasshopper-feeding damage. But the pests are a much bigger problem near pasture lands and grain crops – which is why Canada's prairie provinces are experiencing far more grasshoppers this year than the B.C. Interior, where orchards and vineyards in the Okanagan mostly grow perennial crops.
READ MORE: Three common garden pests - and a 17-year visitor who isn't
Grasshoppers typically feed on the bottom leaves of these crops, and although grapes usually grow a few feet above the ground, the research station has them listed as minor pests for vineyards. In some vineyards this year, Dr. Lowery said he's seen evidence of grasshoppers feeding higher on the vines and on fruit causing significant damage.
Other pests benefiting from this year's hot and dry conditions are spider mites, which are leaving many stone fruit orchards with heavily bronzed or dried leaves.
"There is some concern that the reduction in leaf chlorophyll and stress on the trees could reduce fruitfulness next year," Dr. Lowery said.
Among all the fruits grown in the Okanagan, the effects leafhoppers are having on grapes has been the most drastic.
"They continued to develop and feed at higher temperatures above 35 degrees Celsius," he said.
During those extreme temperatures that allow leafhoppers to prosper, growth of the grape vines they feed on is stunted by the heat. And the effectiveness of some pesticides is reduced at higher temperatures.
"Producers also had a difficult time controlling leafhoppers due to their more rapid development that altered the timing or need for control sprays, or from the requirement to apply oils and other materials under cooler conditions to avoid possible 'burning' of the leaves."
In addition to sprays, vineyard owners can reduce leafhopper populations by planting a variety of vegetation instead of patches of grass. They can also trim the basal leaves on the vines, which will have minimal impact of the yield come harvest time if done correctly, and can reduce populations by as much as a 70 per cent, Dr. Lowery said.
READ MORE: Heat waves, smoke create tough environment for bugs, plants in Kamloops, Okanagan
During a normal summer, leafhoppers tend to produce two generations each year in most parts of the Okanagan, and around 2.5 generations closer to the U.S. border, before cooler temperatures end the season for them. This year however, the extreme heat has leads to 2.5 lifecycles in most parts of the Okanagan, and a partial third generation in the Osoyoos area.
Dr. Lowery said that every year's weather conditions make for winners and losers. Although grasshoppers, spider mites and leafhoppers do well in dry heat – pests like aphids can't withstand the same conditions.
Aphids that thrive on vigorously growing plants were generally less numerous on woody plants such as roses and blueberry, possibly as their host plants suffered from periods of partial drought stress, he said.
"So their growth and development is retarded because they like it lush, they like when plants are well watered and well fertilized," Dr. Lowery said. "The growth and survival of certain aphid species is directly impacted when the temperature exceeds their optimum range.
In contrast, with a higher optimum temperature range and being more common in tropical and sub-tropical regions, whiteflies were more numerous this summer.
"We have never before seen so many cabbage whiteflies on our broccoli before," he said.
Although the Okanagan has recorded extraordinarily hot temperatures over the course of summer 2021, Dr. Lowery suspects that climate change may continue to exacerbate hot summers, which would cause insect populations to respond accordingly. He feels like experts in B.C. should be monitoring the pest problems of Washington State, as they are likely to migrate north as the planet warms.
Some pests aren't a problem in B.C. because cold winters keep them from proliferating in the province.
"But as we get more heat, that's going to change. We'll be at greater risk to some new invasive pests coming in."
---
To contact a reporter for this story, email Dan Walton or call 250-488-3065 or email the editor. You can also submit photos, videos or news tips to the newsroom and be entered to win a monthly prize draw.
We welcome your comments and opinions on our stories but play nice. We won't censor or delete comments unless they contain off-topic statements or links, unnecessary vulgarity, false facts, spam or obviously fake profiles. If you have any concerns about what you see in comments, email the editor in the link above.
News from © iNFOnews, 2021