Why go to a Spa? To detoxify, moisturize and renew body, mind and spirit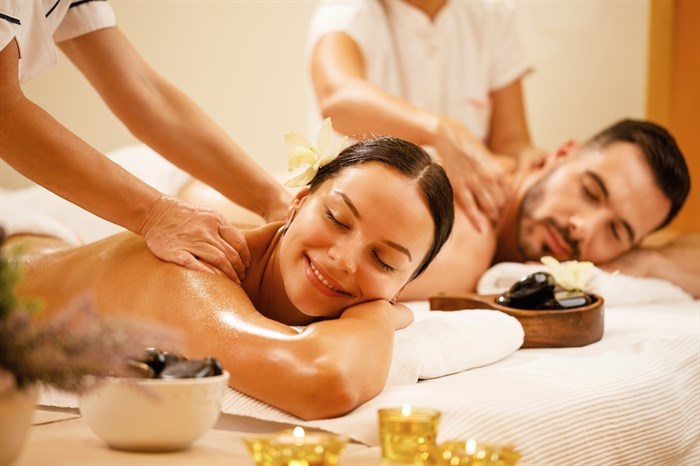 If you're planning a summer vacation in the Okanagan, you'll want to include some world class wine tours and a trip to Kelowna's Beyond Wrapture Day Spa.
Detoxify and Moisturize
Their aesthetic services are the perfect choice for pre-wedding parties needing pampering and bonding before the big day. Try the Salt Glow Massage that exfoliates skin so the essential oils in the aroma wrap can pull toxins out of the body. Essential oils are then absorbed for a soothing moisturizing effect. They have written a very helpful bridal-tips article, and you can read it here.
Book a Massage to De-Stress
There's nothing like a good massage to bring the mind back to the present moment. With all the stresses of modern life, from mortgage payments to work deadlines, it's easy to get lost in our thoughts and forget to take care of ourselves. That's where massages come in - they help us to slow down, take a breather, and focus on the physical sensations in our bodies. Whether it's the gentle kneading of our muscles or the soothing scent of lavender in the air, massages have a way of putting our minds at ease and helping us forget about all the things that would normally keep us up at night. So, the next time you're feeling anxious or stressed, consider booking a massage - your body (and mind) will thank you for it.      
If a one-hour massage just doesn't seem like enough special time out for you, add on a manicure, pedicure or facial and enjoy a full day spa package.
Renew Body, Mind and Spirit
In the midst of our busy and fast-paced lives, plan a break from your hectic schedule and indulge in some much-needed me-time. This is where day spas come into the picture. Day spa treatments offer relaxation, rejuvenation, and much more. Massages, facials, body wraps and aromatherapy treatments help you feel physically relaxed and promote mental wellness. The benefits of day spa treatments are endless and go beyond just looking and feeling good.
Spa Gift Certificates Make A Wonderful Present
When someone comes in to purchase a gift certificate for someone they care about, the Beyond Wrapture staff will often ask who they are buying – and even recommend services that will meet the gift recipient's needs.? For example, if you are looking for a gift for a working mother we think the Aromatherapy Body Wrap packaged with a Facial makes for some great 'alone quiet time' and replenish that high energy that's needed to stay on top of things!? And for a busy, retired person who is so involved in their community, a bit exhausted but still needing to get their game face on at the big event this weekend! That is the time for the exfoliating Salt Glow, packaged with a Manicure and Pedicure for an extra boost that re-energizes the Body, enlightens the Mind and renews the Spirit!
Beyond Wrapture Day Spa's estheticians embrace the concept of engaging all five senses during all their spa treatments. This summer, visit their convenient location next to the Coast Capri Hotel at 1171 Harvey Ave in Kelowna. They've been a favourite choice since 2003. See their website for further details. Don't forget to check out their men's services.
Sponsored By

News from © , 2023