Why Black Market Wine calls Kaleden 'one of the last frontiers in the Okanagan'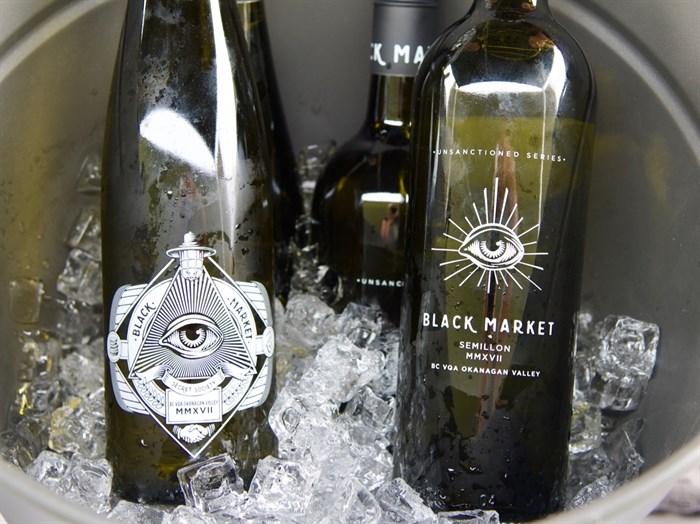 In anticipation of the highly anticipated Garagiste North Small Producers Festival Sunday, August 18th, I will be featuring a lineup of interviews with some of the starring winemakers coming to this year's fest! This annual event features the small lot, hard to find wineries that are making a huge buzz with their fantastic wines. Award-winning, boutique, and many without yet a tasting room, these are the renegades who are rocking the wine world. Garagiste North offers wine lovers a chance to meet these winemakers and taste their exclusive wines.
Rob Hammersley and Michelle Shewchuk are a couple with a shared wine dream that has recently manifested into a vineyard. They are enthusiastic, passionate garagistes producing their wine label, Black Market Wine Co. and somehow manage to juggle a family, careers and now a working vineyard. By the smiles on their faces, you can tell that it is worth every second.
Q&A with Rob Hammersley
Q: Rob, tell me your story- when did it hit you that you needed to make wine?
A: My wine journey started back in university, attending wine tastings hosted by a friend who went on to get his enology degree from UC Davis. He never returned from Napa and has been working in the industry there ever since. This fostered an insatiable thirst for knowledge on everything related to wine and grapes. It's the classic snowball effect - every experience gained led to a need to learn more. All our vacations seemed to revolve around famous winemaking regions. We eventually took the plunge to launch Black Market Wine Co. after learning about the B.C. Wine Studio and haven't looked back since! That experience was invaluable to us... learning the ins and outs of the wine business while gaining hands-on winemaking experience. I completed the Viticulture and Enology certificate programs at Washington State University in 2017, and we're now ready to head out on our own.
Q: I know you purchased a vineyard hooray! Explain your dream and where you're at now. What are your plans? Tasting room?
A: We purchased an established vineyard in Kaleden last summer and named it Conviction Ridge Vineyard. We are in the final stages of getting a small production space and tasting room licensed with hopes of being open by September. Our plans for next year are to commence construction of a new building that will house a larger production space, a tasting room, and patio. We have a couple of partners now that are excited to be part of our story in the future. We produced around 1,800 cases in the 2018 vintage, with a target to stay at that level for the next year or two.
Q: Explain the wines you are making now.
A: For our currently available releases, we still have the five core wines that we've been making for several vintages:
The Syndicate (250 cases) - Bordeaux-inspired red blend, generally Merlot led
Syrah (150 cases) - Elegant and juicy co-ferment with Viognier
Omertà (110 cases) - Bright and complex dry-style rosé made from 30-year old Merlot
Collusion (150 cases) - Bordeaux-inspired white blend of Sauvignon Blanc and Sémillon, partially fermented and aged in French oak
Secret Society (300 cases) - A secret blend that is crisp, dry, and aromatic
Each year we also add in one (or a few) other extremely small-lot wines to the portfolio. Two years ago we created our Unsanctioned Series for these wines and released a single barrel of Pinot Noir and 50 cases of Sémillon. Since then, the Sémillon has become one of our signature white wines and now has a permanent place in our portfolio. Last year, we released a single barrel of Cabernet Sauvignon, and this year we're going to do three Unsanctioned Series red wines: Cabernet Sauvignon, Cabernet Franc, and Pinot Noir. At our Conviction Ridge vineyard in Kaleden, we grow Merlot, Bacchus and Pinot Blanc...look for some of these next year as well.
Q: What is Kaleden like and why did you choose that region? (I know why- because it is awesome! but please share with others)
A: We see Kaleden as one of the last frontiers in the Okanagan. Many of the other prime wine-growing areas are already quite saturated with awesome wineries. When we purchased in Kaleden, there was only one winery operating. It's an amazing place to grow high-quality grapes, has great access off Highway 97, and seemed ripe for more wineries. Rumour has it there are a couple of other wineries popping up soon as well... can't wait for that!
Q: Are you still both working your day jobs?
A: Michelle is still working as a flight attendant, which provides a fair bit of time for her to help out in the vineyard and the winery. I recently left my career in corporate finance to devote all of my time to Black Market. That was a scary decision to make, but we're fully committed to growing our business and expanding our distribution.
Q: How would you describe your passion and what advice would you give to future wannabe winemakers?
A: My passion is about creating something unique and distinctive. I think mass produced commercial wines serve an important function in our market. But I'm making wines for people like myself...people who buy fresh and local food at a market, people who find beauty in the appearance of organic produce, people who choose to eat at a local restaurant. I want my wines to reflect a sense of place, and more importantly, a sense of the growing season. I embrace vintage variation because that's what Mother Nature gives us. My passion for craft and artisan products comes from a deep appreciation for what it took to make something, no matter what it is.
Q: Why do you love Garagiste North?
A: Garagiste North truly is the coolest wine festival on the planet! It's the only place where the small guys can shine, and the wine lovers it attracts are truly interested in connecting directly with winemakers and owners to hear their stories and learn about their unique wines.
---
We welcome your comments and opinions on our stories but play nice. We won't censor or delete comments unless they contain off-topic statements or links, unnecessary vulgarity, false facts, spam or obviously fake profiles. If you have any concerns about what you see in comments, email the editor.
News from © iNFOnews, 2019