What's the secret to finding the best donut in Kelowna? Shop early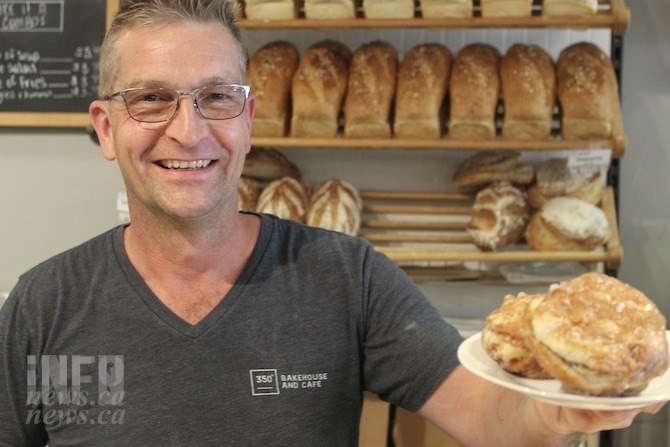 While there's no accounting for taste, there was a clear consensus in a recent Reddit post about who made the best donuts in Kelowna.
The winner, however, was not a true donut but a "cronut" with the long term favourite, Specialty Bakery's Kelownut up against the much younger 350 Bakehouse's cronut as the two clear frontrunners.
So, iNFOnews.ca decided to check them out.
"The cronut is a croissant-dough donut," Ed Wouda, owner of 350 Bakehouse on Bernard Avenue in downtown Kelowna, told iNFOnews.ca. "You're layering the butter in, folding the butter in and rolling it out and folding it over to create layers, like a croissant," he explained. "It's exactly the same dough as a croissant. Instead of rolling them out thin to cut them like croissants, we actually leave them a little bit thicker and shape them so it looks like a donut."
His secret to being so far ahead of most competitors in the cronut field?
"I make mine from scratch," Wouda said. "I can tell you, to the gram, what's in everything."
The other secret is the house custard used as a filling.
Unfortunately, when iNFOnews.ca visited at 10:30 a.m., all that were left were two Nutella-filled samples, made without the donut hole.
350 bakes almost 1,000 donuts a day so it's important for customers to shop early if they want to get their favourites (apple fritters are the popular second choice).
The bakery has been operating for about five years.
Specialty Bakery, by comparison, opened in 1983. Its main bakery is on Finns Road, towards the northern end of the city, but it has retail outlets on Hollywood Road in Rutland and Carrington Road in West Kelowna.
"Some people call them (Kelownuts) their cocaine," Shelly Burger, a worker in the Rutland outlet, joked. "Often people, when they try it for the first time, will say: 'We'll just share.' But the next time: 'I'm not sharing.'"
She hoisted a tray of about a dozen Kelownuts still for sale at 11:30 a.m. She suggested people phone and check if any are left by mid-afternoon, despite stocking 100 each day.
The other really popular item in their sweets department is a Black Forest treat filled with Bavarian cream and topped off with cherry pie filling.
They bring in four of those a day.
A New York bakery is credited with creating the cronut in 2013 with Bavarian crème filling. It was adopted as the Kelownut by Specialty Bakery some time before current owner Brent Browne bought the business so he can't say if his crème was modified from the original.
Woude, of course, uses his own house custard.
Back in 2019, hampered by a shortage of bakers, the Kelownut went out of production, but only for a few days. It's back in full speed production now, and as popular as ever.
READ MORE: The origin of the Kelownut and why they've been so hard to find lately
Both bakeries make and sell other pastries and breads. Both serve breakfasts and lunches (Specialty at its Finns Road site). But, the serious donut lovers go there for the cronuts.
There are plenty of other regular yeast donuts on Kelowna shelves, from grocery stores to specialty bakeries.
With so many varieties, it would be impossible to say which is the best – at least without gaining serious weight in the process.
From iNFOnews.ca's perspective, there was no chance of a true taste test by publication time since 350 Bakehouse's cronut was sold out.
Which is a very good reason to rise early tomorrow to head downtown before 350's cronut is, again, sold out.
For more on Specialty Bakery, go to their website here.
For more on 350 Bakehouse and Café, go here.
Have your own favourite bakery, cronut or donut? How does it compare? Let us know in the comments section below.
---
To contact a reporter for this story, email Rob Munro or call 250-808-0143 or email the editor. You can also submit photos, videos or news tips to the newsroom and be entered to win a monthly prize draw.
We welcome your comments and opinions on our stories but play nice. We won't censor or delete comments unless they contain off-topic statements or links, unnecessary vulgarity, false facts, spam or obviously fake profiles. If you have any concerns about what you see in comments, email the editor in the link above.
News from © iNFOnews, 2022