Weekend Recipe: Sweet & Sour Pork Take IN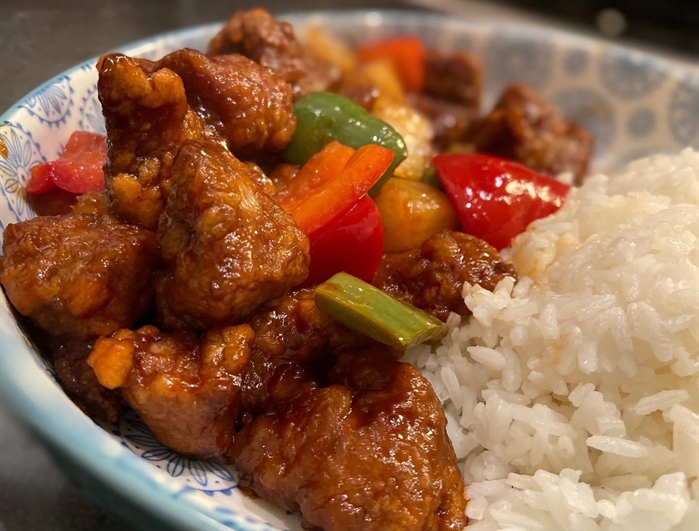 When it comes to Chinese food, sweet & sour pork is a classic and a favourite for takeaway. It is essentially a Chinese stir-fry dish, featuring deep-fried, juicy pieces of pork, bell peppers, onion, and pineapple, tossed in an addictive sweet and tangy sauce.
Ever tried to make it? It's actually quite easy and this delicious recipe will have your bubble of eaters seriously questioning whether it is from a restaurant or not. Serve with steamed rice and stir-fried broccoli.
Jay's Takeaway Sweet & Sour Pork
Ingredients:
1.5 lb pork shoulder cut into 1-inch cubes (you can use pork tenderloin if you want to be fancy)
1 green bell pepper, cut into 1-inch squares
1 red bell pepper, cut into 1-inch squares
1/4 medium onion, cut into 1-inch squares
Batter:
1 egg, beaten
1/4 cup potato or cornstarch
Marinade:
2.5 tbsp soy sauce
2 tbsp oyster sauce
1.5 tbsp sesame oil
1 tbsp Xiao Xing cooking wine
1 tsp ground pepper
Sauce:
1 tin pineapple tidbits (1 1/2 cups)
1/4 cup ketchup
1 Tbsp white vinegar
1 Tbsp soy sauce
1 Tbsp sugar
1 Tbsp plum sauce
Cornstarch slurry:
1.5 Tbsp cornstarch dissolved in 2 Tbsp water
3 cups canola oil or peanut oil for deep frying plus 1 Tbsp
Chopped green onions to serve.
Method:
In a large bowl whisk together the marinade ingredients, add pork and toss. Ideally marinate overnight, but a couple of hours will do.
In another bowl, mix sauce together and set aside.
When you are ready to deep fry, whisk together the batter ingredients then add to marinated pork and toss to coat.
Heat oil in wok to 350 degrees. Fry the pieces in batches for about 5-6 minutes, or when they just start to get golden brown. Using a slotted spoon or better yet a spider strainer, remove them from the oil and transfer to a rack sitting on a sheet pan lined with paper towels to drain.
Now here is the trick! To keep the pork crisp, you are going to do a 2nd fry! The first fry cooks the pork and the 2nd fry is to get colour and crispness. This will crisp up the coating before you add it to the sauce. Replenish the oil in the wok and reheat then fry again for 2-3 minutes, in batches, drain on paper towels again.
In another frying pan or wok, add one tablespoon of oil and sauté the peppers and onion for 3-4 minutes or until slightly softened but still a bit crisp. Add the cooked vegetables, pineapple with juice and the sauce ingredients and bring to the boil, reduce heat and simmer for 2-3 minutes. If you would like the sauce thicker, whisk in cornstarch slurry and simmer for another minute until thickened . Remove from heat.
In a serving dish, toss the pork with the sauce and veggies. Sprinkle with green onions. Enjoy!
---
We welcome your comments and opinions on our stories but play nice. We won't censor or delete comments unless they contain off-topic statements or links, unnecessary vulgarity, false facts, spam or obviously fake profiles. If you have any concerns about what you see in comments, email the editor.
News from © iNFOnews, 2020