Weekend Recipe: Make this amazing Musakhan from Falastin, Sami Tamimi's newest cookbook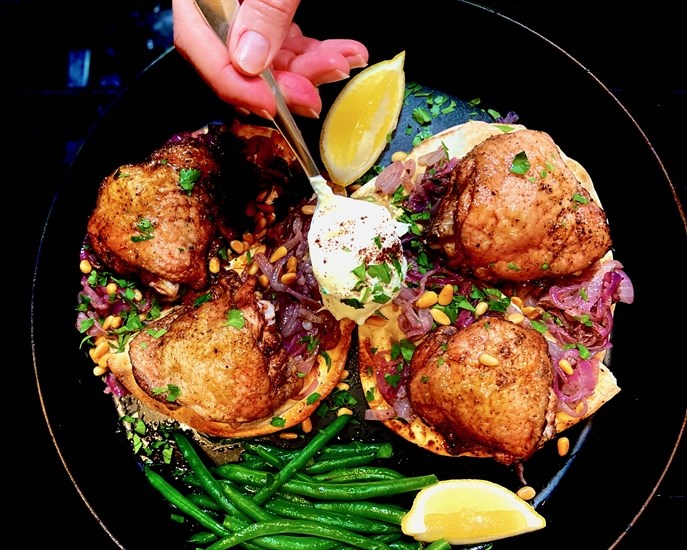 Ottolenghi exploded onto the food scene in 2008 with the launch a cookbook introducing his name to the foodie world: Ottolenghi. The face of this brand, Yotam Ottolenghi is an Israeli restaurateur in London whose cuisine took our hungry palates by storm bringing us the bright and beautiful flavours from his home in Israel. Since then, there has been a stream of beautiful cookbooks, with two of the bestsellers: Ottolenghi: The Cookbook and Jerusalem: A Cookbook, both co-authored by Sami Tamimi, executive head chef of the Ottolenghi empire.

Now Sami Tamimi has his own book out called Falastin. Sami was born and raised in Jerusalem and was immersed in food from childhood. He started his career as commis-chef in a Jerusalem hotel and worked his way up, through many restaurants and ethnic traditions, to become head chef of Lilith, one of the top restaurants in Tel Aviv in the 1990s. He joined Ottolenghi and they now operate four stores and two restaurants, NOPI and ROVI, all in central London.

Musakhan is actually the hugely popular national dish of Palestine. The book notes, "Growing up, Sami ate it once a week, pulling a piece of chicken and sandwiching it between a piece of pita or flatbread. It's a dish to eat with your hands and with your friends, served from one pot or plate, for everyone to then tear at some of the bread and spoon on the chicken and topping for themselves."

Loaded with sumac, which incidentally grows wild in the Okanagan, (!) the layers of flavour in this dish are deceiving with how easy it is to make.

The book also shares this note for vegetarians on the recipe: "The chicken can be replaced with thick slices of roasted eggplant or chunky cauliflower florets, if you like (or a mixture of both), for a vegetarian alternative. If you do this, toss the slices or florets in the oil and spices, as you do the chicken, and roast at 425°F for about 25 minutes for the cauliflower and about 35 minutes for the eggplant."

We used an equivalent weight in eight, bone in, skin on chicken thighs. Leftovers are amazing, too. I also only used one large red onion yielding maybe half of the onion portion – they are delicious and if you love onions, go to town and cook them all. Pine nuts are crazy expensive but sooooo worth it. Go ahead and splurge.



Musakhan

Ingredients:

1 chicken (about 3¾ lb/1.7kg), cut into 4 pieces (3 lb/1.4kg), or 2 lb 2 oz/1kg chicken breasts with the wing-tips left on (between 4 and 6, depending on size), skin on, if you prefer
½ cup/120ml olive oil, plus 2 or 3 tbsp
1 tbsp ground cumin
3 tbsp sumac
½ tsp ground cinnamon
½ tsp ground allspice
Salt and black pepper
¼ cup/30g pine nuts
3 large red onions, thinly sliced ? inch/3mm thick (mounded 4 cups/500g)
4 taboon breads (see headnote), or any flatbread (such as Arabic flatbread or naan bread; ¾ lb/330g)
¼ cup/5g parsley leaves, roughly chopped
1¼ cups/300g Greek yogurt
1 lemon, cut into wedges

Directions:

Preheat the oven to 425°F. Line a rimmed baking sheet with parchment paper, and line a bowl with paper towels.

Place the chicken in a large mixing bowl with 2 tbsp of oil, 1 tsp of cumin, 1½ tsp of sumac, the cinnamon, allspice, 1 tsp of salt, and a good grind of black pepper. Mix well to combine, then spread out on the prepared baking sheet. Roast until the chicken is cooked through. This will take about 30 minutes if starting with breasts, and up to 45 minutes if starting with the whole chicken, quartered. Remove from the oven and set aside. Don't discard any juices that have collected in the pan.

Meanwhile, put 2 tbsp of oil into a large sauté pan, about 10 inches/25cm, and place over medium heat. Add the pine nuts and cook for 2–3 minutes, stirring constantly, until the nuts are golden brown. Transfer to the prepared bowl (leaving the oil behind in the pan) and set aside. Add the remaining ¼ cup/60ml of oil to the pan, along with the onions and ¾ tsp of salt. Return to medium heat for about 15 minutes, stirring from time to time, until the onions are completely soft and pale golden but not caramelized. Add 2 tbsp of sumac, the remaining 2 tsp of cumin, and a grind of black pepper and mix well, until the onions are completely coated. Remove from the heat and set aside.

When ready to assemble the dish, preheat the broiler and slice or tear the bread into fourths or sixths. Place under the broiler for 2–3 minutes, to crisp up, then arrange on a large platter. Top the bread with half the onions, followed by all the chicken and any chicken juices left in the pan. Either keep each piece of chicken as it is or roughly shred it, into two or three large chunks, as you plate up. Spoon the remaining onions over the top and sprinkle with the pine nuts, parsley, remaining 1½ tsp of sumac, and a final drizzle of olive oil. Serve at once, with the yogurt and lemon wedges alongside.
---
We welcome your comments and opinions on our stories but play nice. We won't censor or delete comments unless they contain off-topic statements or links, unnecessary vulgarity, false facts, spam or obviously fake profiles. If you have any concerns about what you see in comments, email the editor.
News from © iNFOnews, 2021