Weekend Recipe: Make delicious Korean food at home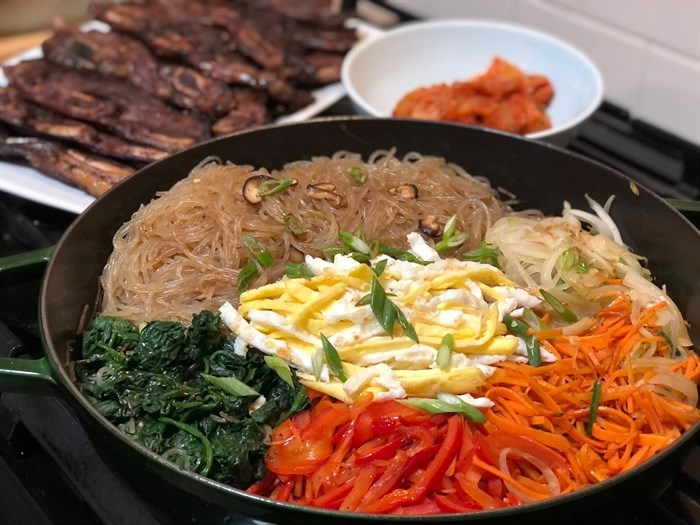 Weekend Recipe: Korean Japchae & Short Ribs
As our weekly international theme nights continue, we delved into the cuisine of Korea. Japchae (or chapchae) is a classic Korean dish made with sweet potato starch noodles, vegetables and meat. What makes this dish unique is the sweet potato starch noodles (dangmyeon) also known as glass noodles because they become translucent when cooked. They are so delicious and are a staple in Korean homes.
I love that the ingredients are cooked separately and then combined right before serving. It really helps retain the colour and integrity of each ingredient and makes for a beautiful presentation. Really, it is worth the extra effort.
This is one of those meals that is all about prep time making it superfast and easy to throw together at mealtime. Instructions on preparing the actual noodles vary and I found that simply boiling them for 6-7 minutes (until transparent) and then rinsing well in cold water did the trick before marinating them in some of the sauce (notes included in recipe). Also, I encourage you to include the egg step, it looks so pretty.
This recipe is usually made with marinated beef strips, but we decided to go vegetarian because we served it with delicious Korean short ribs (Galbi). This cut of ribs is called the flanken cut and is cut across the bones into thin slices. Your butcher should be able to prepare these for you. The combo of Japchae with the ribs was dy-no-mite and we can't wait to make it again! Serve with spicy kimchi on the side (fermented cabbage that is widely available in shops).
Japchae
Serves 4
Ingredients:
2 bundles Korean potato starch noodles
1 carrot, julienned
1 red pepper, julienned
1/2 medium sweet onion, sliced thinly
2 scallions, sliced
5-6 fresh small shiitake mushrooms, stems removed, sliced thinly
4 cups of spinach, steamed
oil for stir frying
salt
Topping:
2 eggs
Sauce:
5 Tbsp soy sauce
1 Tbsp brown sugar
1 Tbsp honey
2 Tbsp sesame oil
1/8 tsp black pepper or to taste
Garnish (optional):
1 egg
Sesame seeds
Green onion, chopped
Instructions:
Prepare the vegetables and set aside.
Combine all the sauce ingredients in a small bowl and mix well until the sugar is dissolved.
In a small bowl, mix the shitake mushrooms with 3 tablespoons of the sauce and set aside.
Separate the egg yolk from the white and lightly beat the white. Stir the yolk with a spoon until smooth and then fry each as you would a fried egg. Remove, slice thinly and set aside for garnish.
Fill a large pot of water and bring to a boil. Add noodles and cook until completely translucent and soft (6 to 7 minutes). Drain in a strainer and rinse well under cold running water. Drain thoroughly and then transfer to a large bowl and then kitchen shears, cut 4 times (or more depending how long you like your noodles). Mix in the shitakes and sauce plus toss another 3 tablespoons of sauce in and set aside.
Blanch spinach in the same noodle water or cook until wilted in the microwave. Cool and then squeeze out water, roughly chop and season with salt.
In a large non-stick frying pan or wok, add a splash of oil and first stir fry the onion with a pinch of salt over medium low heat for 2 minutes and then remove to large casserole or serving dish, keeping each separate in its own pile. Repeat with carrot and then red pepper, adding a splash of oil each time and pinch of salt. The vegetables should be crisp.
Add ½ tablespoon of oil to prevent sticking and stir fry the noodles over medium heat, tossing frequently for approximately 4 minutes then add to the serving dish.
Arrange spinach to the prepared vegetables and noodles in the serving dish and then top with the egg, green onion and sesame seeds (if using).
Bring dish to the table to serve. Drizzle with the remaining sauce and then toss all of the ingredients together and serve.

Korean Short Ribs (Galbi)
3-4 pounds
Marinade:
1/2 cup soy sauce
1/4 cup brown sugar
2 Tbsp honey
1/4 cup rice wine
2 Tbsp sesame oil
1/2 Asian pear, grated
1/2 medium onion, grated
1 Tbsp garlic, minced
1 tsp ginger, minced
½ tsp black pepper
Garnish: chopped green onions
Mix marinade together with ribs in a large zip lock bag and marinate for 8 - 24 hours- the longer the better!
Tip: To avoid grating the pear, onion and garlic, you can also add all ingredients to the blender.
On the barbecue, grill the short ribs, turning once, 2 – 3 minutes on each side. If they are thicker you can cook a little longer. You could also broil in the oven.
---
We welcome your comments and opinions on our stories but play nice. We won't censor or delete comments unless they contain off-topic statements or links, unnecessary vulgarity, false facts, spam or obviously fake profiles. If you have any concerns about what you see in comments, email the editor.
News from © iNFOnews, 2020