Try something new: Here are 10 delicious B.C. wine varieties to try in 2020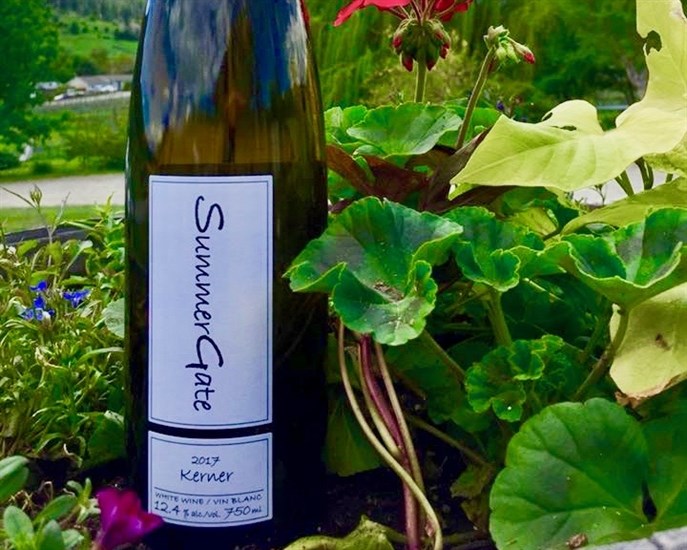 Stuck in a wine rut? Always ordering Cabernet Sauvignon, Merlot, Pinot Noir, Rosé, Chardonnay, Sauvignon Blanc or Pinot Gris? Here are 10 "other" outstanding B.C. wine varietals to discover in 2020:
1. Bacchus: A white wine grape variety created in 1933 by viticulturist Peter Morio in Germany, the name Bacchus is translated as "the Greek God of wine". This lively aromatic white wine is a B.C. must sip.
Try: Arrowleaf Cellars, Alderlea Vineyards, Blue Grouse Estate Winery & Chaberton Estate Winery
Bonus fact: Bacchus has become England's signature grape varietal.
2. Baco Noir: A French-American hybrid red wine grape variety created in France in 1902, by botanist François Baco, Baco Noir is a dark, earthy medium-bodied red wine.
Try: Ancient Hill Estate Winery & Summerhill Pyramid Winery
Bonus fact: Ontario's Henry of Pelham Estate Winery released their first Baco Noir vintage in 1988 and hold the honour of being the first Ontario wine to be carried on a Michelin-starred wine list at Daniel Boulud in New York.
3. Cabernet Franc: A red wine grape variety founded in the 17th Century in France known as the Queen of red grape varietals, and it is the parent grape to Cabernet Sauvignon, Merlot and Carménère and one of the official blending grapes for France's iconic red Bordeaux blend. Cabernet Franc is an elegant and medium-bodied red wine.
Try: CC Jentsch Cellars, Fort Berens Estate Winery, The Hatch Winery, Painted Rock Estate Winery & Silkscarf Winery
Bonus fact: For wine connoisseurs, the elegant and refined Cabernet Franc is now the sophisticated red wine of choice over her famous children, Cabernet Sauvignon and Merlot.
4. Carménère: Chile's signature red wine varietal originated from the Médoc region of Bordeaux, France and is a medium-bodied, lush red wine.
Try: Black Hills Estate Winery, Lariana Cellars & Moon Curser Vineyards
Bonus fact: In 2005 Black Hills Winery was the first to release Carménère in B.C.
5. Chenin Blanc: One of the world's most versatile white grape varieties, Chenin Blanc produces wines ranging from bone dry to sweet nobility. Chenin Blanc is South Africa's signature white varietal.
Try: Road 13 Vineyards, Da Silva Vineyards & Quails' Gate Estate Winery.
Bonus fact: Road 13 Vineyards produces the only B.C. sparkling Chenin Blanc.
6. Ehrenfelser: A white wine grape variety created by Dr. Heinrich Birk in 1929 in Germany, the Okanagan is recognized as one of the main growing regions for this white grape varietal. Ehrenfelser is a lovely, light-bodied aromatic white wine.
Try: CedarCreek Estate Winery, Evolve Cellars, Gehringer Brothers Estate Winery, Lake Breeze Winery, Mount Boucherie Estate Winery and Summerhill Pyramid Winery.
Bonus fact: Established in 1986, Gehringer Brothers Estate Winery is one of Canada's oldest wineries and they have won numerous awards for their Ehrenfelser wine and icewine.
7. Gamay Noir: Also known as just Gamay, it is one of the oldest red wine grape varieties and the cousin of Pinot Noir. Most notably grown in Beaujolais and the Loire Valley, France, Gamay is a fruity, light to medium-bodied red wine.
Try: Blue Mountain Winery, Deep Roots Winery, Desert Hills Estate Winery, JoieFarm Winery, Orofino Winery & Robin Ridge Winery.
Bonus fact: In 2016 Quails' Gate released Cailleteau Gamay Nouveau paying tribute to France's annual Beaujolais Nouveau tradition celebrating the end of harvest by drinking the "new wine".
8. Gewürztraminer: An aromatic white wine grape variety originally from Germany, Alsace is recognized as one of the world's best regions for making Gewürztraminer. It is noted for it's pink to light red-coloured skin and is a terroir driven, medium-bodied aromatic white wine.
Try: 50th Parallel Estate Winery, Gray Monk Estate Winery, Harpers Trail Estate Winery, Kalala Organic Estate Winery, Kettle Valley Winery & Thornhaven Estate Winery
Bonus fact: Gewürztraminer is referred to as "Gewurz" or "Gew" and can also be made as a dessert wine or a wonderful sparkling wine. Volcanic Hills Estate Winery in West Kelowna makes a Sparkling Gewürztraminer.
9. Grüner Veltliner: Austria's "it white wine", Grüner is a terroir driven wine ranging from light and easy-drinking to rich and full bodied. Often referred to as the exotic Sauvignon Blanc but when made in the rich, full-bodied style it is a wine that converts Chardonnay lovers.
Try: Bordertown Vineyards, Culmina Family Estate Winery, Fairview Cellars, O'Rourke's Peak Cellars & Singletree Winery.
Bonus fact: Canadian wine legend, Don Triggs was the first to grow Grüner Veltliner in the Okanagan in 2007 when he established his own family winery, Culmina.
10. Kerner: The Kerner grape is an aromatic, cool climate white grape variety. It was bred in 1929 by August Herold by crossing Trollinger and Riesling.
Try: Oliver Twist Winery, Recline Ridge Winery, Pipe Dreams Winery, Summergate Winery & Sunnybrae Vineyard & Winery.
Bonus fact: Hillside Vineyards produces a Kerner Icewine.
Stay tuned for Part 2 of this article with #11-20.
— Claire Sear is a Vancouver based food, wine & lifestyle writer
---
We welcome your comments and opinions on our stories but play nice. We won't censor or delete comments unless they contain off-topic statements or links, unnecessary vulgarity, false facts, spam or obviously fake profiles. If you have any concerns about what you see in comments, email the editor.
News from © iNFOnews, 2020