Troubled times for Okanagan apple orchardists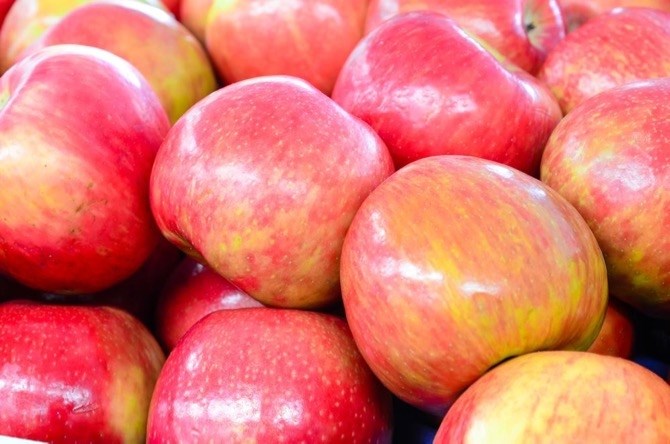 It's not the best of times for the Okanagan's 400-plus apple growers who are struggling with low returns and an influx of cheap apples from Washington State.
The B.C. Tree Fruits Convention took place at Kelowna's Capri Hotel on Feb. 11 and 12, and poor initial returns on last year's crop are making things tough for many orchardists up and down the valley.
B.C. Tree Fruits Board member Amarjit Lalli has been growing apples on a 20-acre plot near Kelowna since 2003.
"We've been progressively farming for generations. We were the first family in our village in India to get a tractor, in 1971. We waited two years for it," Lalli says.
Apples have been "part of the equation" for Lalli and his family since they emigrated here in 1975.
But Lalli says things aren't right in Okanagan apple orchards these days. The industry has endured three years of declining returns.
"B.C. Tree Fruits is one of the biggest packers, and our members received their first advance recently. It was well below expectations, quite a bit lower than what everyone was hoping for. They're not even going to make the cost of production," Lalli says. "The average price has been 15 cents per pound lately, with the cost of production at 25 cents a pound."
With apple prices at retail levels of $1.50 a pound and higher, Lalli says there is a disconnect.
"Someone in the middle is making a lot of money, and it's not the grower. The grower is getting all the bits and pieces that are left over," he says.
"It's pretty dire. There are some farmers who can't make mortgage payments of purchase input for this year's crop," he says.
Lalli says the industry consolidated in the Okanagan around 10 years ago after reports claimed packinghouses were too plentiful in the valley and there was too much infighting in the industry.
"It was going to be a rosier picture after. Growers have always done what has been asked of them, so five major packinghouses amalgamated into one under B.C. Tree Fruits, but we're still facing the same issues as before," he says.
Lalli says government needs to step in as the local industry continues to get hammered by an influx of apples from Washington State.
"The issue is we find out after the fact. Growers are asking for rules and regulations to control the dumping of Washington State apples. There are rules against dumping, we're part of the NAFTA agreement, and what ends up happening is by the time we find out it's too late," he says. "The apples are already on the market - what are you going to do after the fact?"
There's a consumer issue surrounding cheaper imported apples as well.
"People talk about buying local, but when they go to the store, they think with their wallet. That's the disheartening thing, people need to walk the walk and they aren't doing it," he says.
Lalli says B.C. Tree Fruits is trying to deal with the issues as a new CEO and staff work to change the cooperative model and run the institution more like a true business.
"That's what's needed. There are some major shakeups coming, hard choices and decisions to be made, but the industry will be better for it," he says. "Right now, farmers can't pass on the added costs to the consumer the way other businesses can. We're at the mercy of the market and that's what's killing us."
Jetta Williams is a new apple grower with only two seasons under her belt, but she too has noticed a big change in the industry.
"Two years ago when we got into it, there seemed to be good prices on fruit. This year, we're completely dumbfounded," she says.
Williams looks after a 2.6-acre farm in the Kelowna area, where she produced 190 bins this year.
"The bin count was up 46 per cent, but our first cheque was down 36 per cent," she says. "Our farm is a lot smaller than most, but it still has an impact."
Williams retired two years ago, and bought the property with the intention of paying the mortgage with her retirement income, using orchard profits to pay for the tractor, labour and chemicals.

"This year is looks like that won't be the case. We can't even hire anyone, because there is no cash coming in," she says.
B.C. Fruit Growers Association is an industry association representing growers' interests. Spokesperson Glen Lucas says the Okanagan apple industry currently faces a combination of pressures.
"Certainly there is price pressure, and compounding that are weather and storability issues. There's the large crops in Washington state combined with international trade turmoil that is affecting prices. All that has an impact on the market," he says.
---
To contact a reporter for this story, email Steve Arstad or call 250-488-3065 or email the editor. You can also submit photos, videos or news tips to tips@infonews.ca and be entered to win a monthly prize draw.
We welcome your comments and opinions on our stories but play nice. We won't censor or delete comments unless they contain off-topic statements or links, unnecessary vulgarity, false facts, spam or obviously fake profiles. If you have any concerns about what you see in comments, email the editor in the link above.
News from © iNFOnews, 2020