THOMPSON: Grape-growing in England? Climate change may make it possible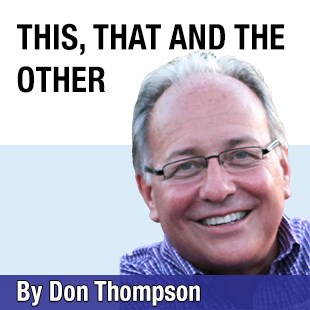 ---
OPINION
---
I can count on one finger the number of world class English wines…and have one finger left over. I love England, really…its history, British accents, quaint villages, wonderful pubs, stunning coastlines, home to Shakespeare and the Beatles. C'mon…England has it all.
But wine? I've been in more great vineyards than I can count in the past 50-plus years…maybe 500…France, Germany, Italy, Spain, California, Australia and Canada. But apparently England wants some acclaim for growing grapes, too.
Why? Climate change. It turns out that the climate east and south of London in Sussex, Kent and Surrey is growing closer to the environmental conditions of one of France's greatest grape-growing areas, Champagne. That's right… in another decade people might well be celebrating those special occasions with bottles of bubbly…from England.
By law only the Champagne region of northeast France can call its sparkling wine Champagne. Everywhere else in the world…sparkling wine is, well, sparkling wine.
The truth is…when global temperatures rise one degree Celsius…the regions for growing good grapes for wine expands 270 kilometres North in the Northern Hemisphere…and the same distance South in the Southern Hemisphere. Grapes for making wine - so-called varietal grapes - are one of the best natural barometers of climate change…and vineyard owners have known for decades that dramatic changes were coming.
In the early 1970s, one of the owners of the great Burgundy Houses…Domaine de la Romanée-Conti (DRC)…told me they were picking grapes in late September instead of early October as they did in the 1960s. Today, 50 years later…DRC picks its grapes a month earlier…the last week in August.
While daytime temperatures are important…it's night-time temperatures that are most critical for most grape varieties. If night-time temperatures are warmer, photosynthesis starts earlier in the day…and the sugar content increases and grapes ripen faster.
Actually, monks made wine in England during the Middle Ages...when there was a global warming period not caused by man but by nature and grapes that like warmer weather were planted for decades. But by the 17th Century…cool weather returned and the vines died.
It's not just warmer temperatures that favour England's future in winemaking. The soils in the areas south of London are varied. The white cliffs of Dover are chalk…an extension of the vein that runs through Champagne and Paris.
Climate change is affecting vineyards here in the Okanagan, as well. When I moved here 11 years ago there were few wineries north of Vernon…now they're growing grapes in Kamloops. Vineyard owners worldwide used to talk about the weather…specific events like frost or hail or floods…now it's overall trends…lengthy droughts, fires and smoke that taints grapes.
Climate change is not an even-handed event…some grape growers lose…like Bordeaux growers where increasing temperatures are not a good thing for, say, Merlot grapes…and others win because they can soon grow varieties that are new to them. Will the Champagne district of France grow Merlot in 30 years? Maybe.
In another 75 years, the Okanagan could become the new Napa and Sonoma…with a prediction that California's grape-growing regions could lose 80 percent of its grape growing production by 2100. These climate changes won't affect my wine cellar…but it appears scientists were right to warn us 50 years ago. We should have listened rather than making climate change a political football for half a century.
Meanwhile, here and around the world - Northern and Southern Hemispheres - grape growing will move farther North and South, respectively…and will be at higher elevations, as well.
I hope I'm around in ten years or so…I'd like to lift a glass of great bubbly from Surrey or Kent…and say, "Reminds me of the 1985 Dom Pérignon."
— Don Thompson, an American awaiting Canadian citizenship, lives in Vernon and in Florida. In a career that spans more than 40 years, Don has been a working journalist, a speechwriter and the CEO of an advertising and public relations firm. A passionate and compassionate man, he loves the written word as much as fine dinners with great wines.
---
We welcome your comments and opinions on our stories but play nice. We won't censor or delete comments unless they contain off-topic statements or links, unnecessary vulgarity, false facts, spam or obviously fake profiles. If you have any concerns about what you see in comments, email the editor.
News from © iNFOnews, 2022