The Okanagan could grow most of its own food and still have room for wine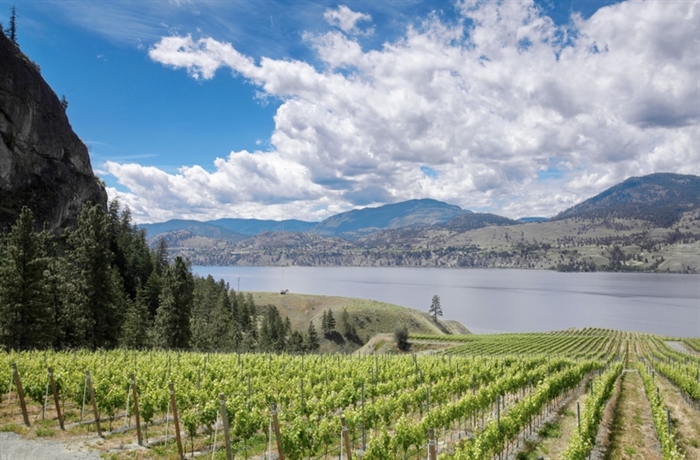 A new report being presented to Okanagan regional districts is trying to get them to create a regional food system that will see most of the food consumed in the Valley grown here.
It could potentially make the Valley 100 per cent self-sufficient in poultry and eggs, produce 92 per cent of its dairy products, 87 per cent of its grain and 69 per cent of all food consumed.
"The fact of the matter is, in the 21st century, every jurisdiction better start thinking about regionalizing their food systems to the best of their capabilities," Kent Mullinix, director of the Institute for Sustainable Food Systems at Kwantlen Polytechnic University in Vancouver, which did the report, told iNFOnews.ca.
"Climate change and global economic uncertainty absolutely suggest that the prudent citizen and leader and policy maker would be thinking in these terms."
One example of the global economic uncertainty is that California, which supplies 80 per cent of B.C.'s fruit and produce, is curtailing water supplies to farmers, he said.
The alternative to not creating a regional food system is to continue growing food for the lowest possible price and selling it to multi-national corporations to not only produce it but to squeeze the largest share of the money out of it.
COVID, with it's buy-local shift in buying habits greatly increased discussions about food supply and Mullinix expects that momentum to build.
But discussions are hindered by a lack of data on what food is consumed in Canada.
Canada uses a "food disappearance" system that records all the food that comes into the country in a year and compares that to what's left over to create a "pretty rough" estimation of what and how much we eat, Mullinix said.
"It's pretty interesting, all this interest in food systems and we don't know what people eat and we don't know how much food grown in B.C. is actually bought and sold and consumed in B.C.," he said. "We have no idea."
His report, called Bringing our Food System Home: Report on the Okanagan Bioregion Food System Project, attempts to change that by producing data that will help fuel discussions and precipitate changes.
It was recently presented to the Regional District of the South Okanagan and will be going to other local governments in the coming weeks and months.
"It is an applied research project," Mullinix said. "It was designed and intended to have practical applications."
He would like to see a regional structure put in place, perhaps like the Okanagan Basin Water Board, to take up the challenge of creating a regional food system where production facilities play a big role, not just growing the food.
"We need to create jobs and income for our communities," Mullinix said. "The economic livelihoods of our communities can't be left to the vagaries of the global industrial system."
The Okanagan is blessed with an abundance of agricultural land and a relatively low population so it has room to not only grow its own food but to still be able to export fruit like cherries and have a vibrant wine industry, he said.
"The Okanagan can have its cake and eat it too," he said.
Based on 2016 data, the Valley provided 38 per cent of its own food. That could grow to 69 per cent.
Seven per cent of eggs were from the Okanagan, at that time, and 60 per cent of poultry. Both could be 100 per cent locally produced, the report says.
Dairy could go to 92 per cent from 88 per cent, red meat to 43 per cent from nine per cent and grain to 87 per cent from five per cent.
One thing that wouldn't change much would be fruit, going to 37 per cent from 34 per cent.
But 62 percent of vegetables could be grown in the Valley versus the 14 per cent grown in 2016.
There needs to be major changes in government policies and regulations to make these changes happen and it will take some time, but Mullinix is not only sure that it will happen in the Okanagan but that other regions of the province will join in.
"I guarantee, in the next 20 years, regionalization of food systems will happen one way or another," he said, hoping the report is the catalyst that makes that happen.
---
To contact a reporter for this story, email Rob Munro or call 250-808-0143 or email the editor. You can also submit photos, videos or news tips to the newsroom and be entered to win a monthly prize draw.
We welcome your comments and opinions on our stories but play nice. We won't censor or delete comments unless they contain off-topic statements or links, unnecessary vulgarity, false facts, spam or obviously fake profiles. If you have any concerns about what you see in comments, email the editor in the link above.
News from © iNFOnews, 2021