The haskap berry is a growing trend in the Okanagan and beyond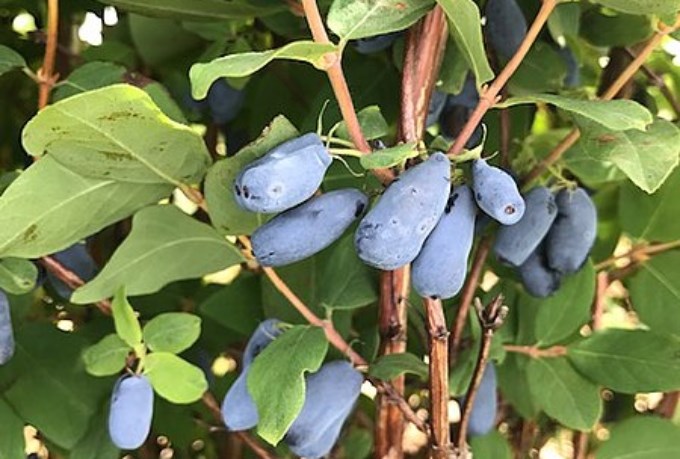 Full of antioxidants, this superfood is catching on in the Thompson Okanagan as awareness for the haskap berry is growing.
The berries are native to boreal forests and colder climates around the world, including Canada.
Mel Kozun, co-owner of Summerland Haskap, has roughly 1,000 plants, or an acre's worth, that he's been growing during the last five years.
They're rich in antioxidants, which intrigued him and he was tired of just growing Christmas trees, he said. They're also easy to grow in the Okanagan, he said. "I'm my part of the world, here in Summerland, they're doing really well."
READ MORE: Berries and beer make for a delicious July
This is his third season selling the berries, he said.
He originally bought three pots of berries in Edmonton and brought them back, threw them in the garden and he saw the buds growing from the ground in February.
As the Okanagan is already a popular fruit growing area, Kozun said that's likely why the berries are becoming so popular.
"I get so many people asking about growing them in their backyard. We do our sales at the farmer's market or over the farm gate as they call it. They're starting to become commercially available, but that's a little slow yet," he said.
"There are farmers picking this up this berry trend throughout Canada, he said.
"Being a northern climate berry there's also people growing them in the Yukon," he said.
The berries can be harvested from mid-June to mid-July, depending on the temperatures, he said.
"They are generally the first berry of the season, they even beat out some of the strawberries," Kozun said.
"They have a really good taste between sweetness and tartness, I tend to describe them as a blackberry with a sour cherry taste (and an element of sweetness,)" he said.
Bob Bors is the head of the domestic fruit program and plant science professor at the University of Saskatchewan. He leads Canada's development of Haskap berries.
"Certain types and descendants of certain types will go into the warmer parts of B.C. but you have to be picky and choose the right varieties," he said. "One of the reasons they're adapted is they grow early in the spring and then they shut down and don't grow much later in the summer."
Wild Canadian haskaps are the size of lentils and tend to fall over, but the university bred different wild varieties of the berry from Russia and Japan to make a larger heartier berry that can be harvested with a machine, he said.
"It was a combination from the two main sets of parents were even good for machines," he said.
About 10 years ago, Bors gave a lecture to the B.C. Haskap Association and some of the largest proprietors in Canada are in B.C., he said.
B.C., Nova Scotia, and Quebec are interested in the haskap and for blueberry growers, you can harvest haskaps earlier in the season with the same technology, "it gives you an extra use of all your facilities," Bors said.
"It's also found to be one of the most nutritious berries," he said, but noted the rumor that haskaps have more antioxidants than blueberries isn't quite true.
While one study examined haskaps compared with store-bought blueberries, there are some blueberries that are higher in antioxidents than haskaps and vice versa, he said.
"One of the reasons it really took off (in B.C.) was the first growers were in Salmon Arm and somebody there gave some fruit to one of the distilleries and they won (international awards)... After that, all of a sudden distilleries and wineries became interested in haskaps," he said, adding the award cemented an interest in haskaps in the Okanagan alcohol industry.
In 2015, Okanagan Spirits Craft Distillery's Haskap Liqueur won a double-gold at its first ever appearance at the World Spirits Awards, and a gold in 2017 and 2020, according to its website.
Margarita Valou from Echo Haskap, which has a farm in Lumby, have been growing haskaps since 2016 and intends to use them in wine.
The company has about 30,000 plants and so far has been selling them with you-picks, she said.
Last summer, they had their first harvest, she said. "We're trying to make jam and see how it's going to be, there's many things you can do with the berries."
At this stage, they don't have haskap wine that is ready for sale but they might come next spring, she said.
There's been a growing interest for haskaps and it's even sold in yogurt at select grocery stores, she said.
There are also more haskap farmers in the B.C. Haskap Association now compared to a few years ago, she said.
READ MORE: Here are 7 tasty berries growing wild in the Okanagan
"I think haskap will be successful once volume and production is there," she said, it could range in availability from health to food to wine.
There are 14 B.C. Haskap Association members in the Thompson Okanagan and 10 in the Shuswap, according to the association's website.
---
To contact a reporter for this story, email Carli Berry or call 250-864-7494 or email the editor. You can also submit photos, videos or news tips to the newsroom and be entered to win a monthly prize draw.
We welcome your comments and opinions on our stories but play nice. We won't censor or delete comments unless they contain off-topic statements or links, unnecessary vulgarity, false facts, spam or obviously fake profiles. If you have any concerns about what you see in comments, email the editor in the link above.
News from © iNFOnews, 2020