The craft beer revolution is alive and well in the Okanagan and Kamloops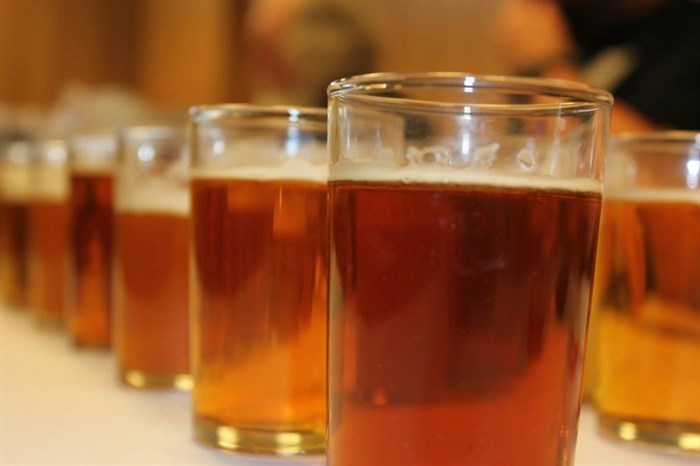 October is B.C. Craft Beer Month, and we felt a sense of responsibility to share all the spots in the Thompson-Okanagan where you can get a crafty cold one.
There are some maps of the B.C. craft breweries, such as this one by Beer Me B.C. and this one by B.C. Ale Trails, although there are a few new businesses that haven't yet been added to some of the lists. We compiled a list of the new, old, unique and cozy breweries in the region, so you can find the perfect spot to grab a beer.
KAMLOOPS
In Kamloops, you can check out the relatively new Alchemy Brewing at 650 Victoria Street, which offers unique kitchen fare, board games, live music and a cozy atmosphere. Alchemy hinted on its Facebook page that there may be a Pumpkin Spiced Ale coming out for the season, and offer more classic beers like its Forgotten 55 English Style Pale Ale.
Red Collar Brewing Co. is the spot to go if you want to pet some pooches and drink some of the most well-known craft beer in Kamloops. They have launched their Squash Gordon beer, a seasonal favourite that brings in the fall flavours. You can visit them at 355 Landsdowne Street, and try their classic I.P.A., their Trappist-style beers or one of their seasonal creations.
The Noble Pig is a great spot to go for a chef-designed meal in a laid back pub-style environment. The Noble Pig, at 650 Victoria Street., has a rotating list of handcrafted beers to keep your tastebuds entertained and include brews like its Stick House Belgian Pepper Ale or the Dry Hopped I.P.A., which has a hint of hibiscus.
Iron Road is a bright open space near Thompson Rivers University at 980 Camosun Crescent, which offers plenty of beer options and sometimes features live music. They have a Mexican inspired menu and local and locomotive inspired brews like the Red Bridge Pale Ale and the Loopline I.P.A.
One of Kamloops breweries is preparing for the opening of its storefront location but has been building a fan base by selling their creations at different community events like Brewloops and Music in the Park. Bright Eye Brewing is the newest on the Kamloops craft beer scene and hopes to open its location this fall. They have creations such as the Belgian Dark Twisted Fantasy and the Above The Rim I.P.A.
KELOWNA
One of the busiest cities for craft beer in the Thompson-Okanagan is Kelowna. With around a dozen breweries around the city, it could be tough work finding your favourite brew.
BNA Brewing sits in a historic building that was once a hub for the tobacco and cigar industry and is named after the old British North American Tobacco Company. They have a full food and drink menu, but beers such as its Thiller I.P.A. and the 76 Wolverine lager take the spotlight. You can gulp down the goodness at 1250 Ellis Street, Kelowna.
Check out Boundary Brewing Co., one of the smaller breweries in Kelowna and the only brewery in Canada that uses wooden tanks in its creation process, according to owner Oliver Gläser. The small location by the Kelowna airport is the only Canadian craft beer company that uses oak vats for their boil kettle, hot liquor tanks and mash tun to create their beer, and Gläser believes it may be one of the only six such breweries in the world. He says the use of oak during the process gives the beer a subtle complexity. You can visit them at 455 Neave Court #2, then munch on some bar snacks and try out one of their ever-changing eight taps, which often has a focus on German beers such as Kölsch, Alter and Hefeweizen.
Check out Red Bird Brewing in Kelowna for all things beer, music and cribbage. You can bring friends for cribbage tournaments and live music nights, and try out their beers like their Paramount Porter or their Lady of the Lake lager. It is located at 1086 Richter Street.
Want to get your beer and bowl on? Visit Freddy's Brewery in Kelowna, which pairs with McCurdy Bowling to offer a family-friendly bowling alley in addition to their craft beers and pub grub. For the competitive folks out there, take part in the league and guzzle back their Lebowski Lager for good luck. If you want to combine beers, bowling and lasers, check out their cosmic bowling events, which blend a bowling alley, brewery and nightclub into one. Check it out at 948 McCurdy Road.
Feeling fruity? Check out Wild Ambition Brewing at 1-3314 Appaloosa Road, where you can get a quarter pound of blueberries in a single serving of the Saxon Fields. It's easy to justify a visit here when there's so much B.C. fruit in each pint, like their cherry forward A Single Branch or the Under the Sun, which has plenty of citrusy notes. They also carry stouts and ales to fit with the fall season.
Get your game on at Kelowna Brewing Company, where they have shuffleboard, a pool table and a Play Station 4 hooked up to the big screen. Although it is currently only pouring craft brews from other Okanagan and Vancouver breweries, it will pour its own craft beers such as lagers and seasonal features someitme this month, according to bar manager Brandon Peterson. You can find them at 122-975 Academy Way.
Check out Copper Brewing at #102 1851 Kirschner Road, and get competitive with the family. This is the first craft beer business for owner Sean White, and he says the brewery has been successful since it opened in late August. The family-friendly environment has all kinds of board, card, and video games to enjoy. They have a Vanilla Coffee Porter and are soon going to be pouring an Oatmeal Stout on one of their 13 personal taps. They have seven other taps for local ciders and kombucha, too. You can get a taste for authentic Montreal cuisine as the brewery has partnered with next door neighbour MontREALfood to bring smoked meat sandwiches, poutine, and more into the mix. You can bring your pooch to the dog friendly patio, which will be equipped with heaters for the fall and spring season.
Kettle River Brewing Co. is on Kelowna's north end at 731 Baillie Avenue and offers a unique restaurant area and an ever-changing array of beers. It has a relatively new kitchen and a menu made in partnership with Kelowna's Crasian Food Truck. They offer meat pies, burgers, Asian fusion cuisine and some sweets for you and the whole family.
Rustic Reel Brewing is a new addition to the Kelowna beer scene this year and offers fresh eats, brunch on Sundays, and beers like the Hazy I.P.A. and the Imperial Chocolate Stout. You can find them at 760 Vaughan Avenue.
If you're in West Kelowna, check out Kind Brewing. It offers some giant sandwiches, beef brisket, burgers and more. It's a great spot to be kind to yourself and treat yourself. You can hold onto the flavours of summer with its Pina Colada I.P.A. or fall into autumn with the Red Ale. Kind Brewing is located at 2405 Main St. in West Kelowna.
Tree Brewing Beer Institute is the place to go if you want to learn about all things beer. It has been open for more than 20 years and offers a lakeside view, tours of the brewery, as well as pizza, pretzels, and other goodies from the spent grains. As Kelowna's pioneer craft beer market, this place is a must-visit. While you're there you can sip on the rotating selections that include Labradoodle Belgian Ale or the Hophead I.P.A. Check Tree Brewing out at 1346 Water Street.
Vice and Virtue Brewing is a great place to get your gluten on, if you're into that. Fresh bread is baked daily, but the main focus is the extensive beer list. Visit them at 1033 Richter Street and try their unique brews like the Sweet Elena-Mango Milkshake I.P.A. or the Love Potion Raspberry Berliner Vice. For those of you trying to avoid gluten, they will soon be releasing a gluten-reduced beer made in part with rice, dubbed the Livin' Dreams Rice Lager.
PENTICTON
For the Penticton beer lovers, there are plenty of freshly made beers in the area to enjoy.
Bad Tattoo Brewing has beers sold across the region, and for good reason. According to their website, they hope to mirror the feeling of a bad tattoo, with unique brews and a great story to tell. There are plenty of beers to choose from, such as the Peanut Butter and Chocolate Porter and the Lucky 13 I.P.A., which you can pair with one fo their self proclaimed 'weird' menu items. Check them out at 169 Estabrook Avenue.
Barley Mill Pub has been pouring up suds for the residents of Penticton for over 20 years in their classic Tudor style mansion. You can ask for a tour of their self-proclaimed tiny brewhouse and then sip of some brews like the Nite Mare Brown Ale or the Caballero Cervaza Mexican Lagers. They offer a full food menu, and you can play some pool or darts while visiting them at 2460 Skaha Lake Road.
Cannery Brewing has been in business for nearly 20 years, and are now located at 198 Ellis Street. They offer a big sunny patio in the summer, but in the fall time, you can soak in the beers instead. It is located at the end of the Kettle Valley trail, so you can treat yourself with a cold beer and a good bite after a long hike or bike. They have old school board games for visitors to play and offer a beer such as the Naramata Nut Brown Ale and Anarchist Amber Ale.
Slackwater Brewing is Penticton's newest brewery, according to its website. They offer two floors and two patios to fill up on food and sip your beer on, and offer creations like the Tight Lines Munich Helles Lager or their I.P.A. known as What the Fog. You can visit them at 218 Martin Street.
Tin Whistle Brewing is a family run business that started in 1995. They sell beers across B.C. and Alberta, and you can stop in at unit 112 of 1475 Fairview Road and try their Black Widow Mild Ale and Killer Bee Dark Honey Ale.
Highway 97 brewery is one of the newer additions to the Penticton beer scene, and offer many beers like the Dirt Road Double I.P.A. or the Fresh Tracks Winter Cream Ale. You can find them at 954 Eckhardt Avenue West.
There's another brewery to look forward to in Penticton. Neighbourhood Brewing is set to open next year and is already selling beers like their fruity Way of Life I.P.A. and the Happy Place pale ale.
VERNON
For the beer lovers in Vernon, check out the local spot Marten Brewing at 2933a 30th Avenue. You can keep an eye on the brew tanks located in the center of the room, and try the Rough and Dirty Red Ale or their seasonal Amber Weizen. Locals love the spot as it is the only craft brewery in Vernon, and it is ranked the number one restaurant out of all the restaurants in the city on Restaurant Guru.
BEYOND THE BIG CITIES
There's plenty of craft breweries operating in some of the smaller towns around the Thompson-Okanagan, and each has its own merit.
If you're visiting Sorrento, be sure to stop by Crannog Ales, which was Canada's first certified organic on-farm brewery when it was started nearly 20 years ago, according to their website. The leftovers bits from brewing get fed to the pigs and they are passionate about running an organic farm and brewery and honour sustainability. You can feel good about gulping down their ciders, or their fall brews like the Mancial Jack Squash Ale or their Auntie Fa/Anti-Fascist Brown Ale. Visit them at 706 Elson Road in Sorrento.
For the beer lovers in Salmon Arm, You can check out the Barley Station Brew Pub, which has been designed to resemble a heritage railway station and has won a gold medal from the Canadian Brewing Awards, according to their website. Visit them at 20 Shuswap Street North to try out their Bushwacker Brown Ale or the Sixty Five Roses Honey Red Ale, which donates 20 per cent of each sale to Cystic Fibrosis charities.
For those of you near Summerland, check out Detonate Brewing at 9503 Cedar Avenue, unit 104. Try their brews that are sold across the province, like the Call the Hops I.P.A. or the Coffee Pale Ale.
If there is a brewery in the Thompson-Okanagan we missed, let us know. This article will be updated as new breweries enter the scene.
---
To contact a reporter for this story, email Jenna Wheeler or call (250) 819-6089 or email the editor. You can also submit photos, videos or news tips to the newsroom and be entered to win a monthly prize draw.
We welcome your comments and opinions on our stories but play nice. We won't censor or delete comments unless they contain off-topic statements or links, unnecessary vulgarity, false facts, spam or obviously fake profiles. If you have any concerns about what you see in comments, email the editor in the link above.
News from © iNFOnews, 2019