The chef who made B.C. spot prawns famous and how you can cook them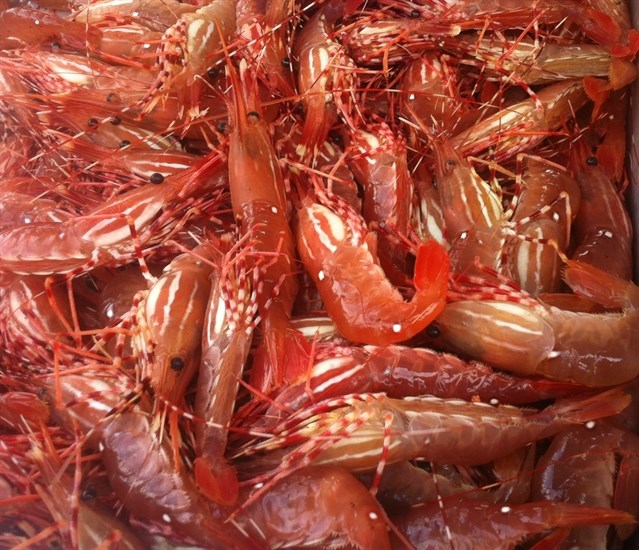 Love B.C. spot prawns? Thank Vancouver's legendary chef and sustainable seafood champion, Chef Robert Clark.
Fifteen years ago, most Canadians had never heard of B.C. spot prawns. Unavailable in Canada, all of B.C.'s premium wild spot prawns were shipped to Asia where they demanded a high price and were a revered delicacy. Robert Clark changed Canada's culinary history by bringing wild B.C. spot prawns to the local menu and showing Canadians that this homegrown wild prawn was a treasured treat.
Robert Clark was born in Montreal and grew up on the Gaspé peninsula. His love of seafood was born from learning to fly fish salmon with his father on the St. Lawrence River. After finishing his culinary arts degree at Toronto's George Brown College, he earned his knives working in the kitchens of many of Toronto's prestigious restaurants including the Windsor Arms Hotel, Founders Club at the Metro Toronto Convention Centre and the Sutton Place Hotel.
After a working sabbatical with his wife, Maureen Seay, in South East Asia, Australia and New Zealand, he arrived in Vancouver in 1992 and became the sous chef at what was at the time, one of the city's top restaurants, Star Anise. In 1997, he became the executive chef of Vancouver's only fine dining seafood restaurant, C. During his time at C, including his promotion to executive chef for the Kambolis Restaurant Group which also oversaw Vancouver renowned restaurants' Raincity Grill and Nu, Robert Clark changed the way Canadians ate seafood.
Overfishing had become a serious issue in the 1990s including the collapse of Canada's own Atlantic cod industry. The once almost unsellable Patagonian Toothfish from South America had been renamed Chilean Sea Bass and became the world's "it seafood dish". As a result, Patagonian Toothfish was nearly extinct due to overfishing.
Another 90s 'it dish", the prawn cocktail, had resulted in changing Southeast Asia's expensive and ethically farmed prawn industry into a cheap cesspool of inferior shrimp harvested from filthy overstocked pens reliant on chemicals and devoid of flavour. In search of high quality seafood, Robert Clark was one of Canada's first chefs to champion local, sustainable seafood. Instead of following seafood trends dictated by large wholesalers, he turned directly to local fishermen to showcase the bounty of the Pacific Ocean. He replaced Chilean Sea Bass with, at the time, B.C.'s unknown sablefish and made C restaurant famous for showcasing Pacific Northwest seafood including Dungeness crab, wild salmon, albacore tuna, scallops and oysters.
His decision to remove Southeast Asian tiger prawns from the menu and replace them with local wild B.C. spot prawns changed an entire city and a nation. In 2006, he convinced his friend and fishing buddy, Steve Johansen, the owner of Organic Ocean Seafood, to take out a commercial spot-prawn licence to provide the Vancouver market with wild B.C. spot prawns as they were impossible to get because all of the B.C. commercial fisheries were shipping them directly to Asia.
To help support Johansen, Clark arranged with the Chefs' Table Society of B.C. to host the first spot prawn festival at Vancouver's Fishermen's Wharf to raise public awareness for these delicious prawns. It was supposed to be a few chefs and some boiled spot prawns. Instead almost 2,000 people showed up and the festival has since grown into an annual city-wide celebration.
Robert Clark secured the B.C wild spot prawn into Canada's food hall of fame by winning the 2010 esteemed culinary competition, Gold Medal Plates with his dish of Fraser Canyon rabbit with spot prawns paired with Black Hills Estate Winery's 2009 Viognier. Soon chefs from across Canada were eager to work with this rare B.C. delicacy.
Wild B.C. spot prawns are the largest species of shrimp found in the Pacific Northwest. They are easily recognized by their distinctive white spots and reddish-brown colour which turn bright pink when cooked. They have a luscious sweet flavour similar to lobster and are firm in texture. While frozen spot prawns are available year round at a hefty price upwards of $45 per pound, during the short commercial fishing season they are to be found at half the cost and Vancouver and much of B.C goes wild for local spot prawns.
Traditionally, the B.C. Spot Prawn Festival kicks-off the opening of the season which usually starts in May and lasts for six to eight weeks. During the short season, B.C. restaurants proudly showcase spot prawn dishes and people line-up at both Vancouver's Fisherman Wharf and Richmond's Steveston Harbour to buy them live directly from the boats. Due to Covid-19, this year's 14th annual B.C. Spot Prawn festival was cancelled and the season's opening delayed until June 4. Instead of the festival, Organic Ocean generously donated 100 lbs of spot prawns to the non-profit LunchLab: Chefs For Families programs created by Growing Chefs and Fresh Roots.
Both Vancouver's Fisherman's Wharf and Richmond's Steveston Harbour are open to buy live spot prawns straight from the fishermen when the boats arrive at 1 p.m. and with B.C. restaurants reopening, spot prawns are on the menu for both dine-in and take-out. Spot prawns can also be found at quality fishmongers across B.C.
Robert Clark is now the proud proprietor of The Fish Counter which he opened in 2013 with marine biologist, Mike McDermid. Located on Main street, The Fish Counter is a sustainable seafood shop and casual take-out restaurant that serves up Vancouver's best fish and chips along with clam chowder, B.C. bouillabaisse, oyster po'boys, fish tacos and crab cakes. It is a must eat Vancouver destination. Live spot prawns are available while the season is open.
To increase awareness for sustainable seafood, Robert Clark, in partnership with the Vancouver Aquarium, helped launch Canada's Ocean Wise sustainable seafood program to make consumers aware of the seafood we eat. Today, Ocean Wise has over 700 partners across Canada and Clark is celebrated as a founding partner.
B.C wild spot prawns are Ocean Wise approved. Using sustainable seafood practices, all female prawns with eggs are returned to the ocean and the season is closed once the spot prawn limit has been reached.
How to cook live B.C. Spot Prawns
When buying live spot prawns you need to cook them immediately or remove their heads. Do not put live spot prawns in tap water as this will kill the prawns.
All spot prawns and shrimp release an enzyme from their heads when they die, which turns the flesh soft and mushy. Spot prawns must be cooked while alive or their heads must be removed to prevent the enzyme from releasing.

To remove their heads, grasp the head and with a quick twist pull it away from the tail. The tails can then be rinsed and stored on ice until ready to cook. Save the heads for a delicious stock or prawn bisque.
Do not overcook spot prawns. It is better to undercook as the prawns will continue to cook in their shells.
According to Robert Clark, the simplest way to enjoy B.C. spot prawns is to turn on the BBQ and toss them live on to the grill until they turn pink. Serve with melted butter and peel away.
They can also be pan-fried whole with butter, a little garlic, chopped parsley and B.C. white wine. Heat a large fry pan on medium high heat. Add butter, garlic and parsley and lightly fry together before adding the whole spot prawns. Cover the pan and cook for 3 to 5 minutes until shells turn pink. Serve at once with a warm crusty baguette.
For just the tails, lay the tails down in a shallow roasting pan and pour boiling salted water over to cover. Remove tails after 1 minute, throw onto a platter, peel and eat. Lemon pasta is an excellent accompaniment.
Enjoy!
Claire Sear is a Vancouver based food, drink & lifestyle writer.
---
We welcome your comments and opinions on our stories but play nice. We won't censor or delete comments unless they contain off-topic statements or links, unnecessary vulgarity, false facts, spam or obviously fake profiles. If you have any concerns about what you see in comments, email the editor.
News from © iNFOnews, 2020