Sun dried tomatoes make a comeback: Try this delicious pasta recipe this weekend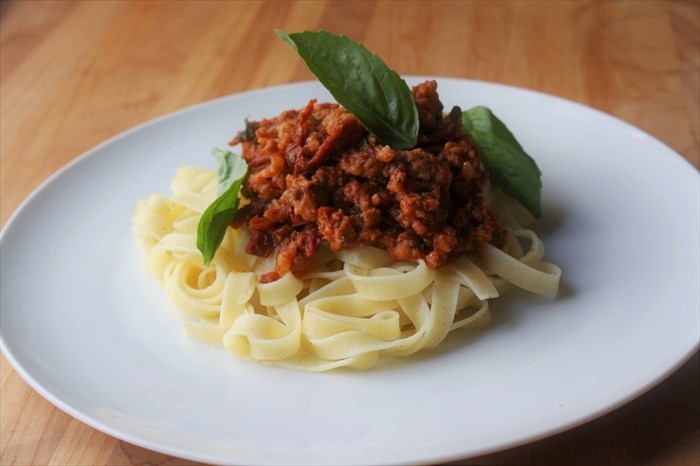 Thank the 'umami' movement for the popularity that sun-dried tomatoes enjoyed in the 1990s. For many North Americans, sun-dried tomatoes were actually their first umami experience.
What is umami? There are actually five taste sensations — sweet, salty, bitter, sour and umami. Umami is a Japanese word that means "delicious taste". Umami comes from an amino acid, glutamate which is found naturally in all protein foods including meat, eggs, dairy, and poultry. Glutamate content increases as foods ripen, age or are fermented. Examples of umami rich foods include soy sauce, parmesan cheese, anchovies and sun-dried tomatoes.
Sun-dried tomatoes are a product of the Mediterranean region, originating in southern Italy. To preserve tomatoes, Italians dating back to the 1500s would dry them out in the sun for several days on their clay rooftops before preserving them in olive oil. They would be used in the winter months, when fresh tomatoes were not available.
Sun-dried tomatoes first appeared in North America in the late 1980s at top restaurants and specialty food stores. Packed in a jar with olive oil, exotic but familiar, and with an umami flavour explosion, the sun-dried tomato became North America's new "it food". Soon home cooks were using them in almost every dish including omelettes, sandwiches, burgers and pasta dishes. As demand grew, authentic Italian sun-dried tomatoes were replaced with cheap inferior products that showed up in every supermarket. This once exotic product ended up in fast food chains and by the late 1990s they had been overused, had become too trendy and were then seen as a fad. Sadly, the sun-dried tomato was banished.
The good news is that the sun-dried tomato is slowly making a comeback in North America. When used sparingly, it adds the perfect umami experience to a dish.
This simple pasta recipe using sweet Italian sausages, garlic, fresh basil and sun-dried tomatoes tastes like you have been simmering it for hours, yet it takes less than 30 minutes to prepare.
Please use good quality sun-dried tomatoes packed in olive oil from southern Italy or Turkey. Knock yourself out if you want to make homemade pasta from scratch, but for an easy meal, store-bought tagliatelle works perfectly.
Tagliatelle with Sausage, Basil & Sun-Dried Tomatoes
Serves 4.
Ingredients:
1/4 cup extra virgin olive oil
2 garlic cloves thinly sliced
3 large or 6 small sweet Italian sausages, casings removed and crumbled. Tip: To remove sausage casings, cut off the ends and squeeze the sausage meat out from the casing.
6-8 sun-dried tomato halves, thinly sliced
5 Tbsp tomato paste
1/4 cup dry white wine
250 grams tagliatelle pasta, or pasta of your choice
Directions:
Bring a large pot of cold water to boil. The rule is 1 litre of water for every 100 grams of pasta. Then "salt your water like the sea" – which means about two tablespoons of salt.
In a large non-stick sauté pan, heat the olive oil and garlic over medium heat until the garlic turns a light golden colour- approximately 2 minutes. Be careful not to burn the garlic.
Add the sausage and sun-dried tomatoes and cook, stirring until the sausage is cooked through- approximately 7 to 8 minutes. Do not add salt as sun-dried tomatoes can be very salty.
Drain the fat from the pan. Tip: remove the pan from the heat, move the meat to one side of the pan and slightly tip the pan to allow the fat to drain to the other side away from the meat. Pour the fat into a jar.
Once the fat has been drained, add the tomato paste and wine. Cook for 5 to 7 minutes over medium heat. Remove from heat and cover to keep warm.
Add tagliatelle to boiling water and cook until tender or al dente, as the Italians say. Tip: the only way to know when pasta is done is to keep tasting it until it is to your liking. The directions on the box are a guideline only. You must taste, taste, taste.
Once you are satisfied that the pasta is al dente, drain the water.
Plate individually with pasta topped with sausage mixture and basil leaves. Or, transfer the pasta into the pan with the sausage mixture, heat briefly over medium heat. Toss in the basil leaves and serve in a big bowl for guests to help themselves.
Enjoy!
— Claire Sear is a Vancouver-based food, wine & lifestyle writer
---
We welcome your comments and opinions on our stories but play nice. We won't censor or delete comments unless they contain off-topic statements or links, unnecessary vulgarity, false facts, spam or obviously fake profiles. If you have any concerns about what you see in comments, email the editor.
News from © iNFOnews, 2020