Summerland man turning on the taps of Okanagan maple syrup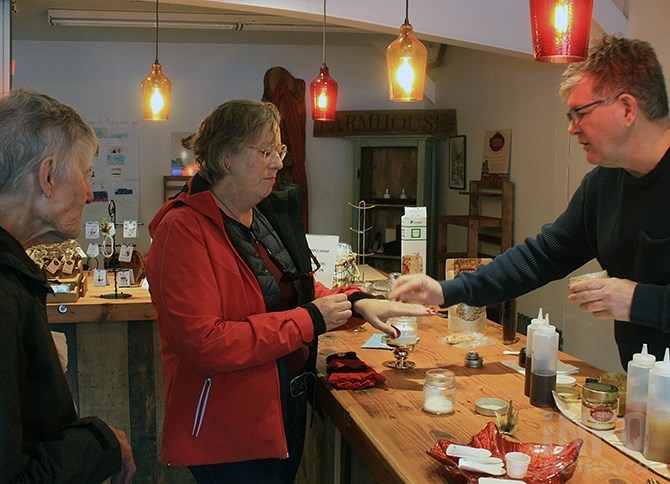 The Okanagan maple syrup harvest is showing signs of winding down as temperatures soared earlier this week.
That's right, Okanagan maple syrup.
Summerland's Roch Fortin is founder and CEO of Maple Roch in Summerland. He and executive manager Mirjana Komljenovic are pioneers in the novelty industry of harvesting B.C. maple syrup, and have completed several harvests to prove it can be done here in the Okanagan.
Fortin says this year's harvest of sap is earlier than last year, and with the advent of warmer temperatures, could be a shorter season as well.
"We've collected 600 litres so far. We're hoping for a few more freezing nights to run a little longer," says Fortin, who has 25 trees and 35 taps presently in use.
Fortin began this season on Feb. 18.
"Temperature hasn't been our friend this year. The sap started running early and it got warm too fast," he says.
He harvested 1,000 litres of sap last year, producing a limited quantity of 17.5 litres of syrup which he quickly sold at his Summerland store on Victoria Road, known as Maple Roch.
Okanagan maple syrup is very limited in supply and Roch supplements maple products sold in the store with syrup shipped in from New Brunswick.
Last year's home grown syrup sold for $25 for a 250 ml bottle and sold out almost immediately. Roch expects this year's production to meet a similar fate.
He'll be collecting sap until the trees stop producing, generally once the buds begin to break out. This week's record breaking high temperatures is slowing production of sap as the trees like warm days and cool nights, but Roch is hopeful there will be a few more freezing nights.
"We're collecting the sap and won't be boiling it off until the end of March. We're looking into shipping 1,000 litres of sap from New Brunswick to blend with some of this year's Okanagan crop for the first ever east-west maple syrup mix, something we don't think anyone has ever done," Roch says, adding the sap will have some of its water content removed for ease of shipping.
This year Fortin is harvesting sap from three different locations around Summerland. He says the sap tastes different at each location, and recently brought wine sommelier Elise Trebuchon in to taste and provide a description of the sap.
The Maple Roch store is open year round with a wide variety of maple infused and flavoured products, including popcorn, skin lotions and salad dressings.
On a March midweek morning, Fortin is offering samples of the many products in the store to Diane McArthur of Toronto, who drove down to Summerland with her mother Shirley, from Vernon to visit the store.
"The syrup is such a different taste from what I'm used to back east," Diane says.
Roch says he cut back on the number of trees tapped this year because he's been busy building a warehouse at the back of the store. He's hoping to be better set up next year.
"We've been able to hire nine people working part time. I like to think I'm educating people, planting a seed," he says.
"It's physically impossible for me to do everything right now. I'm technically retired but still working 50 to 60 hours a week. I get paid in different ways. It's pretty rewarding for me," he says. "Maple is seen more and more as a super food these days. We're creating a cottage industry and asking the question, what can we do with maple? It's hard to know where it will lead."
— This story was updated at 1:59 p.m. Friday, March 6, 2020, to correct the spelling of Marjana Komljenovic and her position with the company.
---
To contact a reporter for this story, email Steve Arstad or call 250-488-3065 or email the editor. You can also submit photos, videos or news tips to tips@infonews.ca and be entered to win a monthly prize draw.
We welcome your comments and opinions on our stories but play nice. We won't censor or delete comments unless they contain off-topic statements or links, unnecessary vulgarity, false facts, spam or obviously fake profiles. If you have any concerns about what you see in comments, email the editor in the link above.
News from © iNFOnews, 2020