Summer menu: Buttermilk Fried Chicken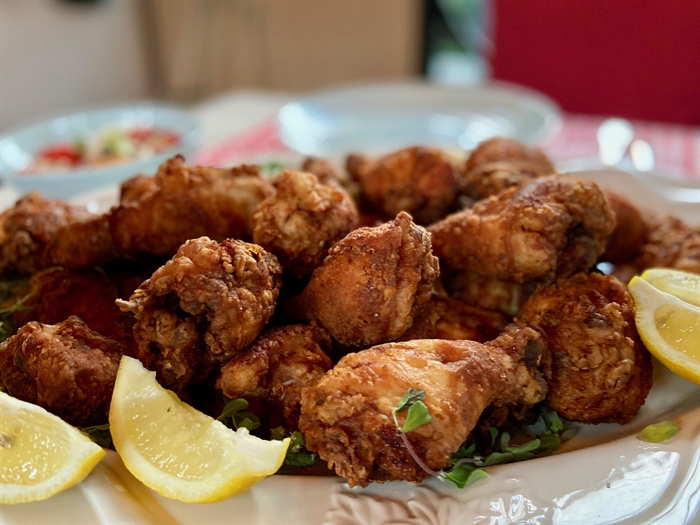 This time of the year the local food scene is so exciting with some of my most favourite vegetables and fruits coming into season. Right now, we can enjoy bounteous amounts of peaches and zucchini, two of my all-time favourites, but I am waiting for heirloom tomatoes and chanterelles with baited breath to complete my top line up.
Another summertime dish that heralds back to my youth is fried chicken. Now that I am older, and cook myself, I am super cognisant and appreciative of all of the hours spent in the kitchen by the matriarchs in my family cooking for a large group. Frying on a hot day may not sound like the most fun but it is so rewarding and, as an added bonus, cold fried chicken is one of the classic picnic foods. Plus, if you have a deep fryer, move it outside to cook.
I was searching for a similar recipe that had measurements and details intact because, as you probably know, family recipes usually do not come with written instructions. This is adapted from Food & Wine Magazine. We almost doubled the recipe because you want leftovers.
Buttermilk is the slightly acidic liquid left behind after heavy cream is churned into butter. This tangy acidity helps to tenderize. If you don't want to buy buttermilk, you can make by adding two tbsp of either lemon juice or white vinegar to 2 cups of whole milk.
You need a proper thermometer to make sure the oil is at the correct temperature to ensure cooking time and to control the browning. Golden brown chicken is the goal here. If you happen to have one of those vintage frying pans that plug in with the temperature control on it – use it and never give it up.
Buttermilk Fried Chicken
Ingredients
4 pounds medium chicken wings, thighs and drumsticks
Buttermilk soak:
3 cups buttermilk
2 Tbsp kosher salt
1 Tbsp freshly ground black pepper
1 tsp hot (or mild) Hungarian smoked paprika
½ tsp cayenne pepper
Coating:
2 cups all-purpose flour
1 tsp onion powder
1 tsp garlic powder
1 tsp kosher salt
1 tsp freshly ground black pepper
1 tsp hot (or mild) Hungarian smoked paprika pepper
¼ tsp cayenne pepper
Vegetable oil, for frying
Method:
In a large bowl, combine the buttermilk with the salt, black pepper and paprika. Add the chicken and stir to coat. Refrigerate for 4 hours.
Lay a rack on a cookie sheet and set aside. In a large, Ziploc bag, mix the flour with spices and shake to combine. Remove one piece of chicken from the marinade and let excess marinade drip back into bowl then add to the bag and shake. I like to squeeze the bag to make sure that the flour is adhering. It is best to work with one piece at a time to ensure proper coverage.
Set a rack on a baking sheet. Working with one piece at a time, remove the chicken from the buttermilk soak, letting the excess drip back into the bowl. Dredge the chicken in the flour mixture, pressing so it adheres all over. Transfer the coated chicken to the rack and let stand for 30 minutes.
In a deep skillet, heat 1 inch of oil to 350 F and fry the chicken in batches at 315 F, turning once, until golden and an instant-read thermometer inserted in the thickest part of each piece registers 160°, approximately 15 to 18 minutes. Transfer the chicken to a paper towel lined rack to cool.
Serve with German Potato Salad (recipe in The B.C. Wine Lover's Cookbook!), coleslaw and corn on the cob and a B.C. wine or beer. I poured Schell Wren Chardonnay, of course.
I have a few zucchinis on the counter from my parent's garden and think I will make some zucchini fritters next. My Granny used to make them in the summertime, and I love Nigella's recipe that makes them really pop with mint. Panzanella or Fattoush (both bread salads) are both on my list to make soon.
---
We welcome your comments and opinions on our stories but play nice. We won't censor or delete comments unless they contain off-topic statements or links, unnecessary vulgarity, false facts, spam or obviously fake profiles. If you have any concerns about what you see in comments, email the editor.
News from © iNFOnews, 2020