Summer cooking adventures: Lobster & steak, please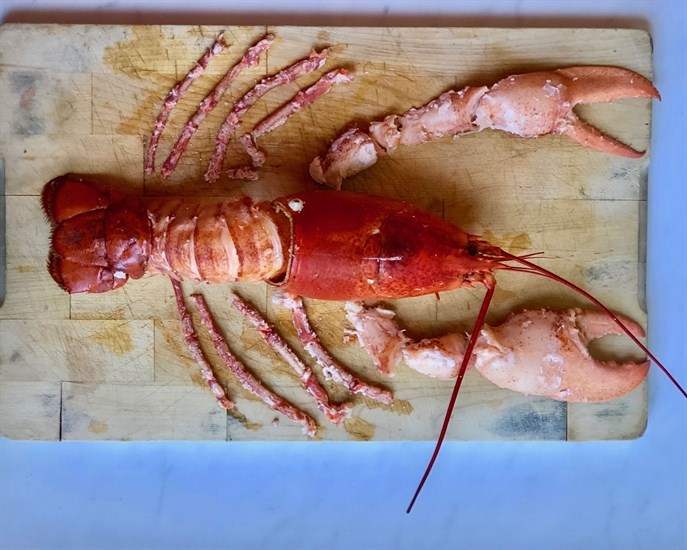 My obsession with picnicking may be a little annoying but really, what could be better than dining al fresco? Well, actually…cooking AND dining al fresco is truly the ultimate.
Picnicking in the great outdoors has always been a favourite summer activity but lately is really getting a groove on with Covid in our lives. This is one of the positives of this pandemic, Dr. Henry's instructions to spend time outside with people you love (only your bubble people please). As for dining picnic-style, you can do this everywhere and anywhere.
The heatwave these days screams for a beach or shady corner of a park (hint: both of which have become prime real estate this summer so you may have to stake out your spot early or just be patient when hunting for your ideal locale). Now to add the cooking element to the picnic. What you need to do is get an awesome little barbecue - we have a portable Napoleon propane one and it is the bomb. Then pack it up with the usual kit including a blanket to lounge on Hamptons-style, plates, glassware and utensils (we bring the real stuff) and voila, you are ready to make magic.
On a recent picnic outing, we decided to go big and planned a menu of chilled lobster and grilled bone-in rib steak. Ever had lobster cold? Served with an aioli or a jazzed up mayonnaise (I like adding lemon zest and chopped basil or tarragon) it is pure luxury. Add a glass of Chardonnay or bubbles and you are channeling heaven.
Please source your lobster from the most respectable fishmonger in your area. Some fishmongers will actually cook the entire lobster for you and you can pick it up intact and ready to crack. If you want to prepare them at home, please remember to exercise the most humane killing method. Immediately before cooking them, place the lobster on a chopping board and place the tip of a sharp knife behind the lobster's eyes right below where the claws meet the body and halfway to the first joint and plunge the knife down firmly (the lobster may still move a bit but they are dead- google for more details).
Boil a big pot of salted water to fully cover the lobsters and bring to a rolling boil. Add the lobsters making sure they are fully submerged, cover and simmer 7-10 minutes for the first pound and 2-3 minutes for each additional pound (Note: we slightly undercooked to allow for the cooking time that happens after removal. Worst thing is overcooked, rubbery lobster). Remove promptly and then, once cooled, refrigerate unless you want to go the extra mile and pluck each morsel of the decadent meat out to serve to your spoiled diners. First twist the head off of the body (note there is a lot of meat in the head besides the *tomalley). Remove claws, knuckles and legs. Then place the tail in your palm belly up, and gently squeeze until you hear a snap and peel away shell (or use shears to snip up the shell and remove like a coat. Tenderly crack the claws and try to remove the meat in whole pieces to make for extra glam presentation. A new trick I just learned was how to remove the meat from the legs – waste not want not! Using a rolling pin, press down on one end of the leg and keeping pressure even, roll out to the end where the meat will pop out in a tidy strip. So darn satisfying.
To make the veggie component of your meal easier, pack up an array of sliced veggies to grill like zucchini, red pepper and sweet onion. For your steak, throw a couple of rosemary branches on top while you are barbecuing to cast its distinctive scent on your meat.
Cook, eat, lounge and bring your bocce set to while away the hot summer evening until sunset when the world cools a bit and you are ready to retire to your air conditioned home.
There are going to be leftovers because we went big on the lobster- so tomorrow night lobster pasta with some basil and crispy *guanciale.
*Tomalley: The soft green mass in the body of a cooked lobster. This is the digestive gland, sort of like a liver and a pancreas combined prized by many gourmands for its creamy texture and intense flavor. If you aren't so brave to eat it straight up, try mixing it with butter and spreading it on crostini
*Guanciale is an Italian cured meat product prepared from pork jowl or cheeks
---
We welcome your comments and opinions on our stories but play nice. We won't censor or delete comments unless they contain off-topic statements or links, unnecessary vulgarity, false facts, spam or obviously fake profiles. If you have any concerns about what you see in comments, email the editor.
News from © iNFOnews, 2020