RECIPE: Rhubarb Pavlova: Make this beautiful dessert for Mother's Day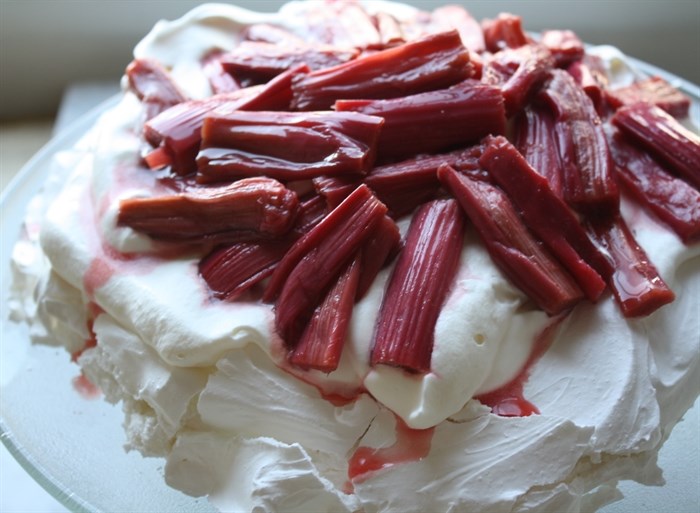 Pavlova, also affectionately known as pav, is an airy meringue dessert topped with whipped cream and fresh seasonal fruit. While both Australia and New Zealand claim birthright for this now famous dessert, there is no debate that it was created and named for famed Russian ballerina, Anna Pavlova when she was on tour down under in 1926.
Today, Pavlova is recognized as the national dessert of both Australia and New Zealand. While famous chefs around the world have created their own haute couture versions of almost impossibly perfect meringues with exotic flavours, the original pavlova remains a dessert that is easy to make at home. Mistakes are easily covered by piles of whipped cream and fruit.
While pavlova can be made with any seasonal fruit, my absolute favourite is rhubarb. The little slices of pink roasted rhubarb piled on top of the billowing meringue with a whipped cream tutu remind me of ballet slippers. Rhubarb's rich tart flavour is perfect for the sweet meringue and slightly tangy whipped cream with crème fraîche.
Rhubarb is now in season and can be found at your local farmers market. Look for firm, crispy stalks with shiny skins. If your neighbour happens to grow rhubarb and leaves a basket on your door, make sure to remove the leaves as they are not edible.
Ingredients:
Pavlova
4 large egg whites at room temperature (Tip: it is easier to crack eggs when they are cold. So separate the eggs and then bring the egg whites to room temperature)
1/2 tsp cream of tartar
1 cup superfine white sugar (Tip: You can either buy superfine white castor sugar or make your own by putting white sugar in the food processor and blending on high for one minute until very fine)
1/2 tsp pure vanilla extract
1 tsp white wine distilled vinegar
1/2 Tbsp cornstarch
Topping
2 cups rhubarb, washed and cut into 4 inch sticks
1/2 cup brown sugar
1 cup cold whipping cream (Tip: Keep mixing bowl in the freezer for faster whipping time)
4 Tbsp crème fraîche (Recipe below)
Crème fraîche
1 cup whipping of whipping cream
1 Tbsp sour cream
Mix sour cream into whipping cream in a glass bowl. Leave on the counter for 24 hours. Stir together and put in the fridge. Congrats you have made fancy crème fraîche. Note: on hot summer days, 12 hours will suffice to turn the cream.
Directions:
Make the crème fraîche and set aside.
Preheat oven to 225 degrees F. Line a baking sheet with parchment paper. Place an 8 or 9 inch springform pan without the bottom on the middle of the baking sheet. Using a springform pan without the bottom, is the easiest way to create the meringue into a the form of a circle.
In the bowl of a stand mixer fitted with the whisk attachment beat the egg whites and cream of tartar on medium low speed until they hold soft peaks. Increase the speed to medium high and add one tablespoon of sugar at a time until the meringue holds very stiff and shiny white peaks. Tip: test to see if the sugar is fully dissolved by rubbing a little of the meringue between your fingers. The meringue should feel smooth and not gritty. If it feels gritty, continue beating.
Remove the bowl and with a rubber spatula fold in the vanilla extract. Sprinkle the vinegar and cornstarch over the top of the meringue and then gently fold in with the rubber spatula. Spread the meringue inside the springform pan to make a circle. Remove the springform pan.
Put the meringue into the oven and bake for 1 hour and 20 minutes. After 1 hour and 20 minutes, turn off the oven and then open the oven a crack to release the hot air. With the oven slightly open, let the meringue cool completely inside for at least 2 hours.
Once cooled, transfer the meringue to a cake plate using a large spatula. Don't worry if it cracks a bit, the whipping cream will cover it up. Tip: Meringue can be made up to two days before serving. Store in a cool dry place, in an airtight container.
If your meringue is brown, the oven was too hot. If liquid oozes from the meringue it is undercooked. If syrupy droplets form on top of the meringue, it has been overcooked.
Make the rhubarb topping. Preheat oven to 400 degrees F. Line baking sheet with parchment paper, making sure edges overlap. Toss rhubarb with brown sugar.
Roast in oven for 5 to 10 minutes until sugar is melted and rhubarb is tender but still holds it shape. If you wish, you can broil for an additional 1-2 minutes to get an added golden colour. Watch closely — broiling can go from golden to burnt quickly.
Place rhubarb in a bowl and pour over all the golden syrupy melted sugar left in the pan over top. Allow to cool. Tip: can be stored in the fridge until ready to make the pavlova up to 2 days.
In the bowl of a stand mixer fitted with the whisk attachment, add the whipping cream. Beat the whipping cream on low speed until the cream thickens enough not to spatter then increase the speed to medium high. Once soft peaks form, reduce to low speed and then add 4 tablespoons of crème fraîche. Mix just to combine the creme fraiche, about 1 minute.
Cover the meringue with the whipping cream and crème fraîche mixture. Spoon over the roasted rhubarb. It's okay to add a little of the syrup to drizzle down the sides. Serve immediately.
— Claire Sear is a Vancouver based food, drink & lifestyle writer
---
We welcome your comments and opinions on our stories but play nice. We won't censor or delete comments unless they contain off-topic statements or links, unnecessary vulgarity, false facts, spam or obviously fake profiles. If you have any concerns about what you see in comments, email the editor.
News from © iNFOnews, 2020