RECIPE: Halibut Season has Begun! Here are two delicious recipes to make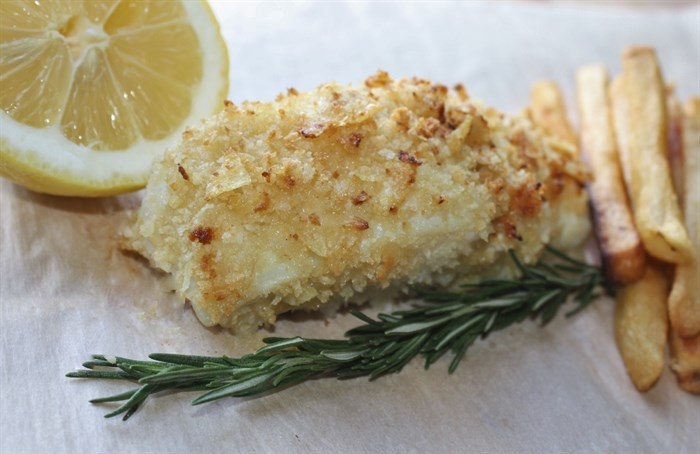 Fresh straight off the boat, halibut is now available at B.C.'s seafood markets.
Halibut is a lean white fish with a sweet and subtle flavour. When buying halibut, look for firm almost translucent fish that glimmers. Avoid halibut that smells fishy or has a chalky appearance. Your best option to buy fresh halibut is from your local seafood store and trusted fishmonger. Note: many local seafood stores are providing home delivery during the COVID-19 crisis.
The casual "Halibut & Chips" recipe comes from Vancouver's award-winning chef and cookbook author, Karen Barnaby.
With a career spanning over four decades, Karen Barnaby is one of Vancouver's most loved and recognized chefs. She was the executive chef at Vancouver's acclaimed Fish House in Stanley Park for 17 years. She has written 9 cookbooks, including Shellfish, Low-Carb Gourmet and the popular and best-selling, The Girls Who Dish series. Karen is also recognized for her tireless volunteer work with organizations including Les Dames d'Escoffier, the Greater Vancouver Food Bank and the Carnegie Community Centre located in Vancouver's Downtown Eastside.
Halibut and Chips is her most popular recipe ever! It is so easy to make because the fish is baked in the oven rather than deep fried. You can choose to make homemade fries or keep it simple with frozen fries. This is a great recipe to make with kids as they will love smashing the potato chips for the batter.
The elegant roasted fish is a recipe adapted from New York Times columnist and best-selling cookbook author, Melissa Clark. She has written over 40 cookbooks and in 2018 won the coveted James Beard Award for innovative storytelling. Excitedly her new book, Dinner in French: My Recipes by Way of France; Penguin Random House has just been released.
This is one of Clark's early recipes and first appeared in the New York Times in 2010 under the heading, Fish You Can Invite to a Dinner Party. This recipe is easy to make, and home chefs can make this with confidence. The recipe uses Aleppo pepper, a Middle Eastern spice that is loved by chefs. Aleppo pepper is more flavourful and less hot than red crushed chile flakes. It is worth tracking down and can be found at speciality food shops or ordered on-line. It will become one of your favourite spices.
Halibut and Chips
Adapted from Karen Barnaby, The Girls Who Dish!: Seconds Anyone, Whitecap Books.
serves 6.
Ingredients:
½ cup mayonnaise
1Tbsp Dijon mustard
¼ tsp garlic powder
1 Tbsp lemon juice
1 (3½ oz/100g) plain potato chips
1 cup panko (Japanese style breadcrumbs)
6- 6oz halibut fillets
Directions:
Preheat the oven to 350°F. Combine the mayonnaise, mustard, garlic powder and lemon juice in a shallow bowl. Mix well.
Coarsely crush the potato chips by squashing them in a bag. You don't want them too fine; ¼ to ½ inch is a good size. Add the panko and shake well. Spread out onto a plate.
Dip the halibut fillets into the mayonnaise mixture, coating them on all sides. Dip all sides into the potato chip mixture, patting gently to help the coating adhere.
Place in a single layer on a baking sheet and bake for 15 to 20 minutes, or until the halibut is cooked through and the crust is golden brown. Serve with lemon wedges, tartar sauce, or malt vinegar.
Roasted Halibut
Adapted from Melissa Clark. New York Times, A Good Appetite
Serves 2.
Ingredients:
2 (8-ounce) halibut fillets, preferably at least 1-inch thick
1 ½ tsp extra virgin olive oil, more to taste
Kosher salt
Ground Aleppo chile pepper
2 rosemary sprigs
1 lemon, thinly sliced
¼ cup sliced, pitted Kalamata or other good-quality black olives
Directions:
Heat oven to 425° degrees. Place fish on a baking pan lined with parchment paper. brush fillets with olive oil and season with salt and Aleppo chile pepper. Top each fillet with a rosemary sprigs and slices of lemon. Drizzle remaining oil over lemon slices. Scatter olives over fish.
Bake until just opaque, approximately 15 minutes. If lemon slices have not browned or singed (this will depend on how thinly you slice them), place pan under broiler for 1 to 2 minutes. Serve drizzled with olive oil, roasted potatoes and asparagus.
Pair these delicious fish dishes with B.C. craft beer.
Claire Sear is a Vancouver based food, drink & lifestyle writer.
---
We welcome your comments and opinions on our stories but play nice. We won't censor or delete comments unless they contain off-topic statements or links, unnecessary vulgarity, false facts, spam or obviously fake profiles. If you have any concerns about what you see in comments, email the editor.
News from © iNFOnews, 2020