RECIPE: Gnocchi, who doesn't love 'em? They're easier than you think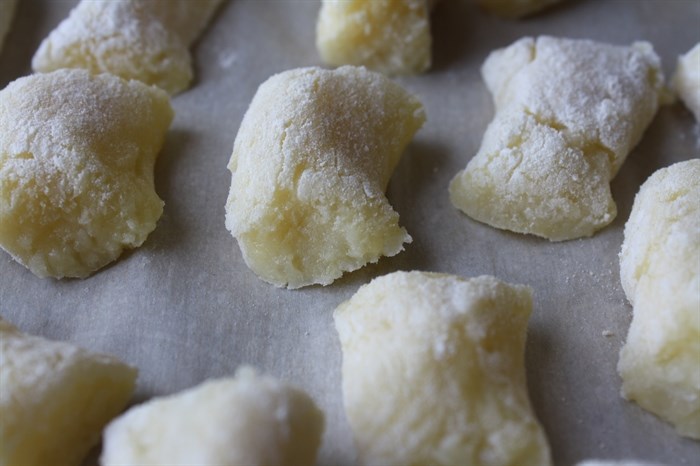 Gnocchi are Italian style dumplings made with potatoes, flour, eggs and salt. They have a soft pillowy texture and a delicate flavour. Like homemade pasta, gnocchi can be served with a wide variety of sauces. Classic sauces include tomato and basil or heavenly browned butter with fresh sage.
Surprisingly easy to make and excellent for freezing, the key to making good gnocchi is using russet potatoes. Known as the quintessential baking potato, russets are large potatoes with thick brown skin that have a high starch content. Inside they have a dry white flesh which when baked gets sweet and fluffy. Another tip, while some recipes do not use eggs, egg yolks provide gnocchi with a soft silky texture and enhance their delicate flavour.
One of the best gnocchi recipes comes from Thomas Keller's The French Laundry Cookbook. The French Laundry restaurant is located in America's famed Napa Valley wine region and is recognized as one of the world's best restaurants since 2007, with a prestigious three-star Michelin rating.

Gnocchi adapted from the French Laundry cookbook by Thomas Keller, Susie Heller, Michael Ruhlman and Deborah Jones.
Ingredients:
2 pounds of russet potatoes
1 ½ cups all-purpose flour
3 large egg yolks
2 Tbsp kosher salt
Directions:
Preheat the oven to 350°F.
Wash and then dry the potatoes. Pierce the potatoes with a fork or sharp knife roughly four times on each side. This will allow the steam to escape while baking. Place the potatoes directly on a baking sheet and bake for approximately 1 hour or until a fork easily slides through the potato without resistance.
Once cooked and cool enough to handle, split the potatoes in half. Scoop out the flesh leaving all the skins behind and then press through a potato ricer.
Place the hot-pressed potatoes on a large wooden board or clean kitchen counter and make a well in the center. Place ½ cup flour in the well. Add the egg yolks, then add ½ cup more flour and the salt.
Use a dough scraper or a fork to mix the potatoes into the flour and eggs. Then gently use your hands until a dough forms. The resulting dough should be barely sticky on the outside. If it is too sticky, add more flour as necessary. Do not overwork the dough as this will make the gnocchi heavy.
Shape the dough into a ball and roll lightly in flour. Pull off a section and roll it by hand on a lightly floured surface into a "rope" about a half inch thick. Cut into half inch pieces and place on parchment-lined baking sheets.
Indentions can be made on the gnocchi by pressing each piece with the back of a fork's prongs or using a traditional wooden gnocchi paddle. While indentations can help the sauce adhere better to the gnocchi, you can omit this step.
The gnocchi can be stored on baking sheets in the refrigerator if they are to be used that day. Otherwise place the baking sheets in the freezer. Once the individual gnocchi pieces are frozen, they can be removed and stored in well-sealed plastic bags for up to one month.
Tip: Frozen gnocchi can be boiled directly without defrosting.

To serve:
Bring a large pot of lightly salted water to boil.
Place the gnocchi in the boiling water. Do not overcrowd - If you have lots, boil in batches. They will rise to the surface when ready.
Use a slotted spoon or skimmer to remove the gnocchi as they float to the service. Transfer to a plate and serve warm with your favourite sauce.
— Claire Sear, Vancouver based food, drink & lifestyle writer
---
We welcome your comments and opinions on our stories but play nice. We won't censor or delete comments unless they contain off-topic statements or links, unnecessary vulgarity, false facts, spam or obviously fake profiles. If you have any concerns about what you see in comments, email the editor.
News from © iNFOnews, 2021