RECIPE: Buttermilk Fried Chicken & Pickles from Burdock and Co Poetic Recipes Inspired by Ocean, Land and Sea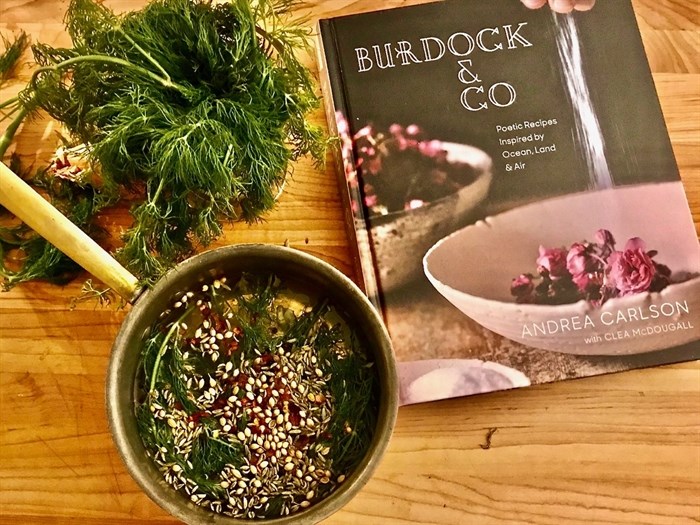 Andrea Carlson has never sought the limelight or celebrity chef status. Her restaurant, Burdock & Co opened their doors in the spring of 2013 and has quietly become one of Vancouver's best restaurants.
Before opening Burdock and Co, Carlson's impressive resume includes owning a bakery on Savary Island and working at some of B.C.'s best restaurants including Star Anise, C Restaurant, Sooke Harbour House, Raincity Grill and Bishops.
Internationally recognized for her use of hyper-local seasonal ingredients and unique flavour combinations, Carlson was the first chef to create a 100-mile restaurant menu while working at Raincity Grill. While all-natural wine-lists are now in vogue, Burdock and Co was one of the first Canadian restaurants to showcase only natural wines, under the guidance of wine director, Matt Sherlock.
Andrea Carlson shares her rich culinary talent and extensive knowledge of the natural wild elements and bounty of the Pacific Northwest in her first cookbook, Burdock & Co Poetic Recipes: Inspired by Ocean, Land & Air with Clea McDougall, Penguin Random House.
The cookbook includes a must-read glossary to help readers understand and discover the botanicals and specialty ingredients that are found in Carlson's dishes. With Burdock's help and guidance, even the home chef will be inspired to use ingredients like burdock root, chickweed, fuki, kombu and shooting star in their recipes.
One of the ways for B.C. home chefs to make many of the recipes from the cookbook is to mark their calendar for when ingredients are in season and to shop at local farmers markets.
Winter is perfect for Red & Green Cabbage Salad, Parsnip Latkes, Outlandish Shellfish Guild's oysters and Spice Cake with Carrot Sorbet.
For spring, make Roasted Asparagus, Nettle Gnudi with Walnut & Garlic Scape Pesto, Stuffed Morel Mushrooms, Poached Spot Prawn Tails and Ros Wine Vinegar.
For summer, celebrate local farmers with recipes such as Rhubarb Kimchi, Sieglinde Potatoes with Pickled Garlic from Pemberton's Helmers Organic farm, Padron Peppers with Almond Garlic Oil from the Similkameen's Klippers Organics, Sopressine Pasta with Smoked Tomato Sauce using locally grown in-season tomatoes and Staff Party Peach Pavlova with local Okanagan peaches.
Welcome the cooler days of fall with recipes such as Walla Walla Onions with Pine Mushroom Fondue, Oxtail Ramen, Hopcott Farms Grilled Rib-eye with Shio Koji butter, Ravioli al Uovo with Cauliflower and Salted Caramel Apple Pot Pie.
More than a cookbook, this is Carlson's love letter to all things west coast and the people who have shared her journey. This book will inspire you to visit the ocean, grow your own botanicals, go foraging in the woods and experiment with new ingredients.
For devoted fans, Andrea Carlson has also provided the recipe for the restaurant's most famous dish, Buttermilk Fried Chicken and Pickles, which has been on the menu since opening. It is one of the few dishes available year-round and is newly available as a garnish on their Caesar cocktail. You can now create this famous dish at home.
Adapted from the Burdock and Co cookbook, this recipe is easy to make, and the homemade dill pickles are simply divine. Make the dill pickles up to two weeks before you want to make the fried chicken.
Buttermilk Fried Chicken & Pickles
Dill Pickles
Ingredients:
1 large field cucumber
3 cloves garlic, smashed
3 sprigs fresh dill
1 cup white wine vinegar
1 cup water
1 Tbsp plus 1 tsp sugar
1 tsp black peppercorns
2 Tbsp kosher salt
1 tsp coriander seeds
1 tsp fennel seeds
½ tsp chilli flakes

Directions:
Trim the ends of the cucumber and halve. Scoop out the seeds and halve again. Cut into 3- to 4- inch lengths. Pack the cucumbers into a jar or a non-reactive container with the garlic and dill.

In a small pot, heat all of the remaining ingredients to a simmer for 5 minutes. Strain and pour the hot pickling liquid over the cucumbers to cover. Cover and refrigerate for at least 2 days before using. These pickles will keep in the fridge for up to 2 weeks.

Potato & Dill Pickle Mayo
Ingredients:
2 egg yolks
1 Tbsp white wine vinegar
1 tsp Dijon mustard
1 cup grapeseed oil
1 finely diced medium potato
5 Tbsp finely diced home-made Dill Pickles (recipe above)
1 finely diced small shallot
Fresh ground black pepper
Kosher Salt

In a blender, combine the egg yolks, vinegar, Dijon mustard together and stream in the oil slowly until thick.

In a small pot of salted boiling water, blanch the diced potatoes until barely tender. This should take just a few minutes. Drain and cool.

In a small bowl, combine the cooled diced potatoes with the homemade diced Dill Pickles and shallots. Add the mayo mixture liberally to bind it all together. Season with the pepper and salt.

Fried Chicken
4 large boneless skinless chicken thighs
2 cups cold water
2 ½ Tbsp kosher salt
3 cups all-purpose flour
1 tsp ground cayenne
1 tsp ground fennel
2 cups buttermilk

Cut each chicken thigh into four or five pieces, depending on size. In a large non-reactive bowl or pot, make a brine out of the water and salt, stirring to dissolve the salt. Brine the chicken in the cold brine for 45 minutes, then drain.

When ready to fry, mix the flour and spices in a shallow bowl. Place the buttermilk in another bowl. Heat a deep fryer to 375°F. Dredge the chicken pieces in the flour, then dip them into the buttermilk., then dip them back into the flour. Working in batches, so you don't crowd the fryer, fry the chicken for 3 to 5 minutes, until golden, crisp and cooked through. Drain on paper towel.

*For those who do not own a deep-fryer, heat oven to 425°F and melt one stick of butter in a baking dish. Once the butter has melted remove from the oven and add the chicken. Cook for 30 minutes, then turn chicken over. Cook for an additional 15 minutes or until temperature reaches at least 165°F.
— Claire Sear is a Vancouver-based food, drink & lifestyle writer
---
We welcome your comments and opinions on our stories but play nice. We won't censor or delete comments unless they contain off-topic statements or links, unnecessary vulgarity, false facts, spam or obviously fake profiles. If you have any concerns about what you see in comments, email the editor.
News from © iNFOnews, 2020