Pentictonites keeps their eye on the Fryzz — Jeffers Fryzz, that is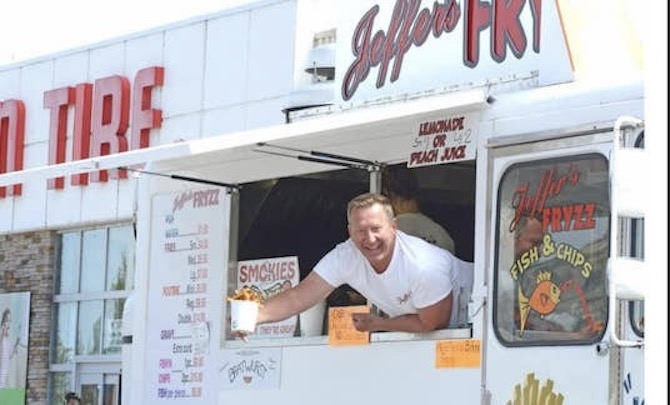 The Jeffers Fryzz has been a fixture on Nanaimo Avenue in Penticton for so long, most residents probably don't remember a time when it wasn't there, on the street in front of the CIBC bank's rear parking lot.
The french fry truck is celebrating its 37th year in Penticton this week.
Owner/operator Jeff Treadway says business has changed in his four decades of operation, but french fries is a popular food, and Treadway's appreciation for his customers has allowed him to navigate the uncharted waters of Penticton's changing economics over the years.
"My first year here was kind of interesting. A number of Penticton city councillors in 1984 were from back east, and they were inviting people to set up a fry truck in the city. I spoke to Rob Axworthy from the Chamber of Commerce and he told me to check it out. I did, and went back to Ontario, bought a chip truck, moved west and have never looked back," Treadway says.
The Nanaimo Avenue location has been his anchor spot ever since. Treadway also has a second truck that moved to various locations over the years, most recently taking up a spot in the Penticton Canadian Tire parking lot.
"I thought I would only be serving Canadian Tire customers, but that's not what happened. I'm serving people from Summerland, Oliver, the Penticton Indian Band, and Okanagan Falls. It saves them coming all the way into Penticton and downtown," Treadway says.
He says he has been talking to the owner about operating out of the parking lot for years and finally decided to give it a try at the beginning of May.
"It really surprised me. It's been very busy, almost half my business recently has come from that truck. I made a profit from the first day," he says.
He remembers some of the biggest changes to business over the years, from the heydays of Penticton's bar scene in the early 90s to the effects COVID-19 has had.
"Back in 1991-92 we had thousands and thousands of tourists coming in for the August long weekend. The Canadian Tire truck was at Skaha Beach, known then as Muscle Beach. We'd have lineups of 30 people, women in bikinis. I had many men coming up and asking if they could work for free," he recalls with a laugh.
Another big highlight for Treadway was the birth of his three children while working the fry truck.
"Every time there was a birth, I'd put a sign up saying it's a boy or a girl. I had put a tip jar out the first summer and ended up with about $10,000 in tips for the baby. Customers were always excited to see those signs," he says.
He also remembers how fun the bar crowd was.
"At one time we had criss-crossing bars through town. There was Nite Moves, and Chaparrel's was the western bar at the time. There were four bars and people were moving around downtown late in the night – I called it 'witching hour,' people would be switching bars. There was a lot of bar traffic, and we were really popular. The year before the bars all started closing, we were voted the 'top third nightclub' in Penticton. That was pretty cool for a fry truck," Treadway says.
He had DJ's working as fry cooks. They cranked up the music and added strobe lights, adding a new dimension to the act of a purchase of french fries.
The year 2019 was the first without a true nightclub in the city. Treadway says he would drive by the fry truck spot on Nanaimo, late on weekends.
"It was like a ghost town, but I decided one weekend to try operating on Friday and Saturday nights again, from midnight until 3 a.m. I couldn't believe it. People came from all over – Kelowna, Okanagan Falls – I never served so many sober people at midnight," he says.
He ended up working late night weekends through August that year.
It's not just the fries that brings people back and makes Jeffers Fryzz such an iconic food purveyor in Penticton. It's also the quality of the food. Treadway tells of the time he was asked to cater a wedding at the SS Sicamous sternwheeler, with about a third of the guests coming from Great Britain.
"We catered the wedding's main dinner, fish and chips, and they raved about it. Hearing from all those guests from England was pretty sweet," he says.
Quebecers also love Jeffers. Treadway says that's because he teaches his employees to pronounce 'poutine' properly.
"The Quebecers really appreciate that. They know they are in for an authentic dish," he says.
COVID-19 changed business once again, amazingly, adding new customers when seniors started visiting the business for fish and chips.
"We're very family-oriented, and COVID-19 brought a positive change. I started seeing families, sons with fathers and daughters with moms, out doing shared activities because they were isolated from their usual friends. It was really nice to see those combinations," he says.
Another positive aspect of COVID-19 for Treadway was an increase in customers willing to 'pay it forward.'
"Even street people, who had a little extra money due to COVID-19 benefits, were handing me $20 and telling me to give to someone who needs it," Treadway says.
He says if there was a 'best of the best' award for customers, his would win, flat out.
"I love my customers. Our sign says to expect the best and we mean that in all aspects – good service and great food. We promote that," Treadway says.
---
To contact a reporter for this story, email Steve Arstad or call 250-488-3065 or email the editor. You can also submit photos, videos or news tips to tips@infonews.ca and be entered to win a monthly prize draw.
We welcome your comments and opinions on our stories but play nice. We won't censor or delete comments unless they contain off-topic statements or links, unnecessary vulgarity, false facts, spam or obviously fake profiles. If you have any concerns about what you see in comments, email the editor in the link above.
News from © iNFOnews, 2021