Peak Cellars – Escape to Lake Country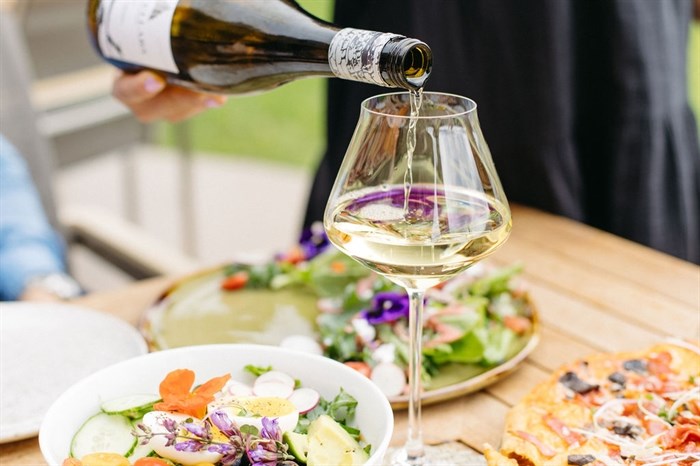 Peak Cellars is the perfect destination for a summer afternoon escape. Located in Lake Country, BC, Peak Cellars boutique winery offers picturesque patio dining and unique tasting experiences, a year-round destination that springs to life this time of year with a garden full of greens, vineyard walks and live music nights.
Tanja Martell is Peak Cellars' Communications and PR Director.
"We're so excited for the warm weather, patio season and our live music nights," she says. "It all pairs perfectly with our crisp white wines. We have a new Golden Hour Vineyard Tour to share as well as a brand new Bistro menu."
Chef Jeremy Tucker's Garden Bistro menu is not to be missed. With more than ten years of executive chef experience, he emphasizes fresh flavours with many ingredients coming straight from the on-site half-acre organic garden. Talk about farm-to-table.
"Our garden is only a hundred-meter walk from the restaurant," Martell says. "That's how 'far' the vegetables travel daily from the garden to your plate."
There's live music on Wednesday and Sunday afternoons from May 17 until the middle of September. Book a Bistro reservation to enjoy the lively atmosphere. The patio setting is fabulous, with a stage that overlooks the vineyard and lake. Soak up the beauty of the growing grapes and deep blue Okanagan Lake while you sip on your favourite wine and enjoy the musical talent.
If you're looking for an intimate getaway, make sure to inquire about their two guest homes. The Log Home has five private suites. You can book an individual suite, or for larger groups, you can rent the entire home. Or consider the Cottage-Inn-The-Vines, a private cottage perched atop the property with panoramic views of the sprawling vineyards. Both include a continental breakfast, a complimentary wine and charcuterie board upon arrival, and a complementary tasting at Peak Cellars.
Whether you're looking to visit Okanagan wine country for the first time, on a biking tour, planning a romantic weekend escape, or simply want to sample some of the Okanagan Valley's best wines, Peak Cellars has something for everyone.
Peak Cellars is located at 2290 Goldie Rd, Lake Country. The summer hours are in effect. Tasting Room hours are 11 a.m. - 7 p.m. daily and 12 p.m. - 7:30 p.m. for the Garden Bistro. Call for more information at 250-766-9922.
Find out about their wine and amenities at peakcellars.com. Follow them on Instagram at @peakcellars and @wakeupinwinecountry.
News from © iNFOTEL MULTIMEDIA, 2023