Okanagan company is turning winemaking byproducts into gold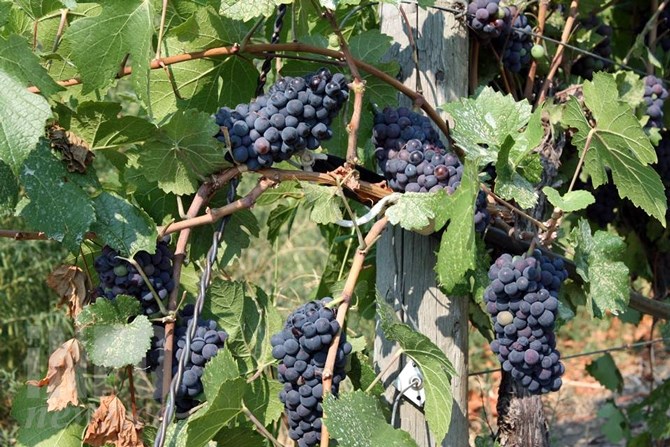 After a change in business direction, this Okanagan company hopes to turn vineyard waste into profit.
Winecrush, which formerly was a gourmet food maker, has changed its direction. President Bill Broddy says they have "pivoted" the business after four years, taking a different tack in their quest to fill a gap in the province's wine industry by finding uses for the by-products of winemaking.
"We began making a retail product that we sold through grocery outlets and the farmers' markets. We made some interesting products that were well received, but we found our forte was inventing end products, winery derivatives that could be infused into foods," Broddy says.
The company began by infusing products like cheese, meat and bread with wine pomace which are essentially the leftover skins, stems, seeds and yeasts from finished wine fermentations.
The company sold its products out of stand-alone displays set up in grocery stores and wineries.
Broddy says what Winecrush is focussing on now is a paste made from winemaking waste that can be added to any recipe to make it taste better.
He says there has been a lot of research on an international scale about how to monetize wine derivatives, mostly by drying it into a powder, which is an expensive thing to do.
"No one eats the powder, it's rehydrated for use. The reason for drying it is to make it shelf stable, but we've found a way to shelf stabilize it that is more efficient and significantly less expensive," he says.
The product also maintains its nutritional value and flavour.
Winecrush has been doing research and last year filed a provisional patent for their product, which they are planning to bring to the market in this pilot year.
The company is working towards obtaining federal government funding, and with this in mind will seek endorsement from the Regional District of Okanagan-Similkameen's Board of Directors for the 'Winecrush Marlee Project' at their regular board meeting, Feb. 20.
Broddy says the company has discovered grape skins can be used as a replacement for nitrates in sausage. He says five per cent added to meat contains enough microbial to stabilize it. The microbials can also stabilize the paste.
He says winery waste is a high methane producer as it breaks down in the landfill. International research indicates up to 45 kilos of methane is produced per tonne of grape waste.
"The Okanagan produces 12,000 tonnes of grape waste from Summerland south. We believe most of that ends up in the landfill, so that would mean around 450 tonnes would end up being emitted as methane," he says. "We would like to get a real number on that, but we would need the regional district's help for that."
Another useful end product of wine making are tannins. Broddy says Winecrush has done sensory tasting on sausage, and found they've had to cut the salt content by 30 per cent when tannins were added.
"We found the same thing in grocery store-bought sausage. The saltiness goes way up with the additive. It makes the product taste 'meatier, ' too. We saw that when we tried it in veggie burgers."
Broddy says a lot of the processing work will be done on the farm.
Winecrush has designed containers to do the process so they can sit at the vineyard over the winter, processing the grapes into a form that allows them to be used when the company picks up the containers in the spring.
"We believe there is 12,000 tonnes of grape waste in the South Okanagan alone, and we'd like to do further surveys with the regional district to find out what exactly happens to it all. We think there is a market for white grapes and we know there is for reds. We think the potential is enormous."
---
To contact a reporter for this story, email Steve Arstad or call 250-488-3065 or email the editor. You can also submit photos, videos or news tips to tips@infonews.ca and be entered to win a monthly prize draw.
We welcome your comments and opinions on our stories but play nice. We won't censor or delete comments unless they contain off-topic statements or links, unnecessary vulgarity, false facts, spam or obviously fake profiles. If you have any concerns about what you see in comments, email the editor in the link above.
News from © iNFOnews, 2020